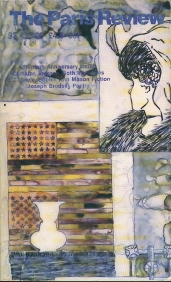 Purchase this Issue $40.00
"Literature isn't a moral beauty contest": Philip Roth on the Art of Fiction.
Latin American politics, Edgar Allen Poe, and writing in tango time signature: An interview with Julio Cortazar.
Stories by T. Coraghessan Boyle, Lars Gufstafsson, Bobbie Ann Mason, and Norman Rush. Poems by Harold Brodkey, Frederick Seidel, and Anne Waldman.
Table of Contents
Fiction
T. Coraghessan Boyle, The Hector Quesadilla Story
Lars Gufstafsson, Water Story
Bobbie Ann Mason, Do You Know What It Means to Miss New Orleans?
Norman Rush, Instruments of Seduction
Interview
Julio Cortázar, The Art of Fiction No. 83 Full Text
Eugene Ionesco, The Art of Theater No. 6 Full Text
Philip Roth, The Art of Fiction No. 84 Full Text
Poetry
Sharona Ben-Tov, Carillon for Cambridge Women
Harold Brodkey, To Frank O'Hara
Joseph Brodsky, Gorbunov and Gorchakov
Linda Gregg, Six Poems
Herbert Morris, In the Dark
Molly Peacock, Four Poems
Frederick Seidel, Elms Full Text
David Shapiro, House (Blown Apart)
Anne Waldman, Canzone
Baron Wormser, Three Poems
Notice
George Plimpton, Notice
Art
Richard Diebenkorn, Combination
Laurie Simmons, Tourism
Terry Winters, Siren: Nine Drawings