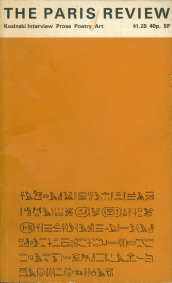 This issue is sold out. Subscribe
"I do not want to be remembered. These are dehumanizing times—it's best to be forgotten": An interview with Jerzy Kosinski.
A movie-picture outline by James Ivory, Michael O'Donoghue, and George Trow.
Stories by Gail Godwin and Harry Mathews. Poems by Allen Ginsberg and Ron Padgett.
Table of Contents
Fiction
Kenward Elmslie, Tropicalism
Gail Godwin, Some Side Effects of Time Travel
James Ivory, Savages: A Motion Picture Outline
Harry Mathews, The Sinking of the Odradek Stadium
Michael O'Donoghue, Savages: A Motion Picture Outline
Michael Rothschild, The Austringer
David Shetzline, Country of the Painted Freaks
George Swift Trow, Savages: A Motion Picture Outline
Interview
Jerzy Kosinski, The Art of Fiction No. 46 Full Text
Poetry
Tom Clark, Three Poems
Allen Ginsberg, An Open Window on Chicago
Faye Kicknosway, Our Gang: Ginger
Ron Padgett, Two Poems
Tom Walsh, Two Poems
Art
Howard Grey, The Open Secret