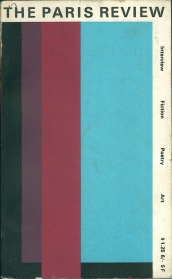 Purchase this Issue $60.00
"All that matters is that the thing be the thing of the thing—a cool thing which is like a river for the tiger of the river": Charles Olson on the Art of Poetry.
Stories by James Salter, Paul Spike, and Richard Stern. Poems by Robert Creeley, Tom Disch, Frank O'Hara, and Aram Saroyan.
Table of Contents
Fiction
James Salter, The Cinema
Paul Spike, Specks Saga
Richard Stern, Veni, Vidi...Wendt
Interview
Charles Olson, The Art of Poetry No. 12 Full Text
Poetry
Joseph Bottone, Sky Light
Michael Brownstein, United at First
Tom Clark, A Sailor's Life
Robert Creeley, An Illness
Tom Disch, Joyful Feelings
Kenward Elmslie, Halloween Loop
Dick Gallup, Four Poems
Joanne Kyger, Poem
Charles Olson, Poem
Frank O'Hara, Nine Poems
René Ricard, Mannerism
Aram Saroyan, Poems
Peter Schjeldahl, Ho Chi Minh Elegy
Charlie Vermont, Three Poems
John Vernon, The Audubon Bumper
Art