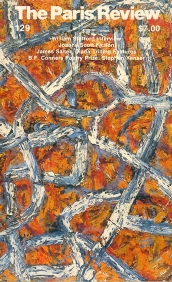 Purchase this Issue $45.00
Portraits of writers by Allen Ginsberg.
Burning the Days: James Salter recalls life in the Air Force.
Diana Trilling on writing for The Nation, the death of intellectual New York, and the female view of Hemingway.
Stories by Wang Meng and Joanna Scott. Poems by Billy Collins, Wayne Koestenbaum, and Stephen Yenser.
Cover by Dana Gordon.
Table of Contents
Fiction
Robert Kunkle, This Guy, Seemingly of Mature Years
Wang Meng, The Stubborn Porridge
Joanna Scott, You Must Relax!
Interview
William Stafford, The Art of Poetry No. 67 Full Text
Poetry
David Barber, Durer's Rhinoceros
Nicholas Christopher, Two Poems
Billy Collins, On Turning Ten
Steven Cramer, The Anniversary
Kathy Fagan, Three Poems
Daniel Hall, Bartholomew's Cobble
Judith Hall, Four Poems
Wayne Koestenbaum, Piano Life
Phillis Levin, Two Poems
Jacqueline Osherow, Two Poems
Anna Rabinowitz, Through Many Waters, Leaf-Light, the Tree
Stephen Yenser, Blue Guide
Feature
Allen Ginsberg, Cosmopolitan Greetings
James Salter, Burning the Days
Diana Trilling, An Interview
Notice
George Plimpton, Notice
Art
Chuck Connelly, Untitled
Medrie MacPhee, Drawings