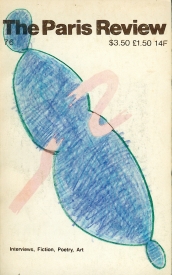 Purchase this Issue $60.00
"Steer clear of English. Learn foreign, preferably dead languages": An interview with Peter Levi.
"When I first came here, a neighbor told the whole village that I practiced black magic": Jean Rhys on The Art of Fiction.
Stories by David Evanier and Norman Lock. Poems by Pier Paolo Pasolini.
Table of Contents
Fiction
Andre de Mandiargues, The Bath of Madame Mauriac
David Evanier, The One Star Jew
Norman Lock, The Love of Stanley Marvel and Claire Moon
Interview
David Ignatow, The Art of Poetry No. 23 Full Text
Peter Levi, The Art of Poetry No. 24 Full Text
Jean Rhys, The Art of Fiction No. 64
Poetry
Jean Follain, Eleven Poems
Kenneth King, Word Raid
Peter Klappert, Matthew's Other Love Song
Pier Paolo Pasolini, The Ashes of Gramsci
Louis Simpson, Sway
John Wynne, Two Struggling Actresses
Feature
David Plante, Jean Rhys: A Remembrance
Art
Michael Hurson, Pencil Drawings
Robert Kushner, Aïda
Richard Thompson, Honest Work