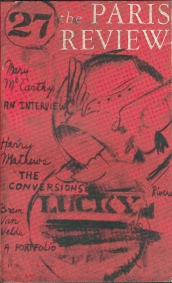 Purchase this Issue $80.00
"He put me in this little room. He didn't actually lock the door but he said, 'Stay in there!' And I did. I just sat down, and it just came": Mary McCarthy on the Art of Fiction.
Stories by Harry Mathews and Mauro Senesi. Poems by Denise Levertov, Adrienne Rich, and May Swenson.
Table of Contents
Fiction
Harry Mathews, The Conversions
Mauro Senesi, The Revolutionary
Interview
Mary McCarthy, The Art of Fiction No. 27 Full Text
Poetry
Robert Bly, Five American Poems
John Heath-Stubbs, The Peacock and the Snake
John Hollander, Lazienka
Denise Levertov, Love Song
Philip Levine, The Turning
George Macbeth, Eating Ice-Cream with a Girl
Bink Noll, Per Singulos Dies Benedicimus Te
Adrienne Rich, End of an Era
May Swenson, Death Invited
Charles Tomlinson, John Maydew, or The Allotment Full Text
Feature
Clancy Sigal, Last Day at the Agency
Art