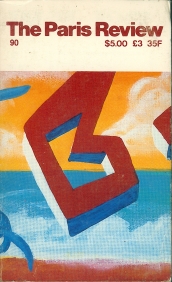 Purchase this Issue $40.00
Dressing to make people feel "bemused but not excluded," Auden's quirky images, and Coca-Cola addiction in Paris: An interview with John Ashbery.
The Art of Publishing II: James Laughlin on New Directions, Ezra Pound, William Carlos Williams, and Gertrude Stein.
Portraits by Josef Breitenbach of James Joyce, John Steinbeck, and Bertolt Brecht.
Table of Contents
Fiction
William Ferguson, Dies Irae, Morrissey
Eugene Garber, The Flight
Joy Williams, Tricks
Interview
John Ashbery, The Art of Poetry No. 33 Full Text
James Laughlin, The Art of Publishing No. 1, Part 2 Full Text
Poetry
John Ashbery, Rain Moving In Full Text
Judith Baumel, Proper Distance and Proper Time
Marvin Bell, Felt But Not Touched — Seattle
George Bradley, Caskets in the Fayoum
Nicholas Christopher, Sunday, Looking Westward
Tess Gallagher, Two Poems
James Baker Hall, Traveling by Moonlight
John Koethe, One Light
Mark Rudman, Solitaire
Barry Spacks, Two Poems
Gerald Stern, Five Poems
Patricia Storace, Still Life
Baron Wormser, Three Poems
Charles Wright, Three Poems
Paul Zweig, Two Poems
Feature
Josef Breitenbach, Ten Portraits
Art
Ken Goodman, Smoker IV
Roberto Juarez, Ugly Girls
Kenny Scharf, New Vim!