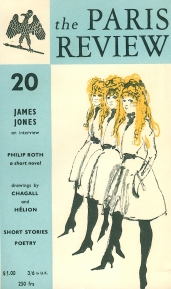 Purchase this Issue $100.00
James Jones on dialogue ("almost too easy"), characterization ("no human being is really a symbol"), and America ("big, awkward, sprawling").
Moon rider bound to another paradise: A Marc Chagall portfolio with text by James Lord.
Philip Roth's Good-bye Columbus.
Poems by Robert Bly and James Wright.
Table of Contents
Fiction
William Butler, The Building
Philip Roth, Goodbye Columbus
Interview
James Jones, The Art of Fiction No. 22 Full Text
Poetry
Robert Bly, The Sorb Is The Tree of Thor
E. G. Burrows, Icon
Richard Elman, Arbor Day
Allen Grossman, Holy Ghost Hospital
Peter Levi S.J., In a Corner of Eden
Ralph Pomeroy, A Frog, Leaping
Edward Watkins, Light Essay on a Serious Theme
James Wright, Old Man Drunk Full Text
Art
Jean Hélion, Seven Drawings