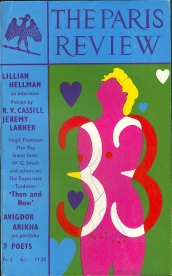 Purchase this Issue $80.00
"Mr. William Randolph Hearst caused a little excitement by getting up in the middle of the first act and leaving with his party of ten. I vomited in the back aisle": Lillian Hellman on the Art of Theater.
"Then and Now": A symposium on the expatriate tradition.
Poems by Denise Levertov, George Oppen, Robert Creeley, and Galway Kinnell.
Table of Contents
Fiction
R. V. Cassill, And in My Heart
Jeremy Larner, Oh, the Wonder!
Interview
Lillian Hellman, The Art of Theater No. 1 Full Text
Poetry
Robert Creeley, Anger
Donald Davie, Pieta
Denise Levertov, Three Poems
George Oppen, A Narrative
David Ray, Two Poems
Robert Sward, All For a Day
Feature
Avigdor Arikha, Interview with Avigdor Arikha
Janet Flanner, Then and Now: A Symposium on the Expatriate Tradition
Art
Avigdor Arikha, Drawings and Paintings and an Interview