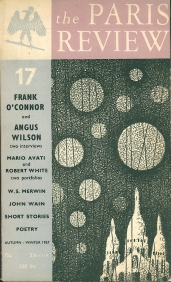 Purchase this Issue $125.00
"The moment you grab somebody by the lapels and you've got something to tell, that's a real story": Frank O'Connor on the Art of Fiction.
A pleasure principle and a Calvinist conscience: Angus Wilson defends his characters.
A story by James Blake. Poems by John Hollander and W.S. Merwin.
Table of Contents
Fiction
James Blake, Day of the Alligator
John Shepley, Laughing With Grandmother
Interview
Frank O'Connor, The Art of Fiction No. 19 Full Text
Angus Wilson, The Art of Fiction No. 20 Full Text
Poetry
Arthur Boyars, Initial
John Haislip, First Frost Full Text
Roger Hecht, The Burden
John Hollander, By the Sea
Jascha Kessler, On Forgetting To Set My Alarm Clock
Laurence D. Lerner, Mimesis
W. S. Merwin, The Frozen Sea
Paul Petrie, After the Funeral
Dachine Rainer, Goodbye Man
John Wain, The New Sun
Feature
W. S. Merwin, Flight Home
Art
Mario Avati, Cover, Contents Page, Ten Engravings