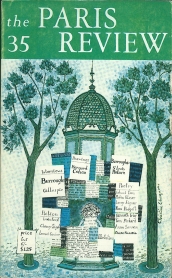 Purchase this Issue $80.00
An Art of Fiction interview with William Burroughs.
"When I first took my own group on 52nd Street, in '44, people used to ask us, 'What is that crap? What is that Chinese music?'" An interview with Dizzy Gillespie.
Stories by Irvin E. Faust, Leonard Gardner, and Clancy Sigal.
Table of Contents
Fiction
Irvin E. Faust, Operation Buena Vista
Leonard Gardner, Christ Has Returned to Earth and Preaches Here Nightly
Clancy Sigal, Doctor Marfa
Interview
William S. Burroughs, The Art of Fiction No. 36 Full Text
Dizzy Gillespie, An Interview
Poetry
Robin Blaser, The Faerie Queene
Edward Dorn, Two Poems
Larry Eigner, Three Poems
Elaine Feinstein, Bodies
Kenneth Irby, Evening Poem
Ron Padgett, To Francis Sauf Que
Tom Pickard, Two Poems
Aram Saroyan, Poem
Feature
William S. Burroughs, St. Louis Return
Art