Interviewed by Helen McCloy Ellison, Ellesa Clay High, Peter A. Stitt
Issue 72, Winter 1977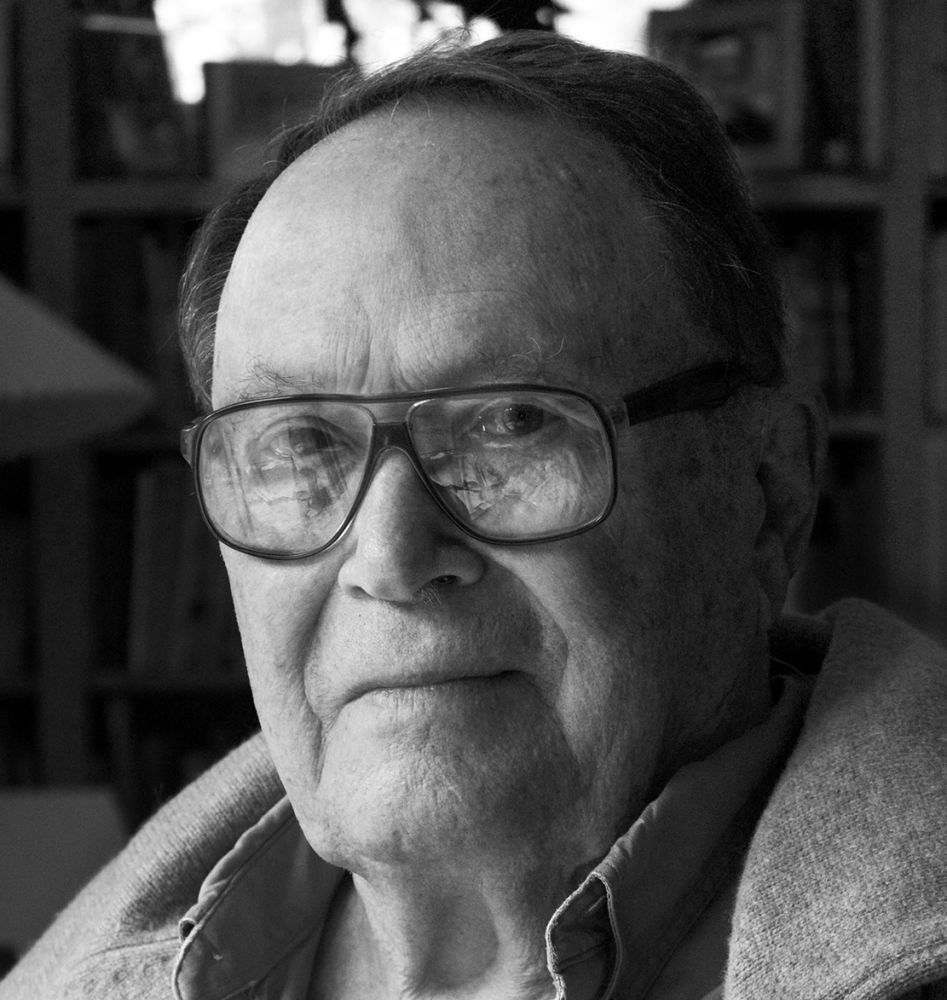 Photograph by VINCENT TOLENTINO
Note: Two interviews were done with Richard Wilbur. Because of the different nature of the questioning, the interviews have been kept separate. The first is by Peter Stitt, the second by Ellessa Clay High and Helen McCloy Ellison.
This interview took place at Richard Wilbur's home in the Berkshire Mountains near Cummington, Massachusetts, on a Saturday afternoon in March of 1977. Mr. Wilbur's house sits on a hillside surrounded by New England hill-country farms; there are no wheat fields, but plenty of trees and dairy cows. The room we talked in had a large window through which we could see the remnants of a winter of heavy snow.
Wilbur is a tall man who doesn't look his age—he leads an active life and takes good care of himself. He teaches during the fall semester and usually goes south for the winter. Recently he left Wesleyan University and became a writer in residence at Smith College, which is much closer to his home.
The Beautiful Changes and Other Poems, Wilbur's first book, appeared in 1947. His most recent books were both published in 1976—The Mind Reader: New Poems and Responses: Prose Pieces, 1953-1976. Mr. Wilbur has edited works by Poe, Shakespeare, and others, and his many translations include four plays by Molière, The Misanthrope, Tartuffe, The School for Wives, and The Learned Ladies. He is the recipient of several prizes and awards, including the National Book Award and the Pulitzer Prize, both of which were given for his Things of this World in 1957.
INTERVIEWER
When did you begin writing poetry?
WILBUR
I began writing poetry as a small child, and became a hired poet at the age of eight when my first poem was published in John Martin's Magazine. As I remember it, it was a horrible little poem about nightingales, which I never could have seen or heard as an American child. Of course, I wasn't thinking of poetry as my chief activity or even chief avocation at that age. I was drawing pictures, playing the piano vilely, thinking of being a cartoonist or a painter, and imagining that I might be a journalist. Poetry was just one of the many products, and I can't be said to have done anything very prodigious.
INTERVIEWER
Were you paid for the poem?
WILBUR
Yes, a dollar. I still have the dollar somewhere. Over there in that silo, which I cannot unlock because I've mislaid the key, there are all sorts of brown boxes full of memorabilia, and I think one of them contains the dollar.
INTERVIEWER
What eventually made you decide on a career as a poet?
WILBUR
I really drifted into it. When I was at Amherst College, I was Editor, or Chairman as they called it, of the College newspaper, and I did a lot of writing and drawing for the College humor magazine, Touchstone. At the same time, I felt a sort of vocation for the study of English literature and thought I might want to be a scholar. During World War II, I wrote poems to calm my own nerves and to send to my wife and a few friends, a few teachers at Amherst. Then when I came back after the war and went to Harvard on the G.I. Bill to get an M.A. in English, there was a friend we made there, a well-known French poet now, named André du Bouchet. He was involved with a little magazine called Foreground, which was being backed by Reynal and Hitchcock as a means of discovering new talent. André heard from my wife one evening that I had a secret cache of poems in my study desk. He asked to see them, then took them away to read. When he came back about an hour later, he kissed me on both cheeks and declared me to be a poet. He sent these poems off to Reynal and Hitchcock, and they also declared me to be a poet, saying that they would like to publish them, and others if I had them, as a book.
INTERVIEWER
How do you compose your poems? Do you write in long hand or on the typewriter? Do you write in bursts or long stretches, quickly or laboriously?
WILBUR
With pencil and paper and laboriously, very slowly on the whole. I do envy people who can compose on the typewriter, though I reject as preposterous Charles Olson's ideas about the relation of the typewriter to poetic form. I don't approach the typewriter until the thing is completely done, and whatever margins the typewriter might offer have nothing to do with the form of a poem as I conceive it. I write poems line by line, very slowly; I sometimes scribble alternative words in the margins rather densely, but I don't go forward with anything unless I am fairly satisfied that what I have set down sounds printable, sayable. I proceed as Dylan Thomas once told me he proceeded—it is a matter of going to one's study, or to the chair in the sun, and starting a new sheet of paper. On it you put what you've already got of a poem you are trying to write. Then you sit and stare at it, hoping that the impetus of writing out the lines that you already have will get you a few lines farther before the day is done. I often don't write more than a couple of lines in a day of, let's say, six hours of staring at the sheet of paper. Composition for me is, externally at least, scarcely distinguishable from catatonia.
INTERVIEWER
What is it that gets you started on a poem? Is it an idea, an image, a rhythm, or something else?
WILBUR
It seems to me that there has to be a sudden, confident sense that there is an exploitable and interesting relationship between something perceived out there and something in the way of incipient meaning within you. And what you see out there has to be seen freshly, or the process is not going to be provoked. Noting a likeness or resemblance between two things in nature can provide this freshness, but I think there must be more. For example, to perceive that the behavior of certain tree leaves is like the behavior of birds' wings is not, so far as I am concerned, enough to justify the sharpening of the pencil. There has to be a feeling that some kind of idea is implicit within that resemblance. It is strange how confident one can be about this. I always detest it when artists and writers marvel at their own creativity, but I think this is a very strange thing that most practiced artists would have in common, the certainty that accompanies these initial, provocative impressions. I am almost always right in feeling that there is a poem in something if it hits me hard enough. You can spoil your material, of course, but that doesn't mean the original feeling was false.
INTERVIEWER
You have been a teacher for many years. Does teaching complement your work as a poet?
WILBUR
I think the best part of teaching from the point of view of the teacher-writer, writer-teacher, is that it makes you read a good deal and makes you be articulate about what you read. You can't read passively because you have to be prepared to move other people to recognitions and acts of analysis. I know a few writers who don't teach and who, in consequence, do very little reading. This doesn't mean that they are bad writers, but in some cases I think they might be better writers if they read more. As for the experience of the classroom, I enjoy it; I am very depressed by classes that don't work, and rather elated by classes that do. I like to see if I can express myself clearly enough to stick an idea in somebody's head. Of course there are also disadvantages, one of which is that the time one spends teaching could be spent writing. Another involves this very articulateness of which I've been speaking. It uses the same gray cells, pretty much, that writing does, and so one can come to the job of writing with too little of a sense of rediscovery of the language. That is one reason I like to live out here in the country and lead a fairly physical life—play a lot of tennis, raise a lot of vegetables, go on a lot of long walks. I do things that are non-verbal so that I can return to language with excitement and move toward language from kinds of strong awareness for which I haven't instantly found facile words. It is good for a writer to move into words out of the silence, as much as he can.
INTERVIEWER
As a young man, did you ever do what John Berryman did so consciously—visit older poets, to learn from them or to sit at their feet?
WILBUR
Not as a very young man, though I knew Robert Frost rather well when I was in my latter twenties and thereafter. My entrée was not so much my own merits as my wife's. Her grandfather, William Hayes Ward, was the first person to publish Robert Frost. He edited The Independent, a journal of literature and opinion that later turned into The Outlook, which later still became The Literary Digest. So Frost was very fond of my wife's family. He was also responsive to the fact that I knew most of his poems by heart. And then I had the luck to please him with a few of my own poems. So there is someone at whose feet I have sat, although after a while I got up off the floor and we were just friends. And let's see—I have never made pilgrimages, though I've always been delighted to meet people about whose work I cared. I loved meeting people like Stevens and Williams and Marianne Moore, usually at performances that they gave. I introduced Stevens one time when he gave a splendid reading at Sanders Theatre at Harvard. Unfortunately, I am the only person who heard the reading because the sound equipment was not working. I was sitting on the stage next to him, and it sounded wonderful, but the acoustics in that building are so bad that everyone else was forced to sit through an hour of silence. And they respected him so much that they did it gratefully. Luckily, the tape recorder was working, so we have a record of that occasion.
INTERVIEWER
Did Frost seem to you the kind of man that Lawrance Thompson says he was in his biography?
WILBUR
I think most of Thompson's evidence is undoubtedly true. But since I take a more positive view of Frost's character than Thompson, I don't find those books agreeable to read. I think Thompson is reacting against the phony picture—the mellow old New England fellow—that Frost gave of himself and that his admirers so often gave. He was, as I well knew, a much more dark and dangerous person than that. There was paranoia in him, and a savage competitiveness. But that is not what you felt when you were with him. Personally, he was extremely warm. You could occasionally put him off, because in eighty-odd years he never lost his original touchiness. But he would come back; perhaps he would even like you better for having braced him a little. I can remember putting him off several times. Once I said to him in Cambridge that he ought to go down to Washington and get Ezra Pound out of the madhouse, that he shouldn't allow his old bitterness and envies against Pound to detain him. I said, "You don't want to be a Brutus, and I don't mean the Brutus in Shakespeare, I mean that other Brutus who was so perfect a Roman judge that he sentenced his own sons to death." Having said that, of course, I winced, because I remembered that Frost's son had committed suicide and that many people, Frost included, had felt that he bore some responsibility in the matter. Well, Frost winced too, and glared at me for a bit, but he finally felt that I and other people who urged him in that manner were right, and acted on it. Another time, as I was leaving his cabin in Ripton, he called me back, and said, with a very youthful diffidence, that he hoped it was understood that we were friends. There wasn't any question of our being enemies, of course; he was just saying that we had had a good talk and he was sorry I was going, something like that. It came very close to being tenderness, and it also came out of, as did so much that he spoke, a very deep loneliness. I was tremendously touched. It seems to me that this kind of thing is not frequent enough in the Thompson biography—what I've read of it. People were always saying, around Bread Loaf and Ripton, that the world did not know the real Robert Frost. I suppose Thompson is telling the world what it never knew. Perhaps he has lost his balance and is over-telling them. So often, I think, a biographical study is likely to be written in a corrective spirit, as was John Brinnin's Dylan Thomas in America. There were so many damn fools who thought that Dylan was a healthy, bouncing, priapic figure, rebuking us all for our stuffiness, whereas, although he had been a delight to be with, he had also been a sick man drinking himself to death. Brinnin, as Thomas's closest associate in America, had seen that horror, and had seen the almost willful incomprehension of the many people who adored Dylan and tagged along after him and drank with him. So he had to write the book to correct a false impression, to put the horror on record, and many people didn't understand what had moved him.
INTERVIEWER
You have said that "the work of every good poet may be seen in one way or another as an exploration and declaration of the self." Is this true in your own case?
WILBUR
I don't think that I explore myself in poetry in the way in which some so-called confessional poets do, although I must say I am writing many more poems out of my actual experience and my relationships. But I usually have a certain sense of distance from my material, a feeling that I am not spilling my guts but arranging some materials and trying to find out the truth about them. If, in the process, I also find out something about myself, I think it is indirectly done. It is the thing, and not myself, that I set out to explore. But then, having chosen my subject and explored it, and having seen what I can say, I suppose one result of the poem is that I know myself a little better. There are certain things I find that I will not say, and there are certain matters to which I keep coming back. I would rather not name them because I think they are clear enough in the poems. The funny thing is that I often won't know that I have reapproached a subject until a new poem has been finished. Then I will say, oh yes, this turned out to be that question again. My process of self-exploration is almost as strangely indirect as that of Beau Brummell in a story that I remember hearing told about him. Somebody asked Brummell which one of the northern lakes he preferred. He turned to his valet and said, "Which one of the northern lakes do I prefer?" "I believe it is Windermere, sir," the valet replied. So Brummell said to his questioner, "Apparently it is Windermere." I see some resemblance between that process and the process by which I make discoveries about myself. I ask some poem to write itself, and once I am through supervising that process, I have discovered whether I like Windermere or not.
I do feel that the truth, especially the truth about oneself, is hard to report, and that if you set out to confess, what you are likely to do is tell lies in addition to reporting some of the truth. And the fact that you are consciously part of the material of the poem may lead you to falsify in ways that are not good. There are good fictions and bad fictions. The kind of fiction that glamorizes you is not good either for your sake or for the reader's, and I think that very often the confessional poet is drawn to glamorize himself, whether he is aware of it or not.
INTERVIEWER
One reviewer of your work has written: "in many of his new poems, Wilbur still addresses us as if he were the only one alive." How do you feel reading something like that?
WILBUR
I remember seeing that somewhere. I think the critic is reacting to the personality that he feels behind the poems he has read. We all do this, of course, but I am sorry that my critic does not like what he has seen in or through my work. Perhaps his idea of humanity in speech and in art involves a greater directness and a higher degree of blurting than he finds in me. I don't like the kind of poetry that seems to harangue the reader. D. H. Lawrence, for example, some of whose work I think is marvelous, can be a dreadful haranguer. Perhaps that reviewer would like the instancy and the insistence of Lawrence, who is indeed dealing directly with his reader, though he is also dealing carelessly with his lines in the process. Lawrence always writes at his worst when he is hectoring an imagined reader. But maybe my critic doesn't like Lawrence either. It is hard to know why these reactions happen. I remember a case that may be similar to this one. Toward the end of World War II, I had a friend—we really did like one another—who came out of a kind of ethnic, urban world. He was periodically exasperated by what he felt was my WASP cool. He would come and stand next to my cot in the barracks and say: "Wilbur, why don't you join the human race?" I would ask him what I could do in order to join the human race, but he never made any specific suggestions—he'd just tell me to loosen up, that sort of thing. I think it is possible that there are some critics for whom one's poetry just cannot work because of temperamental differences and distances.
INTERVIEWER
You have said, "I do think that there is nothing more dangerous to the imagination than fantasy." Many people would equate the two things. Could you elaborate on that?
WILBUR
To me, the imagination is a faculty that fuses things, takes hold of the physical and ideal worlds and makes them one, provisionally. Fantasy, in my mind, is a poetic or artistic activity that leaves something out—it ignores the concrete and the actual in order to create a purely abstract, unreal realm. If we think of fantasy at its least dignified, non-artistic level, this becomes obvious. Sexual reverie very clearly leaves something out, and that something is the physical object of one's desire.
INTERVIEWER
Edgar Allan Poe is a writer who relies a good deal on fantasy; his work and his theory of art both seem very different from yours. What, then, is the basis of your fascination with him?
WILBUR
I first read Poe sensitively during World War II, in a foxhole at Monte Cassino. The extreme isolation of my situation made for a great power to concentrate. I felt a tremendous symbolic or allegorical depth beneath Poe's prose, and this excited my curiosity. I have been reading him ever since, and find myself continually discovering new things. I tried to write a book on him when I was a junior fellow at Harvard, between 1947 and 1950, but it didn't quite pan out. I hadn't yet found a language sufficient to describe the operation of his work as I saw it. So I began to write short pieces on him. I think I have said a certain number of things about him that are true, and it is fun to have been a discoverer. Now as for our conflict, Edgar's and mine, I object to him simply because he is far too much a fantasist. Or, as Allen Tate put it, the trouble with him is that his imagination does not proceed upward through the order of nature, moving toward the invisible through the visible. Instead, he tries to destroy the visible world on the assumption that if you do that, then the invisible world will rush in to take its place. Well, I question that formula, but I think it is an exciting mistake and resulted in a number of remarkable works.
INTERVIEWER
But you don't seem to care much for his poetry.
WILBUR
I have a strong weakness for certain of the poems—"To One in Paradise," for example. But too much of the poetry is virtually pure incantation, its substance being cloudy or predestroyed. The fiction, for my money, is far more accessible and far more defensible aesthetically. Poe's stories have a neo-Platonic or gnostic myth for their frame, but within that frame we're also given wonderful pictures of the states and motions and conflicts of the psyche. Modern studies of the dream-process are just catching up with some things that Poe noticed and, in his own way, set down.
INTERVIEWER
Certain critics describe your poetry as rigid in its formality, old-fashioned. Perhaps in an age of loose forms—of free verse, the prose poem and the plain style—your practice strikes them as odd.
WILBUR
It is true that I have used a metrical basis in almost every poem that I have written, and it is true that more than half of my poems rhyme. At the same time, we must recognize that meter in itself is not rigid—it depends on how you use it. I hope that in my best poems I have used meter flexibly, so that the rhythm of a given poem is appropriate to its mood and its subject. Robert Lowell wrote me a friendly note when "Walking to Sleep" came out in the New Yorker, praising among other things the looseness of my pentameters. I didn't know what to make of that at first; I didn't think my pentameters were especially loose. But his remark led me to see that they sometimes were and are—that in contrast to many poets I pay little heed to the decasyllabic norm. Most of my poems are put together in the way in which free verse comes about. That is to say, I start talking the poem to myself, and I wait to see what rhythmic lengths the poem naturally wants to fall into. Having let the poem have its head for five or six lines, I decide whether or not I have a stanza. By that time I also probably have discovered whether the poem wants to rhyme, whether it wants to emphasize itself or deepen its sound by rhyming. This seems to me a perfectly organic way to proceed with a poem. Very seldom has this approach gotten me into a formal straitjacket in which it was impossible to develop the thought as the thought wanted to develop. That can happen. I think one could start out in a very difficult form, like terza rima, and find that the natural drift of the thoughts and perceptions was being impeded, was being falsified, by the technical difficulties. What you do at that point is to start over, maybe, or eliminate some of your rhymes. So I would say that I approach a poem in just the way a free-verse writer does. What matters is the subject and the words that are going to be found for conveying and exploring the subject. The only difference is that I include meters and rhymes in my free-verse proceeding.
INTERVIEWER
James Wright talks of formalism liberating the imagination rather than confining it. Does this make sense to you?
WILBUR
Oh, yes. I have argued that for years. I think it is perfectly true that if you put yourself in a position where you have to pay attention to all sorts of wild suggestions that come to you through the sound contract you have made, it can be liberating. If you are a silly person, it will ruin your poem because you will let the rhyme twist your thought, take your mind off where you were going. But if you are not silly, it can be very enriching and instructive. I don't really take an Apollonian approach to poetry. I think you have to be using your brains all the time, yes, but your brains have to be very attentive to the stupid part of you. I trust the stupid part at least as much. And one way of extorting suggestions from that part of you is through the use of formal devices such as rhyme and stanzaic patterns.
INTERVIEWER
A reviewer, referring to your use of formalism, has called you "a bell too conscious of its clapper, clapper-happy."
WILBUR
I guess that means that I am self-conscious about the sound of my own voice, and I think I would have to plead guilty in some measure. Every line that I set down is considerably pondered, and while I try to have a colloquial and dashing movement in my poems, it does not satisfy me if they are not of a more than colloquial density or import. Now I always find self-consciousness annoying in other people—carefulness I don't. I find gaudiness annoying, richness not. All I can say in answer to that criticism is that I hope that some people find me more careful and rich than clapper-happy.
INTERVIEWER
There is a good deal of attention being paid today to the poem sequence and even to the long poem, as in Warren and Berryman, for example. Do you have any inclination to work along those lines?
WILBUR
I'm not sure any of my poems could qualify as long. I write so slowly that anything that is, let's say, a hundred and fifty lines long seems to me like a long poem. I haven't recently counted the lines of my longer poems, like "The Agent" or "Walking to Sleep" or "The Mind Reader," but I do know that "Walking to Sleep" takes eight minutes to read aloud. And that is about as long as I believe I am likely to get. "Walking to Sleep" has the density of any of my lyrics—every line has a certain amount of trouble in it—and I think that if I were to write a sixteen-minute poem of that same density, it would be very hard for the reader to consume. If I were to write a longer poem, I think I would have to become more open, plainer, more prosaic, for considerable stretches. Who can tell what he will do? I must say the idea is attractive to me, the idea of seeing how simple I could be and still get away with it. I believe I have been getting simpler as I have gone along. In my last book, in fact, there are some lines—I don't think I have any poems that are simple in toto—that are so simple that an unfriendly reviewer in the Times was able to extract them and say, Look how dull Wilbur can be. But when I was putting down those simple lines—lines like "It is always a matter, my darling, of life or death, as I had forgotten"—I was excited by their very simplicity. They occur within poems that, taken as a whole, are not altogether simple, that you might have to read two or three times to consume. Every time I encounter a good translation of a Chinese poem, I am teased by the thought that it would be nice to try that sort of thing. A good Chinese poem, as Witter Bynner says in his Jade Mountain, makes most of our poetry look overdressed and self-important. And a good Chinese poem is so much the poem of its moment—it is attractive in that way, too.
Well, all I can say is that such things attract me, but I don't have any notion of what I am going to do next. I have written almost no poetry for about a year now, though I have translated a play of Molière's—The Learned Ladies. That is part of my excuse. The rest of my excuse is that I really did say to myself recently that I must escape altogether from the impulse to overachieve, which can possess you once you get into the business of producing books of poetry. I called up Stanley Kunitz the day John Berryman killed himself. We consoled one another and talked about whether his act had been predictable. One thing we agreed upon was this, that whereas Stanley and I do many things apart from poetry—we both love gardening, for example—John Berryman was such a very hard worker that he lived almost entirely within his profession. Some of the dream songs seem to drag in a good deal of the world, but they do it mainly through books and Time magazine and the daily newspaper. The impression one is left with is of a man who is working desperately hard at his job. Well, I admire that, but I think it can break your health and destroy your joy in life and art. I haven't got any clever hypotheses about why John killed himself, but a statement of Stanley's during that telephone conversation has stuck in my mind. He said: "In this country it is not enough just to publish a book of good poems and forever after be thanked for it. It should be possible, but it's not." As soon as you publish a book of poems, people begin to say, when is your next book coming out? And if you don't publish books at intervals of three years, they say, why are you so slow? I have been reproached in the Times Literary Supplement for taking seven years to get out a book, you know. That kind of pressure is not good for you and isn't good for your work. Stanley said: "As soon as you publish a book of poems in this country, you are in the poetry prison." I think John felt himself to be in the poetry prison, and that may have been contributory to his death.
INTERVIEWER
You once said—and here is another quotation for you—"there's always some impulse in the American writer to set out for the frontier in some sense, to head for the savage, the original, the uncivilized, to stand loose from whatever actual coherences people may try to thrust upon him." Have you felt this impulse, and do you think it shows up in your poetry?
WILBUR
Yes, I feel the impulse. I think that, like most Americans, I have considerable respect for the actual and physical. We are all kickers of stones, you know, and we are not as likely to get enchanted with abstract thought systems as some Europeans, especially the French, are. The French are always coming up with enormously boring notions, which they consider très très très interessantes. A man like Sartre can get a whole book out of a proposition that is, on the face of it, untrue, the proposition that Jean Genet, because he is masochistic, has the humility of a saint. There isn't any point in saying that even once, but a French intellectual can get a whole book out of it. I suppose we Americans are at fault in the other direction, that we are too primitive and have too much respect for the voiceless and the unvoiceable. Maybe it is just that we are closer to the frontier than they are, and therefore are less capable of getting lost in our minds—we are surer that there is something out there.
INTERVIEWER
I take it that you would not then agree with the critic who said: "Wilbur does not really care for things. For Wilbur, the call to things is equivalent to the punctual rape of every blessed day'."
WILBUR
That is not true at all. The critic is entitled to his insight—we all have to make guesses like this about what we are reading. But that is not how I feel. I feel intensely drawn to things, I think more drawn to things than to thoughts. Since the world has to pass through thought in order to come out as poetry, it may not be immediately obvious that I am drawn to things. But I sure am.
INTERVIEWER
Could I ask which of your books and which of your poems are your favorites?
WILBUR
I'm not sure about that. There is always the coy answer in which you say that your most recent work is your favorite because you hope so desperately that it is not a decline. I think it is possible that my best book is Things of this World. I have not tired of most of the poems in it, and I don't find any conspicuous failures there, whereas there are a couple of poems in Advice to a Prophet that I wish had never happened. Usually when I feel that way about a poem, I think it has to do with a lack of originality—sounding too much like somebody else. As for my favorite poems, I like "Walking to Sleep" very much. And I haven't gotten tired of "Love Calls Us to the Things of this World." Since I have read that so often to audiences, it seems to me that I have given it the acid test—it must for me have a lasting strength. And then I like the new poem to my daughter, the one called "The Writer." But I enjoyed that also as a formal departure; I enjoyed not rhyming for a change.
INTERVIEWER
Let me conclude by asking your reaction to a comment that William Meredith made about you. He said that you "obviously believe that the universe is decent, in the lovely, derivative sense of that word."
WILBUR
Well, yes. To put it simply, I feel that the universe is full of glorious energy, that the energy tends to take pattern and shape, and that the ultimate character of things is comely and good. I am perfectly aware that I say this in the teeth of all sorts of contrary evidence, and that I must be basing it partly on temperament and partly on faith, but that is my attitude. My feeling is that when you discover order and goodness in the world, it is not something you are imposing—it is something that is likely really to be there, whatever crumminess and evil and disorder there may also be. I don't take disorder or meaninglessness to be the basic character of things. I don't know where I get my information, but that is how I feel.
This interview with Richard Wilbur took place in Louisville, Kentucky.
INTERVIEWER
Do you see being more personal as an evolution in your work? Have you been holding back from the personal?
WILBUR
Yes, I think so. I think I've held back from the personal, perhaps out of reserve. Lately, however, I've begun to crumble a bit, and write more shamelessly of what is near to me. Also, I think, getting older is a process of getting gradually more and more soft-hearted. And you do begin to draw in a little as you get older. I think of Auden's book About the House, which is just a book about his house; the different rooms in it, the things he does there, the friends who come to dinner. It's the book of a man who's—maybe he's a little tired of writing about grand subjects and just wants to print some puttering poems, the way a retired man putters around the house.
INTERVIEWER
Over the years some critics have accused your poetry of detachment. It sounds as if you are agreeing with them for the first time.
WILBUR
Well, I think it's inevitable that there be some detachment, and that whoever speaks in the poem is going to be a contrived self. And whatever is said is going to be said because—well, an opportunity to write a good poem presented itself. Sometimes very strong feelings don't get written up because the interesting metaphor or dramatic situation doesn't suggest itself. So much of one's life goes unused.
I remember out in San Francisco in 1956 I spent an afternoon with Lawrence Ferlinghetti and Robert Duncan, and we had a party that evening. I'm not going to be able to remember all these names, but there were a lot of people there; and the big, exciting thing was that Allen Ginsberg had just read "Howl." I don't know whether the poem had even been published as yet by City Lights, but he'd read it in San Francisco, and people had tape recordings of it. There was a lot of hurrah about it. I don't know whether the word Beat was yet being used, but the style was certainly evolving there. There was a roomful of young followers of Allen and of others who were wearing what was beginning to be the prescribed clothing—the jeans, bare feet or desert boots—and they were all full of romance about riding the rods. Everyone was talking about railroads, and at one point I said: "What one must never jump on, of course, is an oil car, since what you have to hold onto is a very hot pipe which is situated at a bad position and requires you to lean out from the car in the shape of an L." And somebody said: "Mr. Wilbur, did I hear you rightly? Have you ridden the rods? Have you been a knight of the road?" And I said: "Yes." He said: "Why didn't it get into your poetry?" I couldn't tell him then, but I think I know now. I believe that I did my hoboing in so romantic a spirit that I was operating within the poetry of others.
INTERVIEWER
It would be like being in Pamplona, thinking of Hemingway, and not writing.
WILBUR
Of course; that's right. Run with the bulls at Pamplona and somehow it is not an action entirely of your own.
INTERVIEWER
The Ginsberg reading you mentioned makes me think of Gary Snyder. Is he more than a "knight of the road" in your opinion?
WILBUR
Yes. I like his early book Riprap. I guess my reservation about him would have to do with its being too easy to predict what he's going to say about anything . . . his too-reflexive primitivism.
INTERVIEWER
I'm not sure what you mean.
WILBUR
Well, admiration for the life of the woods, for the Indian, for unspoiled land; and rejection of cities. Of course, such attitudes are fairly easy to share, but it seems to me that he doesn't explore them, he doesn't criticize them, he doesn't sophisticate them quite enough . . . It's more complicated than he lets it be by simply heading for the mountains or the monastery. John Frederick Nims once said about the Selected Poems of Snyder that it was "Polaroid poetry." Too much of it follows William Carlos Williams's weaker poems, I think, in simply telling you some things that are there, in a tone of breathless simplicity—the cloud stands above the mountain—so what?! That's the reservation I have about some of his work, but I do think he's one of the most talented of that whole group, don't you?
INTERVIEWER
Along these lines, you said in your essay on Emily Dickinson that poets write about what vexes them. What vexes you?
WILBUR
I'd rather testify about other people, I suppose. I'm wary of that kind of self-analysis. I know that I have poems in which I set two voices going against each other. One is a kind of lofty and angelic voice, the other is a slob voice, and these are two parts of myself quarreling in public. I suppose the quarrel is fundamentally of a religious nature, and that the slob, in whom I trust a great deal, is saying to the angelic part: "Come off it. Get down here where you belong." I suppose I've written a lot of poems that relate to that kind of tug-of-war going on in me. Then there'd be other ways, no doubt, that I don't want to explore, of figuring out what it is that gets under my skin.
INTERVIEWER
You're saying that you are the speaker in your poems?
WILBUR
Any poem that divides into two parts projects two aspects of me, debating. Self-projection, in a general sense, is inescapable. I don't think I would try to express anything in a poem that was absolutely not myself. On the other hand, I don't know of anything that is absolutely not myself, including Adolf Hitler.
INTERVIEWER
In the context of this balance that you like to keep in your own work, in "Cottage Street, 1953," you call Sylvia Plath's poetry "unjust." Are you referring to what you see as her poetry's one-sidedness?
WILBUR
Its helpless one-sidedness. I tried to sprinkle a whole lot of words around there that would add up to a kind of just estimate of her. That, together with the picture I had given of her as a slumped, pale, drowning person. Let the record show that I said brilliant: "her brilliant negative. In poems free and helpless and unjust." I suppose she was freed by the onset of her desperate condition of mind to be brilliant in the way the poems of Ariel are brilliant. At the same time, she was helpless because it required that condition of mind to bring on those poems. She was unjust because a sick and prejudiced perception of things is—well, that's the limitation on the usefulness of her poetry to any reader, I think. It gives you some insights into a desperate condition of mind that is not absolutely foreign to the rest of us, but that goes farther towards morbidity than I've ever gone, thank God. At the same time there's a lot she can't tell you. She's all wrapped up in herself and her feelings about her children, and herself as a writer, and her fantasies about her dead father, and her arbitrary connections between her dead father and her husband. I don't suppose we need to know that her father was not a Nazi in order to read that poem ["Daddy"] rightly, or do we? In any case, she's rather unjust to him. She's certainly unjust to her mother.
INTERVIEWER
Diane Wakoski has said she thinks confessional poetry is misnamed—that Plath and Lowell and Sexton are not confessing anything, but are writing out of feelings, like pain, that most of us don't find acceptable as material.
WILBUR
Well, I really think Sylvia Plath's later poems, when unfortunately she was at her best, were crazy, and that, whatever virtues they have, they have that limitation. I don't think Lowell's best work is to be described in that way. I think whenever he's been emotionally ill it hasn't enabled him to write. He hasn't written out of illness, but in spite of it. The same story with Roethke, and I'm sure the same with Anne Sexton, whom I didn't know as well. As for pain, it's acceptable and necessary material. One of the jobs of poetry is to make the unbearable bearable, not by falsehood but by clear, precise confrontation. Even the most cheerful poet has to cope with pain as part of the human lot; what he shouldn't do is to complain, and dwell on his personal mischance.
INTERVIEWER
You once said: "You write a translation because someone else has written a poem which you love and you want to take possession of it." How did you go about translation, for instance, of Brodsky's poem, "The Funeral of Bobò," in The Mind Reader?
WILBUR
It took me all of the month of January to work out its forty-eight lines, because Brodsky, whom I like very much, is very fussy about accuracy. I gather he's been very accurate when he's translated me, doing the rhymes and meters. There isn't any use doing it otherwise, I think. And so when I did "Bobò" I had to do it with something approaching absolute fidelity. I sent my translation to Carl Proffer, his friend at Ann Arbor, with fear and trembling, because in the last stanza I had in fact put in three words that were not in Joseph's original but, I thought, were in keeping with the drift of it. I damned well needed them for a rhyme, too! And I said: "Please clear this with Joseph." And Joseph said they were all right.
INTERVIEWER
Brodsky complained at a reading here in Louisville that Akhmatova's poems had been poorly translated. They had not been rhymed.
WILBUR
He was objecting, I think, to Stanley Kunitz's translation of Akhmatova, which is probably the best book of Akhmatova around in English. But I guess what Joseph minds is that Stanley didn't work hard enough to get the meters and get the rhymes. Maybe Stanley's reply would be, It wasn't a matter of working hard or not working hard. I felt that some of her poems could be translated into more relaxed English forms. I noticed recently that Denise Levertov and Joseph were tilting at each other in the pages of The American Poetry Review: Denise said, if I remember rightly, that Joseph, as a Russian, was much more used to an emphatic use of strict meter than English poets are, and that for him, therefore, the absence of meter and rhyme in a translation from a Russian poet would seem an appalling deprivation; but that for the American reader, for whom presumably the translation was intended, a more relaxed rendering might be the more enabling sort of treatment. I think that's what Denise said—I still don't agree with it, except in one particular case.
INTERVIEWER
You once said that you do translations only when you're not working on your own poetry. Why is this?
WILBUR
It would require a mad degree of self-knowledge to know exactly when you are capable of doing your own work and when you're not. But there are some circumstances under which it is easier to translate than to try to go ahead with a poem of your own. I think that in order to work on your own poem you need to baby yourself sort of totally, not to have the telephone ring, not otherwise to be vulnerable. I somehow can't work on poetry, which is the most important thing in my life, until I've taken care of all the unimportant things: written that silly letter, marked the class papers, mowed the lawn! At any rate, I've gotten into that fussy frame of mind now, whereas I can translate Molière riding on a plane, sitting in a motel. I have with me on this trip a translation of The Learned Ladies, which has almost reached the end of the second act, and in a frustrating recent day full of flights, limousines, and buses I got four lines done to my satisfaction. And that's a fair average even if one were sitting in a living room. Some days you get sixteen lines done, some days none.
INTERVIEWER
You've written that World War II was instrumental in starting you in poetry, that it gave you a need to organize your world. Can you tell us about that?
WILBUR
I think it was no different for me than for anybody else in that regard. War is an uprooting experience—that's at the very least what it is. It sends you to other places, puts you in other clothes, gives you another name and a serial number. And it also fills your head with doubts as to what the world will become, an accelerated sense of change. And then, of course, if you're in a line-company it fills your ears with "Bang! Bang!" and your heart with fear. And there's all of this to be allayed as best one can. There are letters from home, or you can drink: There are all kinds of ways to forget how frightened and disoriented you are. But I think one of the best is to take pencil and paper—which is all you need, thank heavens, to be a poet and which makes it possible to practice poetry in a foxhole—and organize, not the whole of it, because of course you cannot put the world in order, but make some little pattern—make an experience. That is to say, jell things into an experience that will be a poem.
INTERVIEWER
Your first book, The Beautiful Changes, contains many war poems, and your Vietnam-era books contain very few. Didn't Vietnam suggest fresh combinations to you?
WILBUR
Not very many. I have one poem called "On the Marginal Way," in the background of which you strongly feel the Vietnam War; and the poem explicitly states that I regard it as a dirty war. I also wrote what I called "A Miltonic Sonnet for Mr. Johnson," abusing him roundly and comparing him unfavorably to the founder of his party, Thomas Jefferson. But I had a distance from the Vietnam War. My physical involvement with it was limited to peace parades and those poetic-protest read-ins, which got to be rather tiresome on the poetic side, but which, I suppose, were politically virtuous. So, heavens, I didn't have concrete material to deal with as I did in such poems as I got out of World War II. In World War II I'm talking about the gun that's strapped on your shoulder, and the mine detectors that you're observing as they sweep back and forth across the ground—all kinds of details.
INTERVIEWER
The status of female poets, or of our consciousness of them, has changed considerably in the past few years. Thinking of that, we wanted to ask about a view you expressed in an interview in The New York Quarterly in 1972. You said you believed that men and women have different sensibilities.
WILBUR
Yes, I know I'm on dangerous ground in saying that, but I still think it's true. I do think that men are capable of greater emptiness and abstraction. I don't believe in the possibility of a female Hegel, for example, and I have a feeling that women have their feet on the ground, on the average, a little more than men do, even though men tend to etherealize women in their imaginations, through their affection. It's therefore a continuous surprise to notice how women know where they are, and know what's around, and men are, by comparison, less practical and less concerned with the concrete. That may be a big lie, but it is an impression of mine.
INTERVIEWER
Do you think the difference is biologically based, innate?
WILBUR
I suppose it may have some biological foundation. Some feminist friends of mine disallow almost all efforts to discover biological differences between men and women. One of them was telling me sternly the other day that women could throw baseballs just as well as men, if they weren't told that they couldn't throw baseballs, and that may very well be true.
INTERVIEWER
Do you think there are male/female topics anymore? Or ever were?
WILBUR
No. I think perhaps there were, but I don't think there are now. I really don't. I suppose that we're all still sufficiently conditioned so that we feel that some materials are slightly more the province of men than of women: a woman being obscene is slightly obscener than a man being obscene, I think, and attracts more attention.
INTERVIEWER
How do you relate what you say about men, women, and abstraction to poetry?
WILBUR
I think of the great describers of the twentieth century and they'd be people like Marianne Moore and Elizabeth Bishop—and D. H. Lawrence, who had, whatever I mean by this, a very strong feminine element in his nature, so that he was able to write poems about men from the woman's point of view that both men and women can read with a sense of belief. He's also a great describer of objects, whereas I think there's considerably less vivid description in Eliot, in Pound, in all sorts of male poets I might name. Now you're going to give me trouble by naming William Carlos Williams, who's an extremely masculine person and a great describer. All I can say is that my theory doesn't entirely hold water.
INTERVIEWER
You almost seem to be saying that women have a more natural disposition to be poets.
WILBUR
I don't know about that. I think of poetry in terms of the compressed expression of the whole of one's experience, all at once; the combining of things; the bringing together of all those things that we variously call sensation, and thought, and passion, by whatever names we call them; and any poetry that isn't concrete is going to be a flawed poetry. So, in that respect, such women poets as I've mentioned, and such men poets as are like them, have one capability without which: nothing. Or—I'll have to take that back, because I do think that there are some poems that have no concreteness in them and, nevertheless, are successful. But in the long run, one would not be satisfied with poetry that didn't seem to touch down in the mundane, in the actual.
INTERVIEWER
That was one of your criticisms of Poe's poetry, wasn't it, that it wasn't grounded enough in the concrete.
WILBUR
Yes. He is hurrying away from it as fast as he can go. He has to mention it in order to destroy it! Otherwise, you'd see nothing but the smoke. He will say "seas," and then will add, "without a shore," and make it impossible for you to think of any sea that you ever heard of.
INTERVIEWER
What would you do with Emily Dickinson, then? She's a woman who seems to work in the abstract.
WILBUR
Yes, she does. Toward the abstract, I would say, as David Porter has recently shown so well. She writes a great many poems in the riddle form, and some of them are the kind of riddle that has a concrete answer. Many of them are. And she's brilliant in that kind of extreme descriptive test. A poem like the one about the hummingbird—how does it begin? "A Route of Evanescence/With a revolving Wheel." There's no problem about getting the answer to that riddle. And she's a great describer in a lot of poems that aren't riddles; and yet she keeps taking the qualities of sensible things and abstracting them before your very eyes, and then sometimes combining qualities taken from here and from there without giving you any objects to look at. For instance, the way she uses purple. She draws purple perhaps from the sunset more than any other place; also, from associations with royalty. In "Success is counted sweetest" there's purple, isn't there, associated with victory: "Not one of all the purple Host/Who took the Flag today/Can tell the definition/So clear of Victory"—I think that's it. Purple, the purple throng. Surely they're not colored purple; surely not dripping with blood, it wouldn't be purple in that sense. It must be the royal purple—
INTERVIEWER
Or religious?
WILBUR
Yes, could be. Though she was a congregationalist, I think she uses a broader religious vocabulary than that church would have entitled her to. I don't think they care much about vestments in the congregational church.
INTERVIEWER
I've been wondering which female poets you think share your concern for precision and form—Carolyn Kizer and Ruth Stone, perhaps?
WILBUR
Yes, I like both of those poets. And I think that they are both very careful constructors of poems, careful choosers of words. I like Carolyn Kizer's "Blue Heron" poem, for example, very much, and with Ruth Stone's poems I have many favorites. I like her new book, Cheap, that recently came out.
INTERVIEWER
Getting back to your new book, the title poem is a rather long one for you—
WILBUR
Yes, I don't know how many lines it is, but when printed in the small type of The New York Review of Books it filled a page in double column. When I looked at that page solid with my poem, it made me feel very productive, but of course it had taken me about a year to do it.
INTERVIEWER
That's the poem that stems from the mind reader you saw in Rome years ago?
WILBUR
Yes. I'd been thinking about him for twenty-odd years.
INTERVIEWER
Is an extended poem a greater effort? Is it somehow "more" of a poem?
WILBUR
I've never written a poem long enough to have to deal with the problem of density of language. I remember Robert Frost's giving a lecture at Bread Loaf on the exciting title, "The Dullness of Wordsworth," and everyone flocked in to hear whether he was going to insult Wordsworth in public, and, no, of course, he was going to praise him for being willing to produce prosaic bridge passages between his great moments. But my so-called long poems are at the worst eight-minute poems; so rightly or wrongly I don't feel that I have to come down off it into a more open style. So I continue, even in such longish poems as I've written, to have, I hope, more than one interesting word per line. I'm quoting Auden kind of obliquely. He said that in writing songs for music, or in translating libretti, as he and Chester Kallman often did together, you must restrict yourself to at most one interesting word per line. A singer cannot sing anything complex—or, at any rate, the music, and the presence of the singer, the costume of the singer and the situation of the plot, are going to provide sufficient complexity, so that if the line says, "I love you," that'll be quite an adequate statement.
INTERVIEWER
How did the poem "The Writer" in your new book come about?
WILBUR
I expect it was done at some distance from the situation described in it. I've very, very seldom had the experience of encountering a raw event of some kind and immediately sitting down to write about it. The only time that ever happened to me that I can now recall was when I ran over a toad with a power mower, and for some reason was instantly ready to write about the toad and the associations of the toad. I must, indeed, have had a whole body of associations ready to which the dead toad became the center.
But in this case, heaven knows how many years before, the starling had in fact been trapped in that very room, and indeed that was the room in which my daughter wrote . . . The poem tells the truth in general, but the chronology is probably not exact. People sometimes imagine that a rush of love for one's daughter might produce a poem. It's not that at all—it's that two ideas, two images come together, and then you've got something to work with.
INTERVIEWER
Did you think about how your daughter would react to the poem? Do you ever think about your audience?
WILBUR
I did think a little bit about how she would react, but that wasn't at all what guided me in my choice of words and of tone. Even when one's writing a poem about someone that close, and my daughter and I are as close as it's possible to be, I don't think a poem is a message. It's a kind of performance; it's a kind of machine of feeling that other people can use. If I had thought too very much about my daughter there would have been things that wouldn't have been necessary to say. But in the poem, in so far as I'm talking to my daughter, I'm talking to her in public and therefore in a fuller, more explanatory way, and producing something that I hope other people can appropriate to their own lives. I don't think I've admitted anything to the poem that is so peculiar as to leave the average reader feeling excluded from that kind of experience.
Indeed, one thing about that little poem that I've noticed is that there are people, when I read it to an audience, who come trotting up and say: "I had a robin in my house last week and had all hell getting rid of it!" If the poem is successful (I hope it is), this is the case of a poem that is fortunate in fitting Robert Frost's formula concerning the material of poetry. I'm going to misquote it, but he said something like this: that the material of poetry ideally should be common in experience, uncommon in literature. Everybody's had birds in the house and wanted to get them out without bashing their heads against the glass. And yet, I think this is the only poem about it I have read.
INTERVIEWER
Do you revise much?
WILBUR
No, I don't really have drafts. I do sometimes have false starts. Mostly I don't change my ground much, because usually a first line presents itself to me confidently and I go on from there. My revision consists mostly in refusing to put anything down until I think it will do; and then sometimes I will put a line down and I will scribble alternatives in the margin Emily Dickinson-fashion. And I don't keep notebooks, or a schedule, formally. Mostly I jot ideas on old envelopes and bits of paper.
INTERVIEWER
You were telling us over lunch about the way Yeats approached a poem . . .
WILBUR
Oh, well, I was just saying that I thought he was an extraordinarily willed poet. He claimed that a poem often began, for him, as a musical phrase, but I doubt that much of his work was wafted toward him on wings of song. I don't know in what sense he was tone deaf (he said he was); I know he had a marvelous kinetic sense; I don't sense any privation of music in his poetry. But clearly he was a man of no facility at all, and it took a lot of cold forethought and ambition to make his books. I do believe that he wrote a lot of poems to fill out his individual volumes, because there's almost always a unity to the individual volume. I think there are a lot of little poems that are outriders, as it were, destroyer-escorts of the big poems.
INTERVIEWER
Do you do anything like that when you put a book together? Look for a unifying theme?
WILBUR
No. This is ridiculous to say, because I have no want of respect for Yeats, but I would abhor doing that. It wouldn't seem spontaneous enough; it would seem too calculating, too much like merchandising. It would be for me; it wasn't for Yeats. Yeats could make himself do things, the way some poets can make themselves write occasional poems. If it's the anniversary of the founding of Jamestown, there are some poets who can write those . . .
INTERVIEWER
The bicentennial poet.
WILBUR
That's just exactly the last thing I could be. A publisher once had me down to New York and gave me lunch at the Plaza, and then over dessert said: "Well now, getting down to my idea. It seems to me it's many years since there's been a popular success like Stephen Vincent Benét's John Brown's Body, and we have an anniversary of Lincoln's death coming up, and if you could write a book-length poem about Lincoln, I could give you a $5,000 advance." I said: "Gee, it's been a nice lunch, but it's wasted on me. I can't do that kind of thing. The best I can do is to name to you the people whose long poem about Lincoln I might be interested to read," and I named some other people.
The other day I read, to my great amusement, that the same publisher offered the same deal to Auden, probably before he'd offered it to me. Can you imagine asking Auden to write a book like that on Lincoln?
INTERVIEWER
You once said that no one poet influenced you most. Do other poets influence you? Do you ever read other poets before sitting down to write?
WILBUR
I don't want to do that. I know that all my life I've been reading Robert Frost, and sometimes that is visible. I don't want it to be. I try to get rid of the signs that show. But there have been, good heavens, outcroppings of Poe, involuntary ones. In that poem I wrote about the toad, about the time I was one-third into it, I had an odd feeling of having written a really resounding, splendid line; and I said to myself, "Good God, one shouldn't feel that way about one's poem. One shouldn't be so confident at this point." And I realized where I had gotten my confidence: I had borrowed two out of three adjectives from one of Poe's lines in "Dream-Land"! I think Yeats is catastrophic in this respect. If you become influenced by Yeats you do not sound like yourself. There's one poem of mine that I would have to throw out of a Selected Poems—perhaps there are two of them, that are too touched by Yeats, too affected by the fact that I've three times taught a seminar in Yeats. Yeats's poetry is gloriously abnormal, but if you teach it for a semester it commences to seem normal.
Still, it can be useful and safe to read someone like Robert Graves who, as John Holmes said, is a great starter. You read Graves and he reminds you how delightful poetry can be at its best, and what a fine game it is—and it makes you want to write a poem. Not, however, a poem by Robert Graves, but one of your own. I don't think I've ever sounded like Graves, but I get the nicest nudges out of him.
INTERVIEWER
Are you involved in any group of poets like the one you used to have with John Ciardi and others?
WILBUR
No, no group. Every now and then there are certain people to whom I show poems, and who show poems to me: Bill Meredith, Bill Smith, John Brinnin, and Cal Lowell, when he's around—we aren't in the same place at present. But that's just one-on-one. The last time I found myself involved in anything groupy was about seven years ago when Stephen Spender was staying at Wesleyan and certain people on the Wesleyan faculty were interested in reading poems to each other. Stephen, with his usual generosity—of course this wasn't part of any deal he'd signed on to do—joined the group. I suppose there were five or six meetings. We'd go around in a circle and everybody would read at least one poem.
One evening Stephen invited I.A. Richards to come, and Richards had not understood the character of the invitation. He hadn't realized he was going to have to listen to a lot of people read poems, one after the other, and then discuss them. And as soon as that became clear, he did the most glorious thing. He simply stood up and said, "Oh no, no, no, I'm sorry, no, I'm sorry, I can't. Good night! Good night!" and out he went. He didn't have any evidence that any particular, horrible poem was going to be read, but he thought the chances were pretty good and he didn't see why, at his age, he had to sit and listen to it.
INTERVIEWER
What do you have planned for the future?
WILBUR
Well, I don't think I can resist it too much longer—my wife's bullying me about writing some sustained prose books for children. I have to write one, anyway. All the time my children were growing up I told them great sagas about sets of characters who went through successive adventures, and I did take one of them and write a little book about him, Loudmouse. It's full of capitalized speeches, which entitle the children or the reader to shout—they like that. Children love a moment of anarchy; they don't like sustained anarchy. They love violence in that sense, too, and too many children's books don't give them any of it, I think. Nothing scary, nothing disorderly, not enough that's crazy. So many children's books that come out are really just big picture books, with a little bit of text, and bright-colored pictures of generous-bosomed, middle-European women in peasant costume cooking things. That's not the sort of thing that delights the heart of a child. I don't know who thinks all those Hungarian cooks are a delight to children.
INTERVIEWER
Are there what one could call advantages to being a poet?
WILBUR
Well, one is allowed enormous license in behavior, one is forgiven everything, one can look as one likes, and one can travel around the country reading the same poems over and over; whereas if a scholar or critic wanted to travel around the country he'd have to write a number of fresh lectures, you see. You get to see a lot of the country on the same old material this way, and I like that. I'm being frivolous, I suppose. I don't know what disadvantages there are. I can't think of anything I'd rather do, hard as it is, isolating as it is, and unpleasant as it is to go stale and dead as you do periodically.
INTERVIEWER
How do you feel then? And how do you overcome the dry spells, and your feelings about them?
WILBUR
Dead and guilty and ashamed; however, I say to myself, for what I suppose would now be the fiftieth time, this too will pass, you will write something again; and that helps a tiny bit. It doesn't help enough.