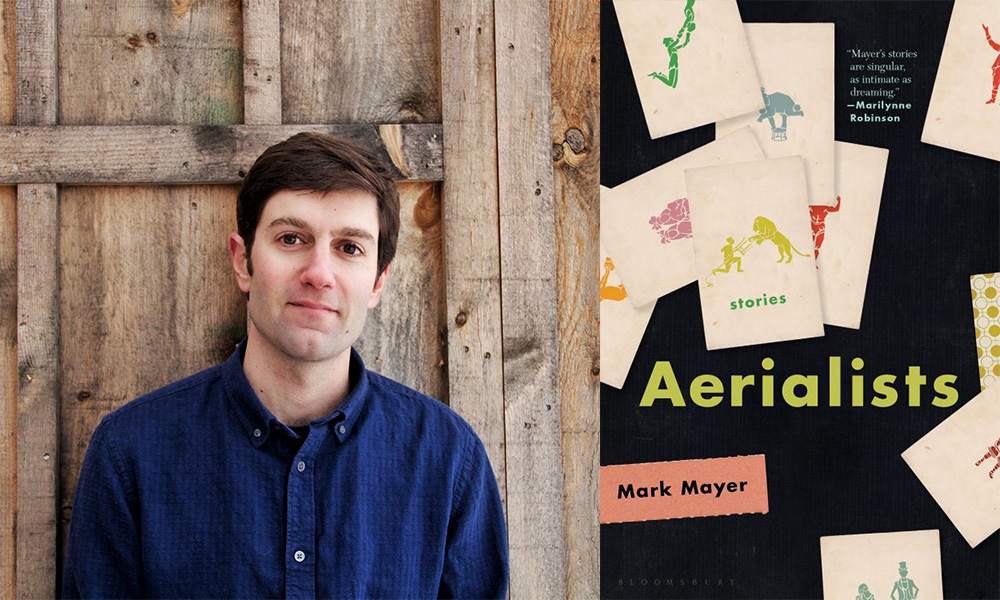 On the surface, Mark Mayer seems like a normal enough guy. He's polite, a little awkward, and a little anxious to please. When we were at the Iowa Writers' Workshop together, it was his job to set up the chairs and the mics for readings, and the chairs were always arranged in nice, straight, punctual rows. His stories, too, have a veneer of normalcy. Model-train enthusiasts dutifully mind their toys, a nephew worries about his anorexic uncle, a parks-and-rec employee tries to get laid. But you can sense, beneath the normal, an abiding weirdness and darkness, a fascination with the sinkholes in the back of the mind, the places where consciousness plunges through the cloud floor of this world and into some other one.
Mark's weirdness has something to do with tenderness. Weirdness for its own sake is just quirk, but in Mark's stories, solid-state relationships undergo a phase change right at the moment when love gets hard. A nephew worried about his aunt and uncle sits in the kitchen creating patterns in the linoleum squares, telling himself there must be some combination that will "unlock" the floor and let him get back to a place he thinks he remembers, a place he calls "the There." A girl copes with her father's depression by pretending to have a telepathic connection with a deaf-mute friend, whom she then telepathically dumps. A guy on his way into the navy writes a detailed description of his neighborhood into a text-based online world, imagining it will be a place where he and his girlfriend can have sex while he's at war.
A couple of Mark's stories are concerned with how the straight male imagination turns toxic, about how misogyny lives in the mind. One young narrator receives dueling lessons in masculinity from his dad and from his mom's new lover, a female bodybuilder. A guy who finds a "pet" mountain lion in his tree starts obsessing about his own tameness in his new relationship. In one story, a real estate agent for an ascendant Republican client moonlights—or else imagines himself moonlighting—as a homicidal clown. Strongman, lion-tamer, clown… each of the stories in Aerialists links, somewhat sneakily, to a different circus act or sideshow. As a whole, the book is a spectacular of the weird.
At the Iowa Writers' Workshop, Mark and I were never in class together, but we've stayed in touch and occasionally swapped work. I conducted this interview through emails to Paris where he, his wife (the poet Ashley Colley), and their two rabbits are living this year.
INTERVIEWER
There are so many tender relationships in this collection—children and their uncles and aunts, parents, brothers, friends. What is your interest in these dynamics?
MAYER
Love is a really hard thing to do right in life. I love reading stories where the hero is affronted by something external, a mean neighbor or an alien, but those kinds of conflicts can feel safe to me because all the character has to do, really, is figure out some way to close the relationship, walk away. Intimacy is more vexed. We're all carrying around our histories—our bad programming, our genders, our wounded egos, our stink—and then we build little brick houses and try to live in them together. It's a crazy thing to attempt. So I'm interested in stories that go into that space where we can't escape each other. Family is claustrophobic, love is claustrophobic, which is what makes it meaningful, too. We can't help but actually encounter each other.  Read More