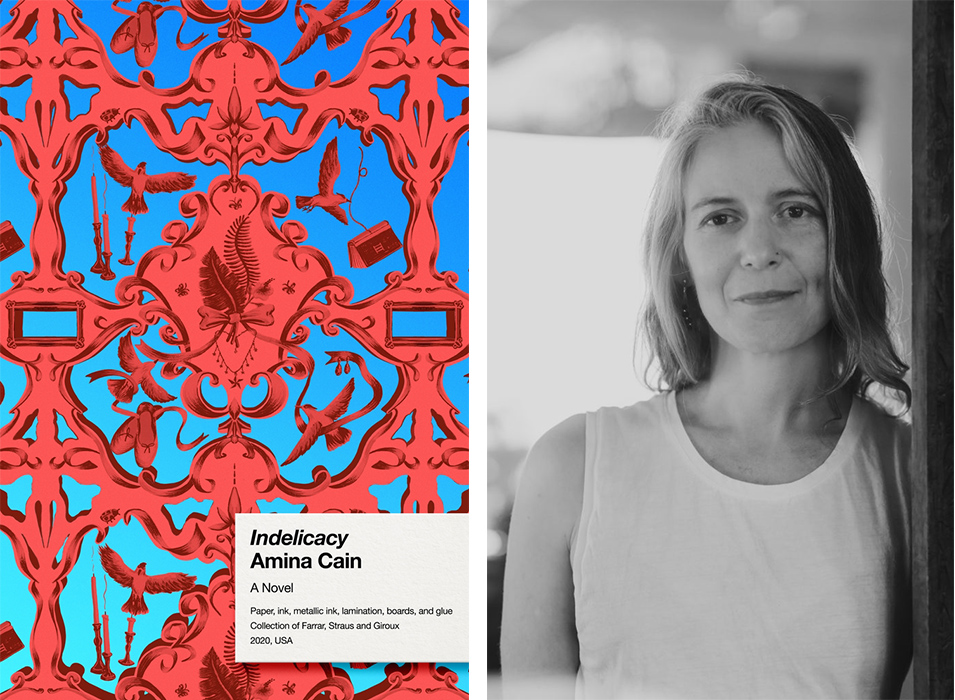 I met Amina Cain in the early aughts, when I took over her spot as roommate to a mutual friend in a Wolcott walk-up in Chicago. Amina would come by with her new roommates, a perfectly friendly couple who nonetheless seemed rather fancy to me, as did anyone back then who talked easily about Roland Barthes. But Amina was not fancy; if anything, she had a sort of radical simplicity. Long before I'd read her writing, even longer before I published any of it (my wife and I published her second book through our press, Dorothy, in 2013), my impression of Amina was of a unique soul, quietly pursuing thoughts and concerns outside the more or less conventional life everyone else was living.
People change—I, for one, have come to love reading, teaching, and talking about Roland Barthes. But Amina seems less to have changed than to have become more fully the person she always was, with this important difference: over the interceding years, she has beautifully articulated her vision in two story collections and, now, a novel.
Indelicacy, out in February from Farrar, Straus and Giroux, is a work of feminist existentialism, or existentialist feminism—searching, like Lispector, and lucid, like Camus. The story follows Vitória, a poor cleaning woman at an art museum, who marries into money and begins a journey of artistic self-discovery as she navigates society, friendship, and marriage. It is a novel about class and art, about the roles available to women and the instinct for something more. In 176 nimbly woven pages, it brings together many recurring themes or concerns of Amina's earlier work, things like looking, walking, art, freedom, self-awareness, silence, and the possibilities of life outside the patriarchy.
This interview was conducted by email over a couple of weeks in December.
INTERVIEWER
There's a story about how the young Donald Barthelme, wondering what sort of writer he wanted to be, attended an early performance of Waiting for Godot and discovered in Beckett a path toward his own sound. Not his voice or his style, but his sound, like a musician. Like Miles Davis or Thelonious Monk. Miles didn't just have a style, he reimagined what a trumpet sounds like.
In thinking about what makes your writing unique, the best starting point I've come up with is that you have not just a voice, but a sound. I suspect that what I experience as your sound has as much to do with your attitude toward literature as with the particular words you choose to use, so I wanted to ask first about your relationship to writing in this general way—what sort of experience does writing give you and what sort of experiences do you hope your writing will give others?
CAIN
I like imagining Barthelme making this kind of discovery while watching Waiting for Godot. I'm so used to talking about voice and about tone, but I think you're right, sound more specifically comes into it, too. To consider sound when thinking about fiction is reorienting in a really nice way, and it may actually be what's drawn me to certain writers, that I've heard the sound of their writing so strongly and satisfyingly in my mind. And some stories and novels do that more than others. Sometimes, as a reader, you're just sinking into the world or space that's appearing before you, or you're urged on by the story, but sometimes fiction presents itself in this other way as well, to be heard.
I'm happy to think that my writing has a sound. I certainly hear it when I work, and when writing is going well, I'm pulled along by it. Sometimes I whisper or mutter what I'm writing. With particular sentences, it feels like I am in them somehow, or that they are taking me over, that I am sitting at my desk with them, that they are part of what gives me access to a story. In order to write at all, I suppose I need this kind of experience, to be possessed by something, carried along, and this is what writing gives me, a kind of space that becomes more animate and striking than the physical space I'm in, or that joins with it. And in turn this is probably what makes me continue to write, to have access to this kind of moment, which sometimes feels closer to experiencing a work of music or art than reading. I want the reader to be able to encounter this kind of moment as well, and I hope I've been able to do that. On a very basic level, I want to create experience itself for readers, not just a narrative, whatever that experience ends up being for them.