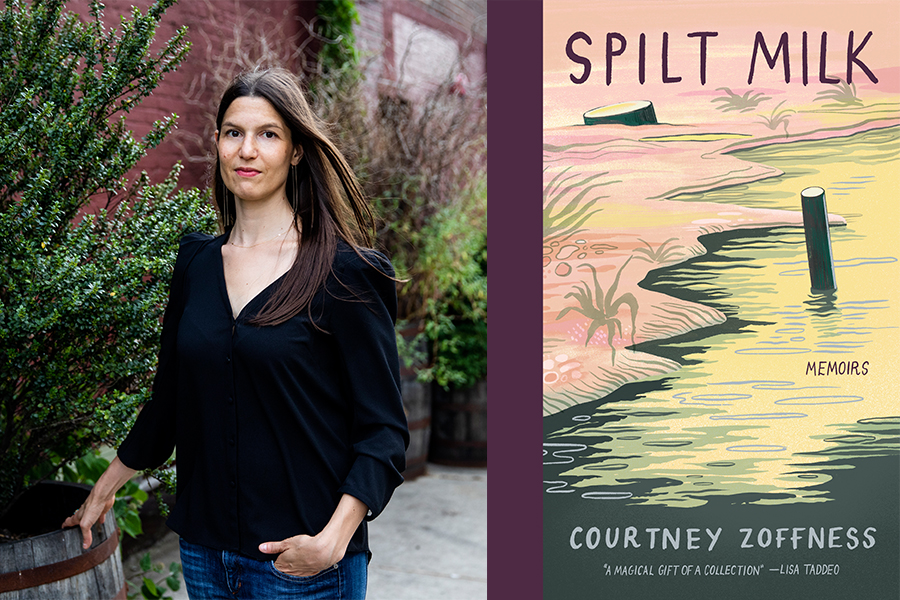 Like so many books, for so long now, I read Courtney Zoffness's Spilt Milk while mostly isolated with my family. I've spent much of this year thinking about what books are worth, why any of us keep bothering. I felt disconnected from fiction that seemed too invested in its own intelligence to engage with characters' flaws or vulnerabilities. In this time, Spilt Milk enacted a particular sort of magic on me. It's nonfiction, memoir, a series of essays, unabashedly interested in the quotidian. As a mother, Zoffness worries that her child worries too much, just as she used to and still worries. In another essay, Zoffness, as a freshly minted M.F.A. student, finds herself doing research for the memoir of a Syrian Jew because she needs a paycheck, and so begins tracking the persecution and forced departure of ten thousand Jews from Aleppo. Yet another essay centers on raising her young white son in brownstone Brooklyn, a son who is obsessed with visiting the police precinct close to their home, and the arrival of 2020's Black Lives Matter protests.
What Spilt Milk helped me to remember was how intimate books can feel, at a time when intimacy feels so hard to come by; a single consciousness unfurling through all the spaces that lack easy resolution, willing to lay itself bare. It's a strange time for all of us, trapped as we are in our own ways, so relentlessly isolated and afraid. Books are not a cure, and yet books like Spilt Milk remind me that there is a way to feel closer to other people, to feel intimate with them, to see all the ways the individual is so often the surest path to understanding the universal.
INTERVIEWER
One of the things that I sometimes find challenging, or just less true-feeling, about nonfiction is its desire to land somewhere specific. I think so much of life is messier, more about questions than answers, than this idea suggests. You do a gorgeous job of giving us the satisfaction of an essay that feels whole and nourishing while allowing for ambivalence and uncertainty to still feel alive at the end. I wonder if you could talk about how you think of endings? How do you know your pieces are finished and how do you think about the sense of understanding you want your reader to leave with?
ZOFFNESS
Endings are so deceptive. That final period gives the illusion of resolution or conclusion when my thoughts and feelings on nearly every subject and experience in Spilt Milk remain unresolved. I think that one of the aims of an essay is to ask questions, not necessarily answer them, and I try to embed this spirit of inquiry in each piece, to be transparent about my own internal conflicts or uncertainty along the way—whether over parental choices or astrology or my feelings about other people. I want to show messiness. This approach hopefully trains readers not to expect a resolution, but it can also make it harder for me to discern the right endnote. Several of these endings gelled through trial and error.