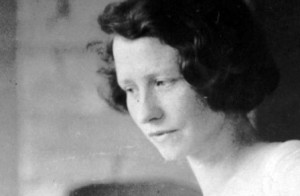 Three Fourth of July weekends ago, on a crowded Hampton Jitney, beach bag strategically placed so no one could take the seat next to me, I watched a flustered blonde board and sit down directly across the aisle. Think Marilyn Monroe gone boho in the East End swelter. The LIRR had broken down, and she had spent several frustrating hours in the humidity of Westhampton waiting for a train that wouldn't be fixed.
By contrast, I was cool and composed, having spent the day at a painter friend's vernissage. At the time, I was a lowly twenty-three-year-old magazine intern and had met the artist while covering an event. Now I was craving some solitude. Slouched and brooding, knees tucked up into the seat before me, I closed myself off. Coupled with my tote-bag force field, I hoped my general vibe said, "No conversation please."
As she threw down the bag slung over her shoulder, I saw she was clutching a faded pink hardcover, a book of collected poems by Edna St. Vincent Millay. I caught her looking at me—a glance I interpreted as one of contempt. People who take up two seats… But when she had settled in and we began to furtively study each other through the half-light, I realized my misappraisal: she was more curious than anything. We tested the limits of our peripheral vision like elementary school pupils.
The captivity of a bus—coupled with the urgency of a short trip—blends with the spontaneity of bus reservations (compared, say, to planes booked in advance) to make chance encounters inevitable and last minute shifts in fate possible. Millay's poem "Travel," in retrospect, seems freakily appropriate for the cancelled LIRR and the day's noisy disruption: "The railroad track is miles away, / And the day is loud with voices speaking, / Yet there isn't a train goes by all day / But I hear its whistle shrieking."
 She would later tell me she was struck by how relaxed I appeared when she, by contrast, had undergone such an ordeal. How composed my body language, how casual my unbuttoned shirt (truth be told, what she interpreted as Zen was really just exhaustion).
I decided to say hello first, and we started to talk; the memory of the exact exchange is hazy, imbued as the moment was with the fluttering nerves and saccharine rush of a first encounter your subconscious recognizes as significant before you truly do.
She was an actress who nannied in the Hamptons between roles. Judging by my madras shorts and boat shoes, she assumed I was some kind of pool boy. Not quite, but I was probably one of the few on our bus without a family home somewhere between Quogue and Montauk. We playfully guessed each other's names.
 "Vanessa?" I said. (What, does he think I'm some kind of bitch?)
"Joshua?" she tried. (Is it that obvious I'm Jewish?) Read More