My dad is a man who likes to make time. Forget roadside attractions, lingering meals, and charming scenic routes: when we traveled as a family, speed was our goal. He especially liked to break previous records; I remember trying to see how many exits we could pass on the Long Island Expressway before the end of "I Want You (She's So Heavy)." (To this day, hearing the opening chords of "Here Comes the Sun" stress me out.)
The one exception to this rule was presidential homes. And in the late nineties, my father was going through a major Warren G. Harding phase. So, when my parents drove me out to Chicago to start college, there was no question but that we would detour off the I-90 to Marion, Ohio, to visit the Harding house.
With all due respect to Monticello and Lincoln's cabin, there is a particular charm to what I hesitate to call "minor" presidential homes. Lindenwald, the Martin Van Buren house in Kinderhook; Springfield, the Louisville boyhood home of Zachary Taylor; Lancaster, PA's Wheatland, where Buchanan lived out his final years. These places are important to their communities. Taken together, they make up a bigger proportion of the country's history than Hyde Park or the Hermitage, and they are sustained purely on the strength of the enthusiasm of volunteers.
Said volunteers are rarely prepared for my dad. His knowledge is vast, his ardor unwavering, his memory for presidential trivia intimidating. I have seen guides delighted by such an attentive visitor. Others recoil in fear and uncertainty. I was concerned as we approached 380 Mt. Vernon Avenue in the charming town of Marion, because I knew full well that in this instance, he had an agenda. 
For some time prior, my dad had been championing the cause of Nan Britton. Britton, herself a native daughter of Marion, claimed all her life to have had a long affair with Harding, resulting in the birth of her daughter, Elizabeth Ann. Britton's notorious 1927 tell-all, The President's Daughter, caused a sensation: not only did it contain Lewinsky-esque accounts of closet trysts off the Oval Office, but painted the twenty-ninth president as a callous womanizer who had seduced and abandoned a young girl.
Britton claimed that Harding had promised to support Elizabeth Ann, a vow not honored by his widow, Florence. It was this, said Britton, that drove her to publish the kiss-and-tell. In the aftermath of the book's underground publication, she was painted by Harding's defenders as either a deluded stalker or an opportunistic whore; when she attempted to bring a paternity case, she was demolished on the witness stand by the vicious and irrelevant personal attacks of Congressman Grant Mouser. Sophisticates, meanwhile, dismissed the book as a lurid novelty; in The New Yorker, Dorothy Parker archly described Britton as "an American du Barry."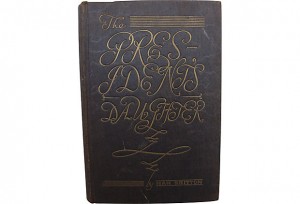 It took my dad a long time to track down a copy of The President's Daughter. He ultimately found it in the Strand's rare book room. As soon as he did, his interest turned from the Teapot Dome scandal, Harding's sudden and mysterious death, and the frumpy and pathologically jealous Florence, to Britton. He was struck by the sincere tone of her memoir as well as the quality of the writing, and felt strongly that she had gotten a raw deal. I recalled his reading aloud the dedication at the dinner table with tears in his eyes: "To all unwed mothers, and to their innocent children whose fathers are usually not known to the world." (He also pointed out excitedly that, if Britton's story was true, Elizabeth Ann would have been the oldest living presidential child.) As we pulled up in front of a plaque bearing the words "Home of Warren G. Harding," I very much feared he would raise the issue during our tour.
My fears were confirmed as we walked up the path to the handsome wooden house with its wraparound porch. "Let's see if they try to whitewash Nan Britton," said my father.
The Harding house is beautifully preserved, a comfortable turn-of-the-century Queen Anne that looks just as it did when Harding was publisher of the Marion Daily Star. This in itself is interesting, if you like historic homes; my dad was riveted. There was one other couple on our tour.
Our docent proved to be a sweet old lady. My heart sank. At the best of times, I can't imagine that being a Harding advocate is the easiest job in the world. Having to dance around his scandal-plagued, ineffectual presidency, his unpleasant wife, and his underwhelming legacy to what can only be sparse tour groups must be a challenge. At the big presidential museums, the guides have scripts, and have been well trained to frankly acknowledge thorny issues like slave-holding or personal misconduct. In these smaller joints, people frequently go rogue.
The guide was obviously proud of Marion's native son—in her introduction she listed Harding's accomplishments: his championing of the first child-welfare program and workers' rights, his support for an antilynching bill and women's suffrage. She told us that Harding had originated the term "Founding Fathers." ("I didn't know that!" whispered my dad.)
I was relieved to see that he seemed to be on good behavior. He asked informed questions about the rival papers in the town and Governor "Fire Alarm Joe" Foraker. He wanted to know about the community's reaction to the marriage of Harding and the ambitious Florence Kling DeWolfe (an older divorcée) and whether either family still had descendants in Marion. We toured parlors, bedrooms, old-fashioned bathrooms with chain-pull toilets.
We had made it almost to the end of the tour without incident. And then, "What about Nan Britton?" blurted my father.
"Excuse me?" said the sweet old guide.
"Nan Britton!" said my dad. "The daughter of the Marion Star's editor! Harding's mistress! The author of The President's Daughter! How did the community treat her? Was the affair widely known? Has her daughter ever been here?"
There was a horrible silence. My mother squeezed my hand in panic.
"That story was never confirmed," said the docent coldly. And briskly ended the tour. My dad's eyes glowed with bitter triumph.
To make up for it, I bought two postcards: a picture of the front parlor, and one of Florence Harding. On the porch, I could hear my dad animatedly relating the real story of Nan Britton to the other couple. "Even today," he was saying, "they won't give her her due. It's disgraceful." But as I thought later, he must surely appreciate the fact that we were all so vividly living history.