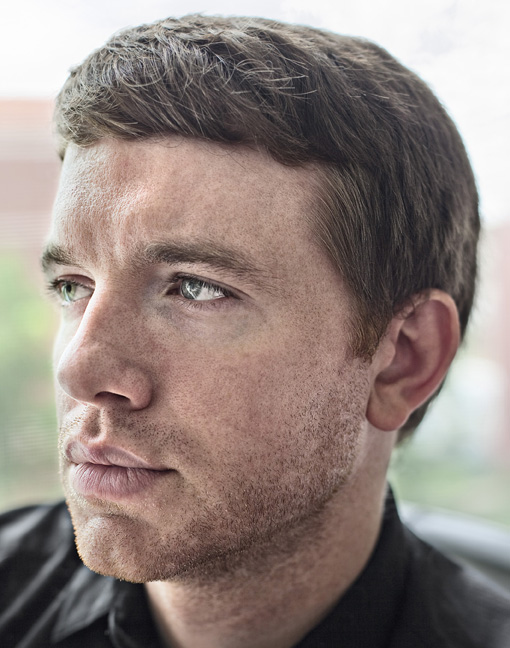 Forlorn Funnies, the title of cartoonist Paul Hornschemeier's periodical of short prose comics, aptly characterizes all of his work: bleak subjects leavened by drollery and gags reigned-in by finely drawn anxieties. The author of the graphic novels Mother, Come Home (2003) and The Three Paradoxes (2007) and two collections of shorter work, Hornschemeier recently published Life with Mr. Dangerous, a graphic novel he began serializing in Fantagraphics's comics anthology, Mome, in 2005. The story concluded last winter, and the novel, which tells the story of a young woman adrift in bad relationships and obsessed with a little-known cartoon show, appeared in book form last month. I spoke with Hornschemeier from his home in Evanston, Illinois.
The story was serialized in Mome over a period of five years. Was the story whole in your mind when you started, or did you create it as you went along?
With most of my stories, I have key scenes in mind and I almost always have the beginning and end done right from the start. With this one, I definitely had key emotional notes I wanted to hit, and I knew how it ended and the set up. But it was strange in that I was both writing it as I was going, and, as it was coming out in Mome, I was going back and editing the story and inserting new pages. So in the book, there are thirty pages that weren't in the serialized format.
What was needed that wasn't already there?
I could see there were beats I hadn't hit that I wanted to go back and reemphasize, pacing issues and characterization issues that I wanted to resolve. I produced that graphic novel really differently than my other graphic novels. Mother, Come Home was very act 1, act 2, act 3, and they were written very much as acts by themselves. And The Three Paradoxes was as close as possible to what a full screenplay would be, because it was so complex, with interlocking narratives. But this one was just a huge, jumbled mess.