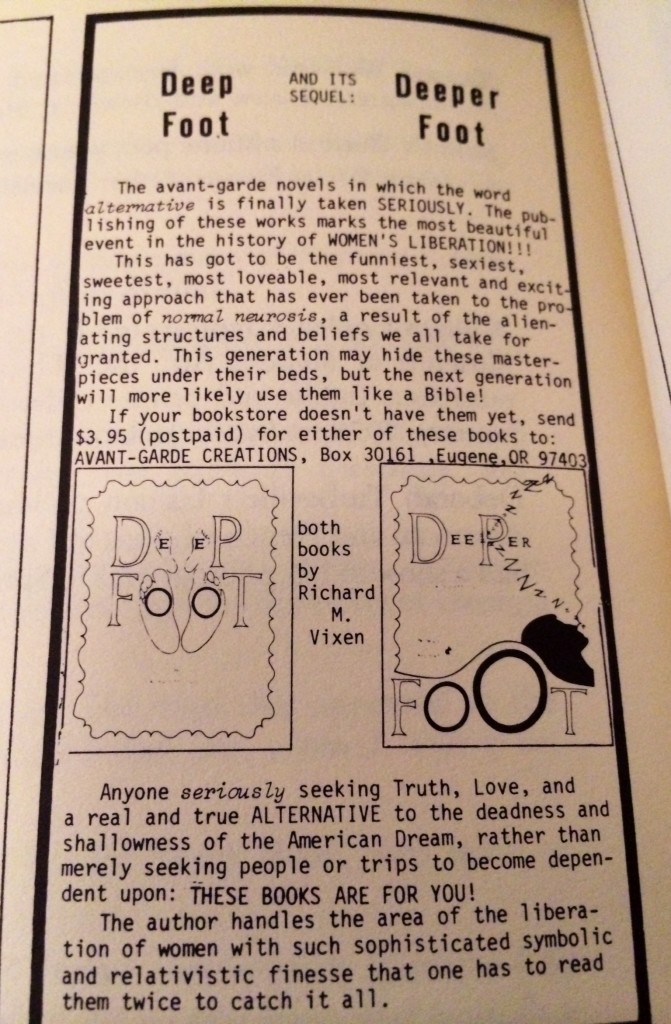 Above is an advertisement from our seventieth issue—published in the summer of 1977—for Deep Foot and its sequel, Deeper Foot, two apparently seminal avant-garde novels. Click the photo to see the ad in full; it merits scrutiny.
Anyone seriously seeking Truth, Love, and a real and true ALTERNATIVE to the deadness and shallowness of the American Dream, rather than merely seeking people or trips to become dependent upon: THESE BOOKS ARE FOR YOU!
"This generation may hide these masterpieces under their beds," the ad goes on, "but the next generation will more likely use them like a Bible!"
I'm of that next generation, and I can tell you: we most certainly would, if we only knew where to find them.
Information on the whereabouts of Richard M. Vixen has been hard to come by—we appreciate any tips you can offer. We do know that Avant-Garde Creations, of Eugene, Oregon, was in existence as recently as 1981, when the company took out an ad in Yoga Journal—a questionnaire, in fact, whose first prompt is "Are you conscious of a deep desire to be in an environment in which you could choose to be with any of 20 (or so) people, all of whom you love and who love you?"
Evidence indicates that Mr. Vixen wrote, in addition to the series advertised here, The Game of Orgy (with a foreword by Robert Rimmer) and The Magic Carpet and the Cement Wall, for Kids from 8 to 92. A rhapsodic Amazon review of Deep Foot describes it thus:
A triumphant, voluptuous novel about a woman's enlightenment. A mercilessly erotic, tenderly passionate journey into love and awareness.

When Lotta escaped from her prison of beliefs (about what she thought her life was supposed to be about) she found a whole new world of love and beauty awaiting her, and she fell in love with … Everyone!
A dissenting critic writes, "Reading it felt a bit like watching a non-lethal crash between two clown cars happen in slow motion."