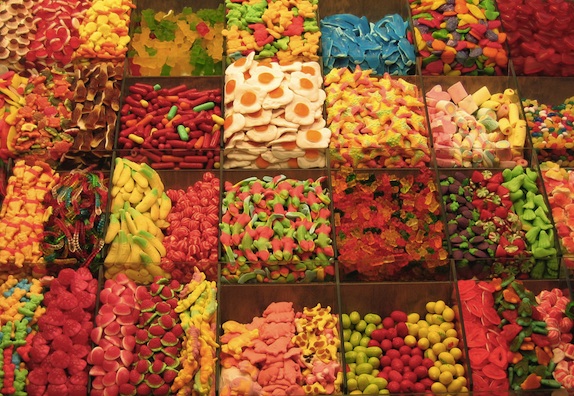 My first shift at the candy store was on the first day of October, my last just before New Year's, but when I talk about it now, what I say is, "Last Christmas, when I worked at the candy store."
In the world of candy stores, and this candy store in particular, Christmas is a perpetual condition that just happens to spike at the end of the year. A red-and-green decorating scheme carried throughout the shop—I could not escape it, even when I retreated, as I sometimes did, to the store's one bathroom, also tinged with red and green, just to shut out the world for a minute or two. On the sales floor, the shelves were heavy with saltwater taffy and boxes of truffles and delightfully analog toys—balsa gliders, pick-up sticks, chunky wooden puzzles. The general effect was that of being buried inside the holiday stocking of a child who'd been very, very good that year—along with the child himself, and a hoard of his less well-mannered friends and their overstressed, oblivious parents.
I took the gig shortly after finding myself laid off from the job I'd had for the last four years as an editor at a music magazine. I felt adrift and thought tending to a candy store, such a bastion of simple pleasures, might anchor me more firmly to the world, and also I thought that money might be a thing I'd might want to have again. But in my vague desperation I had forgotten about humans' terrific knack for rendering even the most ostensibly pleasant pursuits completely soul crushing, and how that tendency increases as the winter days darken.