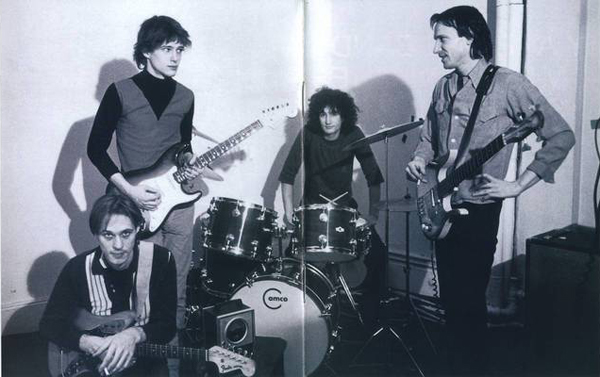 I stood up when they called my name, and began to read from the piece of notebook paper in my hands:
Well, I've got something to say
I killed your baby today
And it doesn't matter much to me
As long as it's dead

Sweet lovely death
I am waiting for your breath
Come sweet death
One last caress
They ate it up; I awed the basement audience in that coffee shop, with its beat-to-hell couches and chairs acquired from the local Salvation Army. My friends and I had driven there that night so we could all participate in the open mic poetry session, because when you're fifteen or sixteen, you want to be something, and nothing at all, you want to define yourself, but you don't want to get stuck doing one thing or another. That was the period when we collectively chose poetry, and even though I didn't deserve it, there was a lot of buzz about my work on that night; for a few hours I was a phenom among the suburban poets. One person told me he heard the pain behind my beautiful words, and that I really had something special; he said I was a natural poet, that I should never stop writing, and that I should close the night out with one more.
I obliged, not telling him, of course, that last poem was actually just Misfits lyrics, and that the one before that, about living in my van, was a Descendents song. I just let them all believe that, at sixteen, I was special, and that my reading, of what inadvertently became the last poem ever read at the Buzz Spot (the place closed a few days later), was a God-given gift. Had I actually read from the spiral notebook filled with my own writings, they'd hardly have been impressed.
I remember how the darkness doubled
I recall, lightning struck itself
I was listening, listening to the rain
I was hearing, hearing something else
They clapped when I finished, but this time around, instead of feeling like I had fomented revolution, I felt like I had done something truly terrible: not so much because I had ripped off another songwriter's words, but because hearing the lyrics to Television's "Marquee Moon" without the unmistakable double-stop guitar intro or the complex key changes is like looking at an Instagram photo of an Egon Schiele painting with some dimwit obscuring part of the view—it just doesn't compare to the real thing. That song, and all of the other songs on side A of the band's eponymous 1977 LP, is perfect. I can say without reservation that the first half of Marquee Moon is the greatest single side of any rock album, ever, and like some less-creepy teenage Humbert Humbert, I was obsessed with it, wanted to consume it, and I did something irrevocably horrible to it by appropriating it so disingenuously.
Television was born in 1973, forty years ago. And while this in itself might not strike somebody as a momentous anniversary, when you get down to mapping the chain of events set off by the three members of the short-lived band Neon Boys—Tom Verlaine on guitar and vocals, Richard Hell on bass and vocals, and Billy Ficca on drums—you quickly realize that Television's importance in the grand scheme of music history equals their recorded brilliance. After recruiting Richard Lloyd to be the second guitar player, Neon Boys rechristened themselves with a name so simple that you might pass by a flyer for one of their shows and mistake it for an advertisement. The rest is history.
For all the mythology inherent to any discussion of punk -rock history—all of the half truths and "I was there …" mumblings by marginal hangers-on—Television's importance cannot be overstated. The fact remains that, while earlier bands like the Fugs, Velvet Underground, the New York Dolls, Suicide, and the Dictators may have laid the groundwork and even stuck around to see the weird inherit the earth, it was Television who convinced Hilly Kristal to let them play his bar, Country Bluegrass Blues and Other Music for Uplifting Gormandizers, better known as CBGB. Soon the Patti Smith Group, the Ramones, and Blondie would all follow suit, but Television is most responsible for planting the punk flag on the Bowery. Those other bands would go on to more fruitful careers, sell their logos to companies that would splash them across thousands of overpriced T-shirts, or make disco records; but Television produced a masterpiece, and then made two more full-lengths that, while both good and largely overlooked, hardly matched their first attempt.
* * *
I found a dusty cassette version of Marquee Moon atop a pile of "Owner of a Lonely Heart"–era Yes cassettes and most of Steely Dan's 1970s output at a garage sale in some suburb north of Chicago. There it was, daring me not to pick it up and change up my punk diet—up until that point, the typical smash-the-state, no gods/no masters, I-am-an-anarchist fare of your typical angry-at-whatever fourteen-year-old. Even though the Robert Mapplethorpe photograph of the band that graces the album's cover didn't convey the sort of speed and/or anger that had—up until that point—quenched my teenage thirst for something that equaled the way I felt (or supposed I felt), I couldn't say no. The image is of Tom Verlaine offering the listener a wafer for some holy communion, the other band members ranged behind him, all beautiful, a little fuzzy, the effect deeply unsettling. It hardly conveys what the album inside offers, but the cover of Marquee Moon is a striking artifact in itself.
The album itself is an otherworldly journey, from those unmistakable opening chords of "See No Evil," in which the cymbal crash acts as a twin to the second guitar, which does some sort of neat loop-the-loop trick for a few seconds as Verlaine starts singing this one-sided conversation about the things he wants, the things he feels, and the things he understands. He sings—to steal a phrase from an almost equally genius band, the Feelies—like the boy with the perpetual nervousness. He channels the type of jitters David Byrne would love to feel, with an almost rubber-band–like elasticity, and he does it with this weird sort of confidence that shouldn't go along with such a shaky signature. When Verlaine proclaims that he understands destructive urges, and that they seem so perfect, it is both beautiful and the most nihilistic proclamation from all the "Blank Generation" of punks that ever dared crawl up and down the Bowery.
"See No Evil" transitions to "Venus," a song that sounds like the setup to a downtown Manhattan noir. Verlaine sings about walking around aimlessly on a bright night, describing something utterly normal and somehow making it sound like the most glorious trek anybody has ever embarked upon. You can see the bright lights of the big city circa 1976, Broadway looking "so medieval" (possibly the single most perfect summation of New York's most famous street), and it all sounds too beautiful to be real, but too real to be a dream. The moment when I first heard "Venus" was the moment I knew I could only be happy, could only find real satisfaction, amidst the bustle of busy city streets; it didn't necessarily have to be New York City—although it eventually was—but I needed to see the world that Verlaine was describing.
Rolling out like some tough, bar-rock anthem, "Friction" gives us Verlaine in conversation with somebody, telling them that, well, they give him friction, and he digs that. It's about as rollicking as side A gets, and the perfect bridge to the nearly eleven minutes of bliss that is the epic title track that descends on you as "Friction" melts away.
I know it's a clichéd thing to say, but listening to "Marquee Moon" is very much like a religious experience. If I want to really lard on the clichés, I'd have no problem saying that those first fifteen seconds of the two guitars somehow evokes sea creatures effortlessly dancing around underwater and is, yes, magical. You could loop that quarter-minute and place it alongside the most perfect minimalist composition Philip Glass or Terry Riley ever produced.
Marquee Moon is quite unlike, say, the buzz-saw sounds produced by the Ramones. While most punk bands utilize them, the late-1970s punk bands don't really have many prime examples of guitar that central. Sure, Richard Hell would later call on the talents of innovative players like Robert Quine, but the guitar isn't the centerpiece of Hell's solo efforts. With Marquee Moon, you have Verlaine's poetic observations, but what would they be without those guitars?
"Marquee Moon," the fourth song, and last track on the first side, is all the proof you need to make a lot of overblown claims for the album's legacy. Verlaine and Lloyd are unrelenting as they duel, leading up to a bridge whose huge solo is made even larger by the tiny twinkling of a piano key. And again, we have Verlaine spinning a decadent Lower East Side fairytale, filtered through the mind of somebody influenced by too much French poetry. This all goes on for a few minutes, and then there's this gap where the band really does get into Grateful Dead territory, just messing around with their instruments, keeping the beat going, finally building it to a crescendo that leads them back to where they started, reciting the poetry I would rip off nearly twenty years later:
I remember how the darkness doubled
I recall, lightning struck itself
I was listening, listening to the rain
I was hearing, hearing something else
When I was a teenager and I first listened to it, my mind was blown. As an adult, I listen to all 10:39 of "Marquee Moon," and I hear something immaculate and impossible to replicate.
* * *
Perfection is a strange thing, because we go through life being told that it is inherently unattainable. But would we truly know a perfect thing if it looked us in the face? We can call a pitcher in baseball perfect when he finishes a complete game with no opposing players reaching a base, and you might have a barista make what you consider a "perfect latte," but are these things truly perfect? I once told a friend with especially fine taste that Marquee Moon's first side is a perfect piece of music. I compared it to the first fifteen silent minutes of There Will Be Blood, and, strangely, also a dinner where the appetizers blew your mind, but the main course was a little undercooked. On its own, the opening scene of Paul Thomas Anderson's film—velvety uni on a bed of green foam that eclipses your omakase courses numbers three through ten—only emphasizes the shortcomings of whatever is next, and that's sort of how I feel about side A. My friend, not convinced, agreed that it is a great album, but gave several examples of records he considered better, not just on one side, but as complete works. He had his idea of perfection, I had mine; and while I appreciated that, I asked him, just to satisfy my own curiosity, if Verlaine would have approved of the demo recordings produced by Brian Eno in 1974, and, further, wondered whether, had the band gone with the man many consider the greatest music producer ever, would Marquee Moon have had a better shot of attaining perfection in his eyes?
This is the kind of cerebral game music lovers love to play. But I finally came to the conclusion that, once something is perfect, there is simply no building upon that perfection, and that what-ifs shouldn't apply to a matters like this. Nothing could change my memory of pulling that dusty cassette tape and taking it home. Marquee Moon made me want to grow into the type of person I imagined Verlaine to be. I wanted to try and experience things the way he relayed them in his songs. Dirty downtown romanticism just drips throughout the entire record, but the first side is the musical equivalent to any great film, painting, poem, or piece of art that captivates your attention, regardless of whether or not it is canon. And as funny as it sounds, the night I juxtaposed Verlaine's lyrics against lesser ones by the likes of Glenn Danzig was my graduation from the school of loud, fast, and angry, and the beginning of a lifelong search for something as dazzling, mysterious, and ultimately perfect as those four songs.
Jason Diamond is a writer who lives in Brooklyn. He's the Literary Editor at Flavorwire, founder of Vol. 1 Brooklyn, and can be found on Twitter at @ImJasonDiamond.