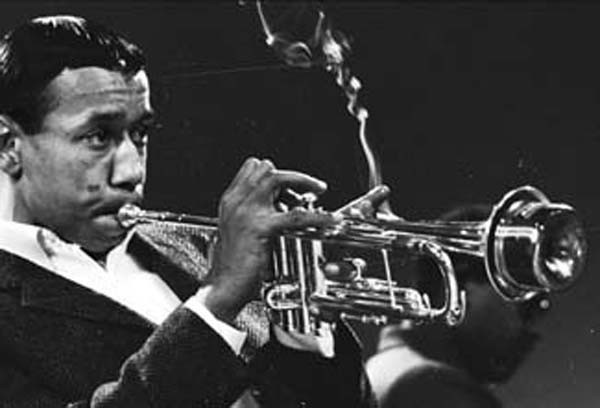 In 1965, celebrated jazz trumpeter Lee Morgan released the song "Speedball" on his album The Gigolo. A year earlier, the title track from his album The Sidewinder had become the biggest hit in Blue Note Records's history, reaching number twenty-five on the Billboard LP charts, even appearing on a Chrysler TV commercial during the World Series. Although "Speedball" never attained the commercial success of "The Sidewinder," it endures as one of Morgan's best-known originals, and, with the possible exception of Art Pepper's album Smack Up, its title serves as the most barefaced allusion to the monkey on midcentury jazz's back.
Drugs, risk, rebellion—this unholy trinity seems more evocative of rock-and-roll longhairs than clean cut men in suits, yet these dark elements remain central to the jazzman archetype established by Charlie Parker. Between the midforties and early sixties, tons of talented players were strung out: Art Blakey, Hank Mobley, Sonny Rollins, Miles Davis, Grant Green, Dexter Gordon, Jackie McLean, John Coltrane. If Coltrane later provided a countervailing archetype—the sober, spiritually aware, gentle genius—then Parker embodied creativity's menacing, consumptive side. Morgan got lost between these poles. A promising, prodigy it-kid, he received his first trumpet at age thirteen. Five years later, he joined the Dizzy Gillespie Big Band. That same year, in 1956, he recorded his first Blue Note album as a leader, and soon after played on now legendary recordings such as Coltrane's Blue Train, at age nineteen, and Arty Blakey's Moanin', at twenty. His own early output ranks as nothing short of astonishing—eleven albums as a leader by age twenty-two—which is why his 1961 departure from Blakey's Jazz Messengers takes on the sinister weight of an omen.
Morgan returned to his hometown of Philadelphia to kick heroin. When he returned to New York in 1963, he recorded his comeback album, The Sidewinder and, clean and sober, entered his most productive period, recording seventeen Blue Note albums over the next eight years, albums that featured the songs with which he will forever be connected, including "Ceora" and "Speedball." But the trouble implied in that title never left him.
On February 19, 1972, Morgan was performing at an East Village jazz club called Slug's. He and his longtime girlfriend, Helen More, had an argument between sets, possibly about Morgan's infidelity, possibly about him trying to break up with her. Accounts vary. One has Morgan wrapping up a conversation with some people while his band waited for him on stage. Another account, from one of Morgan's close friends, and quoted in David Rosenthal's book Hard Bop, has the trumpeter sitting at the bar between sets, having a drink with his new, young, attractive girlfriend. When More came up to speak to him, he led her over to a table and told her to stay there, then he headed back to the bar. More tried to talk to him again. "This time," says his friend, "Lee took her by the shoulders and, without her overcoat or anything, marched her over to the door and put her out in the cold." The temperature was five below zero. She had Lee's pistol in her pocketbook.
In the first account, Morgan climbs onto the bandstand to perform, and More calls his name from the front of the club. Lee turns to face her, and she shoots him in the chest in front of everybody. When she aims the pistol at the doorman, he grabs her wrist and snatches the gun, then she starts to scream, "Baby, what have I done?" and runs toward Morgan. In Hard Bop, Morgan's friend says that when More came back inside the club, she aimed the gun and shot Lee straight through the heart. "A little red stain came up on his shirt," his friend says. "Then she realized what had happened and she was crying and hanging over him and screaming 'Mogie'—that was what she called him—'what have I done?'" Whatever went down, one thing is clear: she shot him, and he died within minutes. He was thirty-three.
Aaron Gilbreath has written for the New York Times, Bookforum, Kenyon Review, Brick, The Believer, Vice, and Oxford American, and wrote the musical appendix for The Oxford Companion to Sweets. His book, This Is: Essays on Jazz, comes out soon.