In Valerie Stivers's Eat Your Words series, she cooks up recipes drawn from the works of various writers.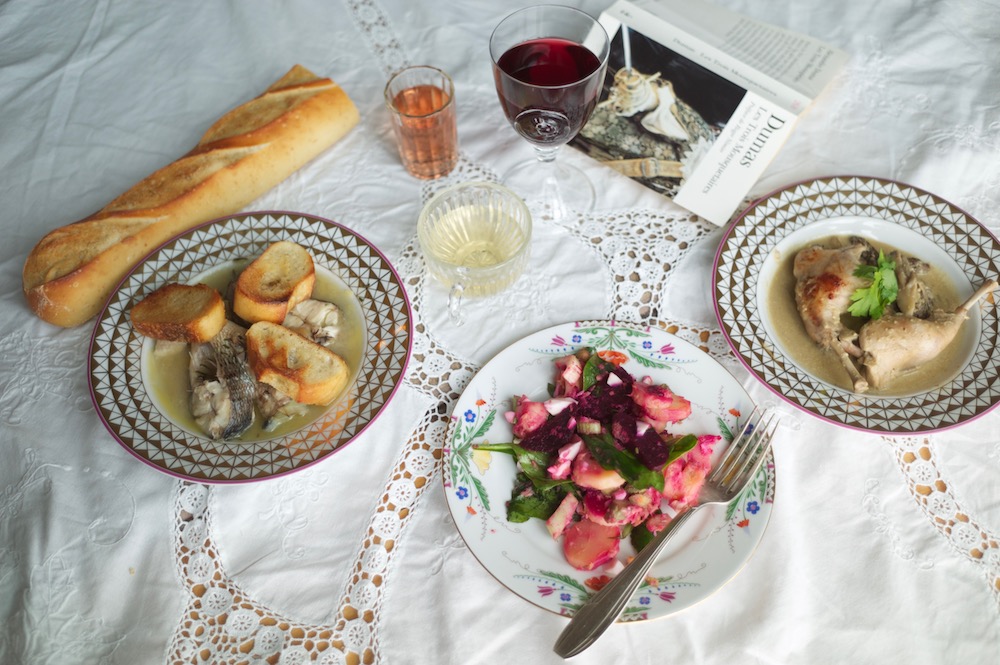 If the lavish feasts and epic drinking sessions of The Three Musketeers, by Alexandre Dumas (1802–1870), are any indication, seventeenth-century France was the era of the gourmand. The musketeers—Athos, Porthos, and Aramis—and their young friend d'Artagnan, the Gascon nobleman who is the book's hero, are frat boys of a different era, men for whom an ordinary evening at home is thus:
Porthos was in bed, and was playing a game of lansquenet with Mousqueton [his servant], to keep his hand in; while a spit loaded with partridges was turning before the fire, and on each side of a large chimney-piece, over two chafing dishes, were boiling two stew-pans, from which exhaled a double odour of rabbit and fish stews, rejoicing to the smell. In addition to this … the top of a wardrobe and the marble of a commode were covered with empty bottles.
The musketeers know no moderation. They order multiple bottles of wine for a quick drink, and at one point, one of them consumes an entire wine cellar. When Aramis plans to eat an omelet with a side of spinach, his friends ultimately convince him to say to the waiter, "Return from whence you came; take back these horrible vegetables … Order a larded hare, a fat capon, mutton leg dressed with garlic, and four bottles of old Burgundy."  Read More