In Valerie Stivers's Eat Your Words series, she cooks up recipes drawn from the works of various writers.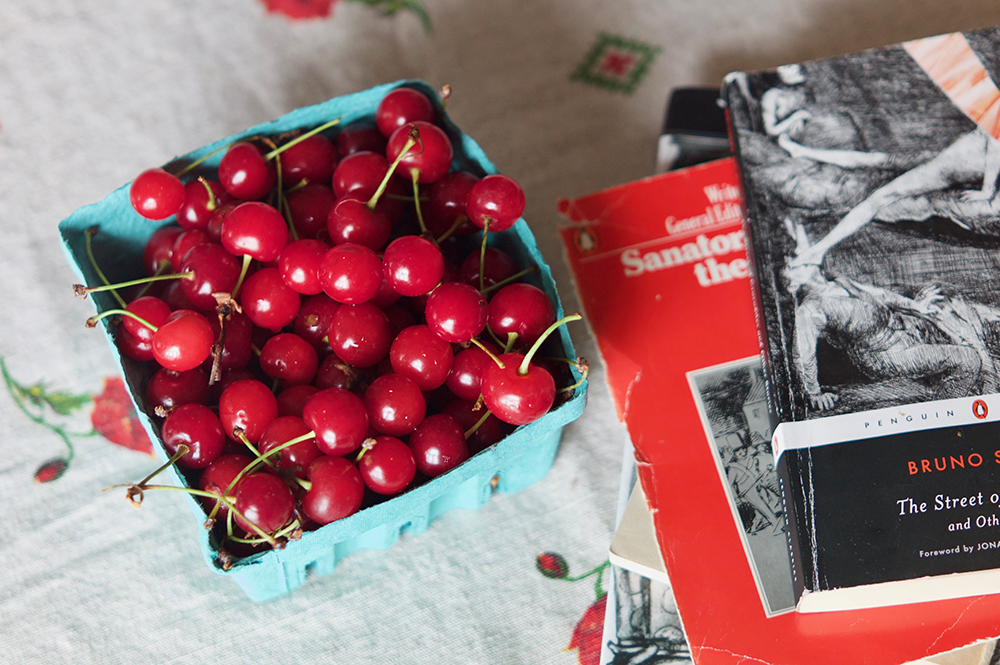 I have unusually clear memories of early childhood, including one about the bright-white lines of a tennis court when I could only just crawl and one about learning to walk. I can recall being so small that the lower confines of the kitchen assumed the grand scale of a castle, the floor textural and crumb-scattered; its landmarks included a drawer of copper jelly molds and another of potatoes with hairy black eyes. As an older child, I had seemingly endless Big Wheel range of our suburban neighborhood, and my memories are of the rooms created by the undersides of shrubbery, of my painstaking collection of wet stones (which all dried disappointingly gray), of the delicate plant "surgeries" I performed on beds of glistening aloe. It seems impossible, but I recall that my thoughts at this age were mostly metaphysical; I would hide along the foundations of our house imagining infinity or seeing how many steps of "I'm thinking about thinking about thinking … " I could grasp. Someone had told me that children forgot early childhood, so I swung in our hammock and tried to imprint the feeling of its abrasive fibers on my skin, for recollection when I got old.
Nothing has ever returned me to that childhood feeling like the work of Bruno Schulz (1892–1942), a Polish Jew born in the Austro-Hungarian Empire who lived his entire life in the provincial village of Drohobych (now part of Ukraine). Schulz was a funny little man, poor and unassuming, who taught art in a boys' school and privately made semierotic drawings of cruel ladies in high-heeled shoes. His literary output was minuscule—two books of short stories in nine years—and his life was tragically cut short by the Holocaust. A devoted biographer, the Polish poet Jerzy Ficowski, may have saved him from obscurity, and admirers such as John Updike and Philip Roth helped introduce Schulz's work to the West.
The admiration could not be more deserved. Schulz is inimitable in both his prose and his metaphysics. (A note on the prose—it's so spectacular it's almost untranslatable, and having read two translations side by side, I much prefer the older Celina Wieniewska to the newer Madeline Levine.) His stories create what Ficowski calls a "Schulzian mythologic," where the events of the writer's life, the people and houses and town around him, the surrounding countryside, the sky, the sun, the groceries from the market, a friend's stamp collection or the Emperor Franz Josef—all of it lifts off like a Chagall painting, is impregnated with new language and unmoored from time. What's revealed is not a flight of fancy but the indwelling qualities of everything. Read More