In Valerie Stivers's Eat Your Words series, she cooks up recipes drawn from the works of various writers.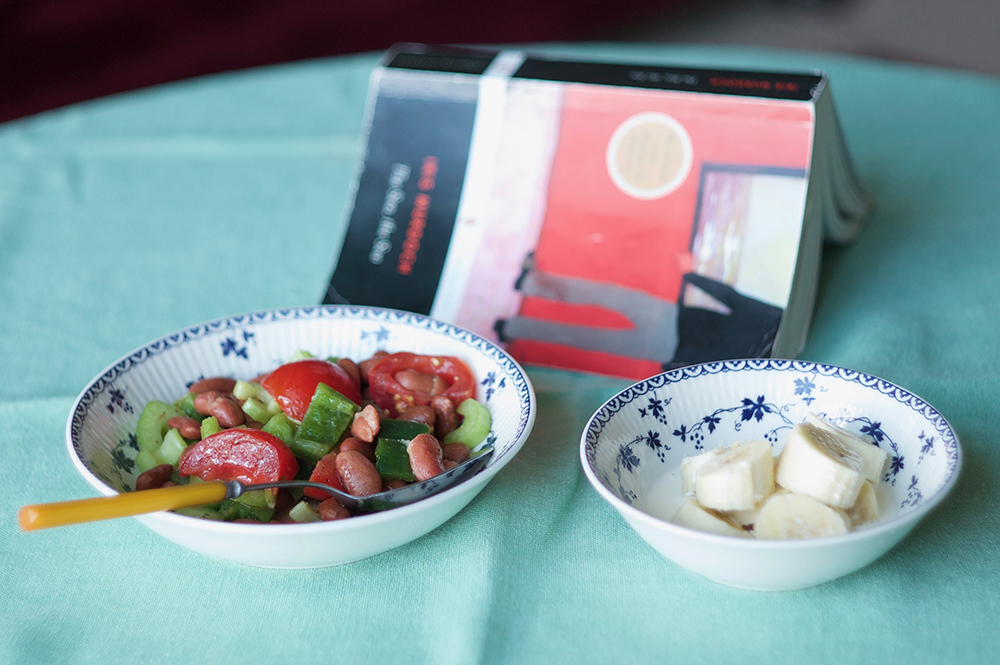 Some novels are so full of eccentric food and cooking instructions that it seems the best treatment of them would be to write a second book trying all the recipes. The Sea, the Sea, by the British novelist and philosopher Iris Murdoch (1919–99), is one such novel. In its first pages, Charles Arrowby, a retired actor and theater director, veers from his description of the English coast, where he's come to work on his memoirs, to discuss his lunch. I'm reproducing the following passage in full, since it's exemplary of the book's treatment of food.
It is after lunch and I shall now describe the house. For lunch, I may say, I ate and greatly enjoyed the following: anchovy paste on hot buttered toast, then baked beans and kidney beans with chopped celery, tomatoes, lemon juice and olive oil. (Really good olive oil is essential, the kind with a taste, I have brought a supply from London.) Green peppers would have been a happy addition only the village shop (about two miles pleasant walk) could not provide them … Then bananas and cream with white sugar. (Bananas should be cut, never mashed, and the cream should be thin.) Then hard water-biscuits with New Zealand butter and Wensleydale cheese. Of course I never touch foreign cheeses. Our cheeses are the best in the world. With this feast I drank most of a bottle of Muscadet out of my modest 'cellar'. I ate and drank slowly as one should (cook fast, eat slowly) and without distractions such as (thank heavens) conversation or reading. Indeed eating is so pleasant one should even try to suppress thought.
Charles's food descriptions are wonderful in their particularity and spur all kinds of culinary thoughts, such as, Can canned baked beans be redeemed by good olive oil?, and, Why hasn't the old-fashioned dessert of fruit in heavy cream made a comeback? The preparation details are a boon for a person wishing to replicate the food. Another simple dessert of apricots with shortbread cookies specifies that the apricots, if not available fresh, should be obtained dried, and soaked for twenty-four hours. Each meal comes with a wine pairing.  Read More