In Valerie Stivers's Eat Your Words series, she cooks up recipes drawn from the works of various writers.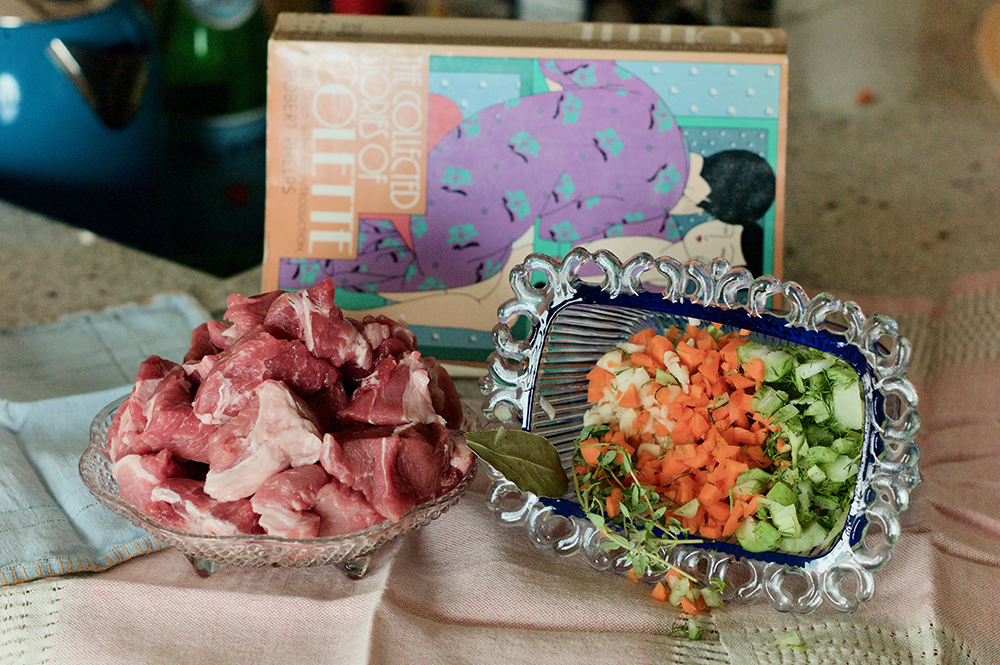 Any writer who has recently been the subject of a film starring Keira Knightley can be said to be having a moment, and this is especially true of Colette (1873–1954), a star of the belle epoque Parisian literary scene whose life lends itself well to the themes of our own time. Colette, born Sidonie-Gabrielle Colette, was a gender nonconformist more than a hundred years ago who adopted her surname as a one-word moniker. She was born to prosperous parents in the French village of Saint-Sauveur-en-Puisaye, and at twenty years old, with a "little pointed face," a "well-made body," and braids that touched her calves like "whips" or "reins," she made an improbable love marriage to "Willy" (Henry Gauthier-Villars), a wealthy thirty-four-year-old Parisian aristocrat and publishing impresario. Willy was the ultimate networker, a critic, society hound, and a provocateur who ran a workshop where impecunious young writers pumped out popular novels under his name. He brought his countrified young bride to Paris and was disowned for the ensuing scandal.
Colette quickly went to work for him, and the series of semierotic autobiographical novels she wrote as "Willy," which begins with Claudine at School, was "one of the greatest, if not the greatest" success stories in French literature, according to a contemporary. Colette's biographer Judith Thurman even credits her with having invented the teenage girl. Later Claudine books reveal the queer and genderqueer ferment in Parisian society at the time (Proust was a contemporary); Colette's affairs with women, including Mathilde de Morny, Marquise de Belbeuf, a woman who dressed as a man and went by "Missy"; and Colette and Willy's open marriage, which could be considered an early attempt at polyamory. The approach of the Keira Knightley movie is to portray Colette's struggles to leave Willy, regain the rights to her work, and begin writing under her own name as a feminist parable.
As a person allergic to orthodoxies, I never want to like the writer who is having a moment, especially when the reasons are ideological (even when the ideologies are ones I mostly share). I'd been resisting Colette until cracking a spine and discovering, like most of Paris did once before me, that she's irresistible. Read More