In Valerie Stivers's Eat Your Words series, she cooks up recipes drawn from the works of various writers.
The recipe for the work of the Brazilian author Hilda Hilst (1930–2004) is equal parts language and nonsense, obscenity and literary references, disparagement of writers and striving toward God. It's thrilling to read but challenging as narrative, which is perhaps why Hilst is famous in her own country but not in ours. Despite a fifty-plus-year career and a sweep of honors, Hilst wasn't published in English until 2012. If she's known at all in the U.S., it's in the shadow of the Brazilian grande dame Clarice Lispector, who worked in a similar vein.
My favorite of Hilst's novels, Letters from a Seducer (1991), is the centerpiece of a late series often considered her masterwork. In it, Stamatius, a homeless writer, begs on the street for "everything that you are going to throw in the trash, everything that isn't worth a dime anymore, and if there's leftover food we still want it." Hilst's work resists quotation; it's difficult to find a place to stop. Every line is a pirouette. The passage continues: "The burlap sacks fill up, bric-a-brac books stones, then some people put rats and shit in the bag, what faces those rats had, my God, what injured little eyes those rats had, my God, we separated everything out right there: Rats and shit here, books stones and bric-a-brac there. Never any food."
Stamatius's perspective bookends a series of letters of obscene invective—we assume he's found or stolen them—from a man named Karl, a slick bourgeois, to his sister Cordélia, who has retreated to a nunnery, perhaps to get away from him. These letters begin: "Cordélia my sister, come out of your cloister. / the countryside ages women and cows. / Once again nourish your holes / With gentle swine-cresses, blunt poles / Or if it's pussies your tongue wants / I'll get you dozens: mature cunts / Youthful cunts, purple cunts / for your vile, repressed feelings."
Hilst's work teems with literary reference—pull any string and you'll go far—but the one that jumped out at me most was Søren Kierkegaard. The Danish religious philosopher's masterpiece, Either/Or, is a series of papers passed between A., an aesthete, and B., an ethical man, and has a doubly found, possibly fictional passage nested within called Diary of a Seducer, in which the aesthete's life philosophy is put in to action, repugnantly, in order to seduce a young girl named Cordélia. How we are to judge him is one of the book's many puzzles.
Hilst's Letters from a Seducer isolates this section from Kierkegaard's masterpiece and makes it avant-garde, bringing Kierkegaard into the company of Georges Bataille and other writers of transgressive fiction, who use obscene language to shock the reader clear of their preconceptions. It's a brilliant transmutation, since Hilst, like Kierkegaard, was also a God seeker whose work was spiritually animated by a belief in individual contact with the divine. The Hilst translator and scholar Adam Morris, writing in Essays on Hilda Hilst: Between Brazil and World Literature, explains that Hilst's style of language is "a method of incitement aimed at her readers," pushing us to "seek out personal contact with the beauty and dread of the divine," which "must be known and pursued individually if one's life is to have any meaning." Hilst took every opportunity to deflate the self-importance of writers, but she also believed that "poetry, above all else, came closest to communicating the emotions, ideas, and other nameless affects of raw gnostic enrapture and horror."
The divine—like poetry and pornography—is one of those "I know it when I see it" situations, but for me, the beautiful, unspooling oddity of Hilst's sentences creates the conditions in which to seek it. To take one almost at random, Karl writes: "What do you mean by 'healthy in bed'? Now I see a certain type eating watermelons, popcorn, splayed out drooling, soiling the sheets, filling them with seeds and peanuts …" It's such a melodic string of sounds, of freeing obscenity and silliness. We grasp, as Karl says, that the writer is following a "crazy urge to write in the fundamental language."
I wondered what it would be like to apply that urge in the kitchen. Hilst's "fundamental language," to my great delight—and to the benefit of readers wanting a meal drawn from her work—employs food terms in frequently eccentric ways. Blouses smell of apples; people sell clams, oysters, coconuts, hearts of palm, dried meat; a penis is a giant chorizo or a "wise and mighty catfish" or a strawberry (!); testicles are beans; a vagina tastes like a mixture of "yellow star apples and loquats." At one memorable moment, "The Trickster, The Whore, The Rascal, Death" tells Stamatius to "sample her codfish."
I took such ingredients mentioned in the book as a jumping-off place, defying, in the avant-garde way, all bourgeois convention. These were: codfish, carne seca, pumpkin, chorizo, clams, tapioca, and popcorn. I then mixed them with some of Brazil's iconic ingredients and dishes: Brazil nuts, cassava topping, chayote, and passion fruit. I was trying to make good food but also freeing myself to experiment. One recipe, a codfish stew in Brazil-nut milk, is fast and easy (well, easy after you order the nuts off the internet and make the nut milk) and turned out as a superb weeknight dinner—I've already made it again. The dish has okra (acceptable bursts of slime) and hot cucumber, plus thyme, the combination of which creates a unique, mild, intriguing flavor profile. My rice creation also ended up being wonderful. Various forms of crunchy cassava topping are emblematic of Brazilian food, as is carne seca (dried meat). I combined the two, using Brooklyn hipster jerky instead of carne seca (a trial run with the authentic Brazilian grocery-store version didn't quite work, despite the meat being boiled and soaked for hours) and tossing both on a priapic chorizo-clam rice.
My two desserts—a spicy passion fruit soup topped with "popcorn flour" and a tapioca cake topped with cinnamon, chayote, and caramel—had moments of promise in the tasting stage but weren't really edible. The soup was way too spicy (I've adjusted the recipe below to call for a mild chili instead of the one I used), and the instruction to blend the passion fruit pulp with its seeds creates speckled black grit. The cinnamon and chayote were not a harmonious combination, and the crunchy topping with the soft tapioca cake both tasted and looked (as you'll see in the photos) wrong.
Enrapture and horror—achieved.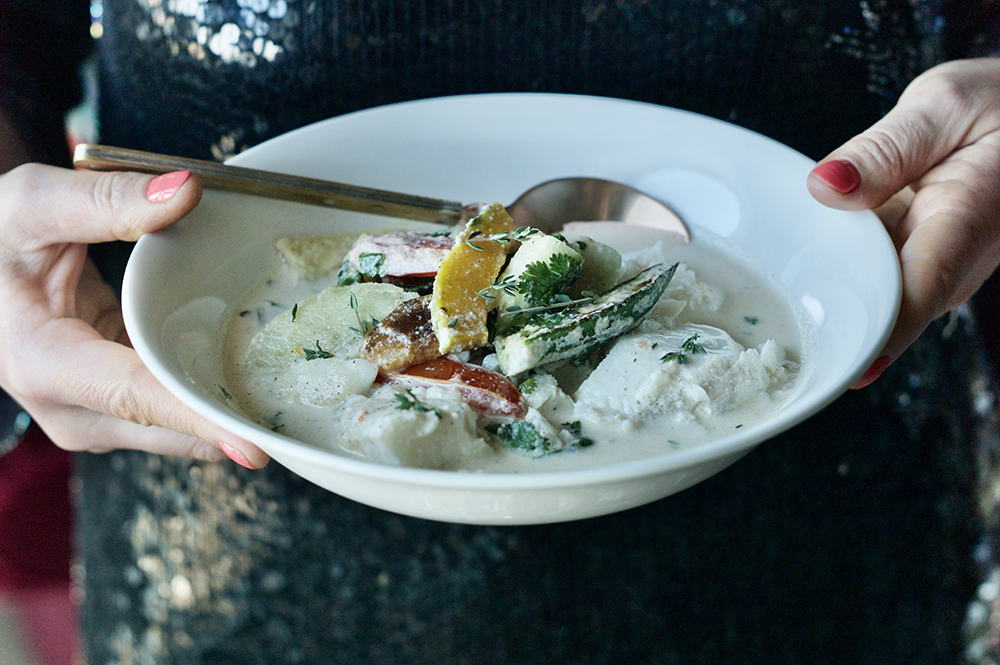 "Sample My Codfish" Stew, with Brazil-Nut Milk
Adapted from Brazilian Food, by Thiago Castanho.
2 1/4 cups raw Brazil nuts
2 1/2 cups water
2 fresh codfish fillets, about 7 oz (200 g) each, skin on if possible
black pepper
small chunk of winter squash, 2 1/2 oz (60 g), scant 1/2 cup when cut
small chunk of sweet potato, 2 1/2 oz (60 g), scant 1/2 cup when cut
small amount of parsnip, 2 1/2 oz (60 g), scant 1/2 cup when cut
8 okra
a small tomato, quartered
2 tbs coconut oil
1/2 tsp salt (plus extra salt, to taste)
1/2 a cucumber (or similar quantity of West Indian gherkins), peeled and cut lengthwise in sticks
2 tbs coarsely chopped cilantro
3 or 4 sprigs thyme, plus more to serve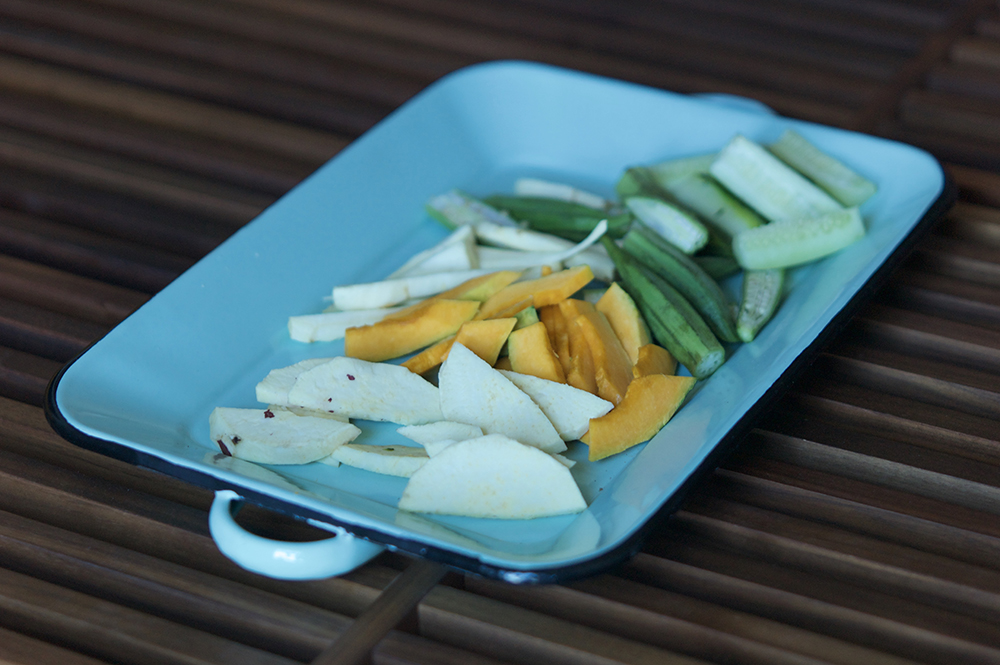 Preheat the oven to 425.
To make the Brazil-nut milk, mix the Brazil nuts and water in a blender for five minutes, until completely smooth. Refrigerate for thirty minutes, then strain through a fine sieve and set aside. You should end up with about two cups of liquid. (Note: the nut mash left over after straining can be used to make cakes, pies, and cookies).
Clean the codfish fillets, running your fingers along the lines and pulling out any remaining pinbones with tweezers. Salt and pepper them generously on both sides, and let stand for thirty minutes.
Prepare the vegetables. The balance of this dish calls for many types of vegetable in very small quantities; it helps to weigh them out, but if you don't have a kitchen scale, measure the processed vegetables out by the cup amounts indicated above. Do not be tempted to throw in a little extra—all those additional bits will add up.
Peel the squash, and cut into quarter-inch slices. Peel the sweet potato, cut into quarter-inch slices, then halve or quarter to make large rounds. Peel the parsnip, quarter lengthwise, remove the woody core, and cut into quarter-inch slices.
Clean your work surface and your knife, and dry thoroughly. Cut off the tops of the okra and discard. Halve the okra lengthwise, wiping the knife frequently on a towel to keep it completely dry. The less water okra comes in contact with, the less slimy it will be.
Pour the coconut oil into your largest skillet, and heat on medium-high until the oil shimmers. Place the squash, sweet potato, and parsnip in a single layer, without crowding, and sear, watching carefully and flipping when the vegetables are beginning to blacken in spots but have not yet burned. This should take less than three minutes.
When they've blackened on both sides, remove and reserve. Add more coconut oil if the pan is dry, then add the okra, cut side down, and blacken (only one side is fine). Finally, turn down the heat a little, and fry the tomato slices, cut side down, to remove the rawness and get some color if possible.
Place the fish in a medium-size baking dish. Top with the blackened vegetables. Sprinkle with half a teaspoon of salt. Add the cucumber, cilantro, thyme, and Brazil-nut milk, filling the dish until the fish and vegetables are fully submerged (if necessary, add a bit of water to accomplish this). Bake for twenty minutes or until the fish is flaky and falling apart and the vegetables are cooked. Serve garnished with fresh thyme.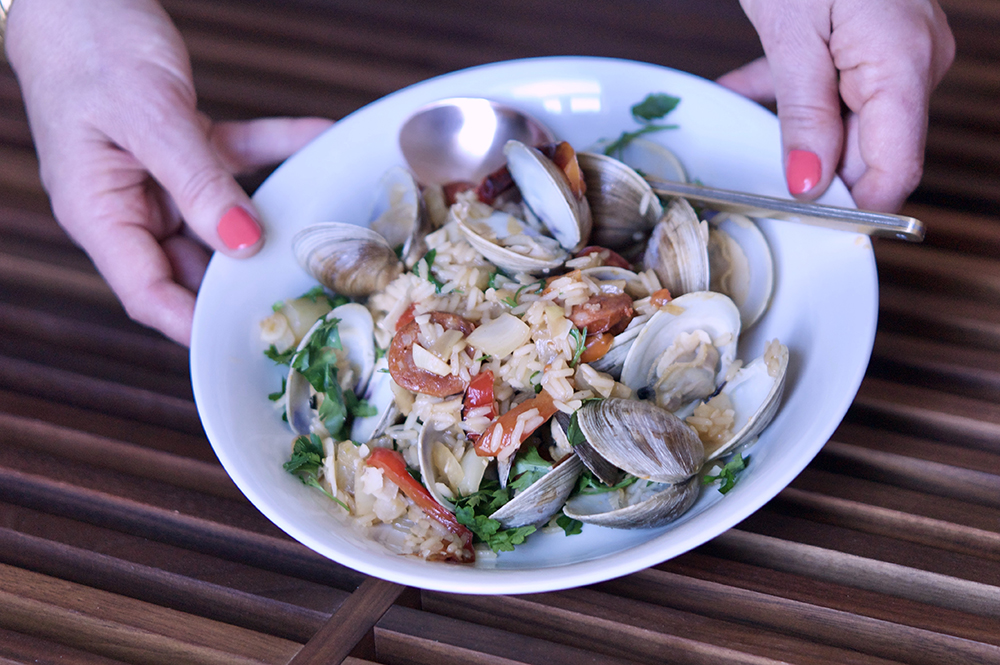 Rice with "Giant" Chorizo and Clams
Adapted from Brazilian Food, by Thiago Castanho.
For the cassava-crumble topping:
a stick of butter
3 tbs diced shallot
1 2/3 cups untoasted cassava flour
1/3 cup beef jerky, not too rocklike (I used Brooklyn Biltong)
For the rice:
a small chorizo (uncooked is preferable)
3 tbs neutral-tasting oil
a red pepper, sliced
2 cloves garlic, sliced
1/2 cup fennel, diced
1 cup chicken stock (I use Better Than Bouillon)
a dozen clams
1/2 cup rice
1/3 cup parsley, minced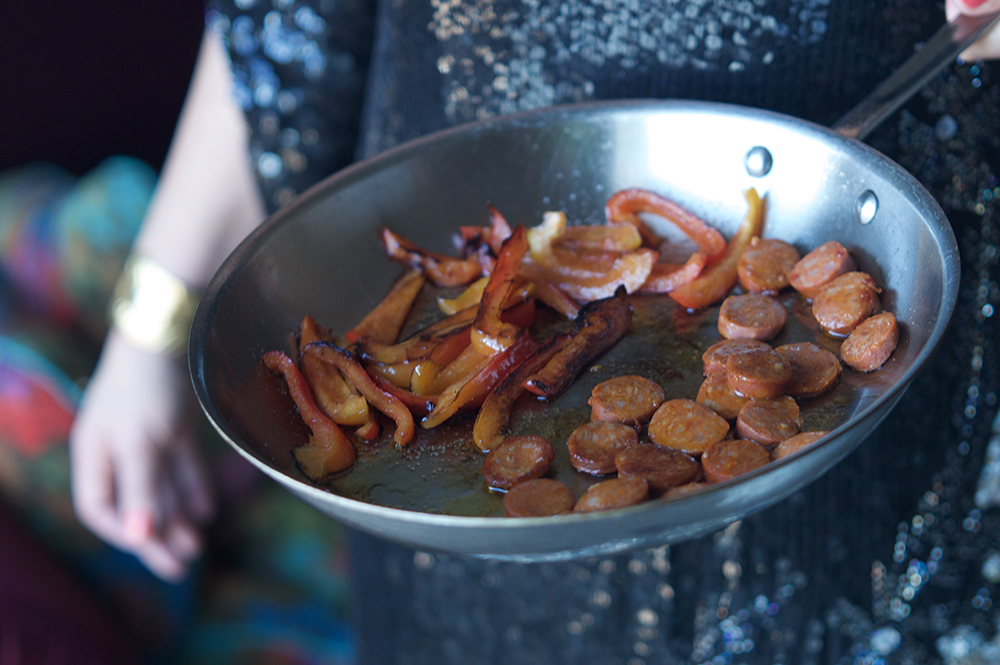 Remove the chorizo from its casing, break it up into chunks, and fry in oil in a medium-size skillet until browned on all sides. (If your chorizo is cooked already, just brown it a bit and release some of the juices in the skillet). Remove the chorizo from the pan and set aside.
To the same pan, add the red pepper, and fry on medium-low heat, five to seven minutes, until well softened. Add the garlic and fennel, and fry, stirring occasionally, two to three minutes, until the garlic is fragrant.
Add the chicken stock and the clams, cover, and bring to just a boil, then turn down to a lively simmer and steam, five to seven minutes, until the clams have all opened. Do not cook past the point when most of the clams have opened; prolonged cooking will make the clams tough.
Discard any clams that have not opened. Remove the opened clams from the pan, and set aside in a small bowl, covered under foil to keep warm.
Add the rice to the liquid in the pan. Cover and cook about ten minutes, until the rice has absorbed the liquid and small holes have appeared in the surface. Turn off the heat, and leave the rice to sit for five minutes longer.
Return the chorizo and the clams to the pan. Heat briefly to meld. Top with parsley and a generous helping of cassava-crumble topping, and serve.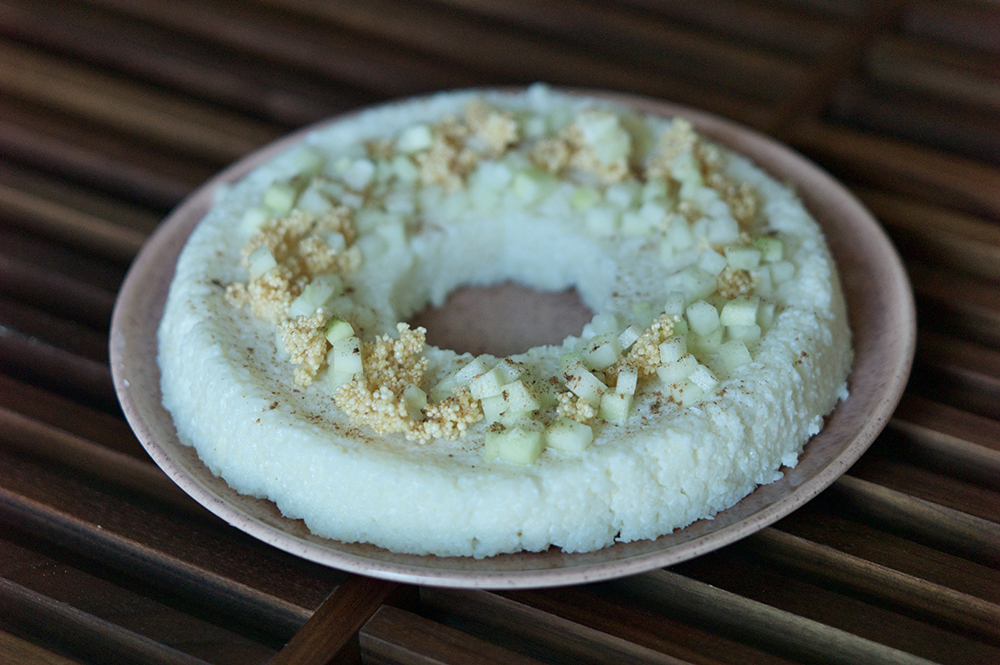 Tapioca Cake with Cinnamon-Chayote Topping and Tapioca Caramel
Adapted from Brazilian Food, by Thiago Castanho
For the tapioca cake:
1 tsp vanilla extract
1/2 cup unsweetened, shredded dried coconut
2 cups whole milk
a 14 oz can of sweetened condensed milk
1 cup granulated tapioca
butter, for greasing
For the tapioca caramel:
3/4 cup granulated tapioca
1/4 cup sugar
1/8 tsp salt (ideally a tasty large-flake kind like Maldon)
To serve:
1/3 cup chayote, peeled and finely cubed
1/4 tsp cinnamon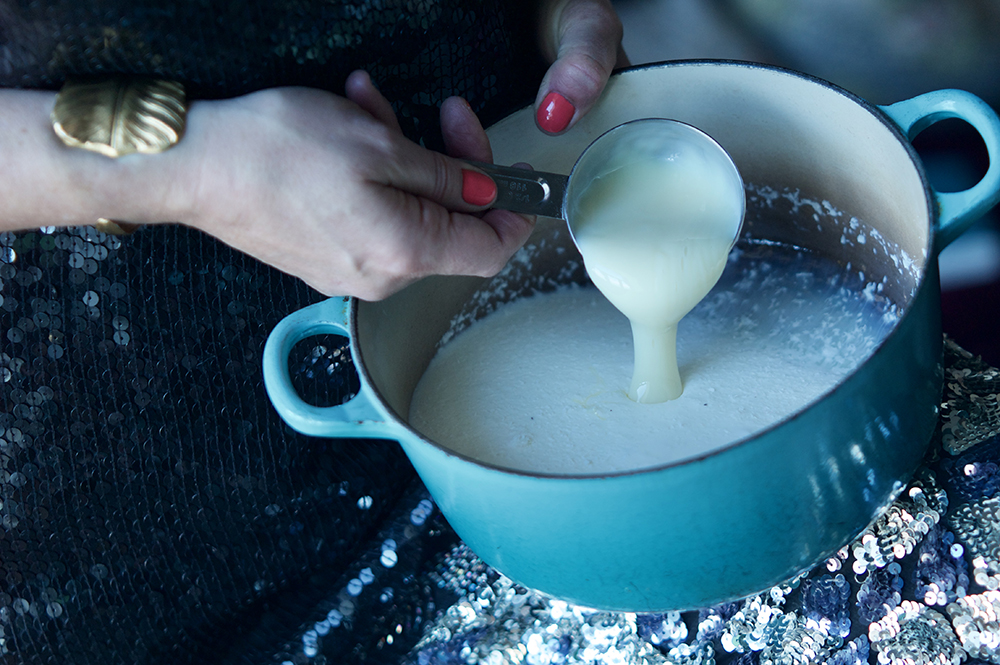 To make the cake:
Grease a nine-inch Bundt or angel food cake pan.
Combine the vanilla extract, shredded dried coconut, whole milk, and condensed milk in a medium saucepan, and bring just to the point of scalding, stirring continually. (A scald is just prior to a boil; look for the milk to release steam and start to turn frothy at the edges). As soon as the mixture reaches a scald, turn off the burner, and stir to release some heat.
Pour the granulated tapioca into a medium-size heatproof bowl, then add the hot mixture and stir. Leave to sit about ten minutes, stirring occasionally, until the tapioca has become soft, swollen, and gelatinous and the liquid has mostly absorbed. Pour into the prepared container, and refrigerate until set, about two hours.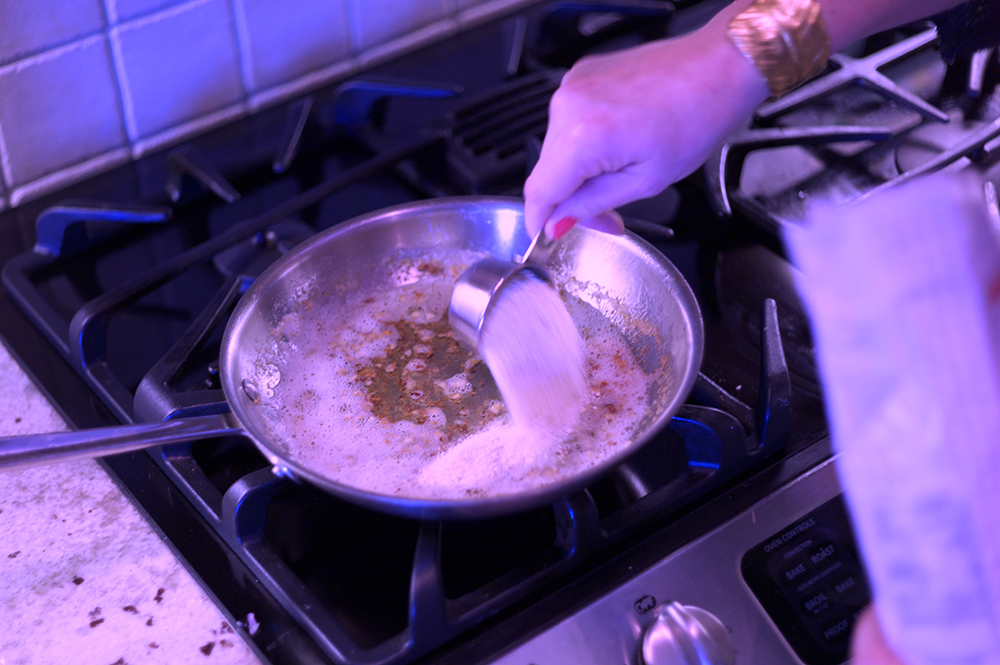 To make the tapioca caramel:
Set up a small nonstick pan, greased with butter or a neutral-tasting oil, next to your stove.
Combine the granulated tapioca, sugar, and salt in a saucepan, and heat gently, stirring constantly to melt the sugar. Cook, stirring, until the caramel is a light golden brown and the tapioca has begun to clump. Pour out onto the prepared surface, and let cool. Break the mixture up into smaller chunks.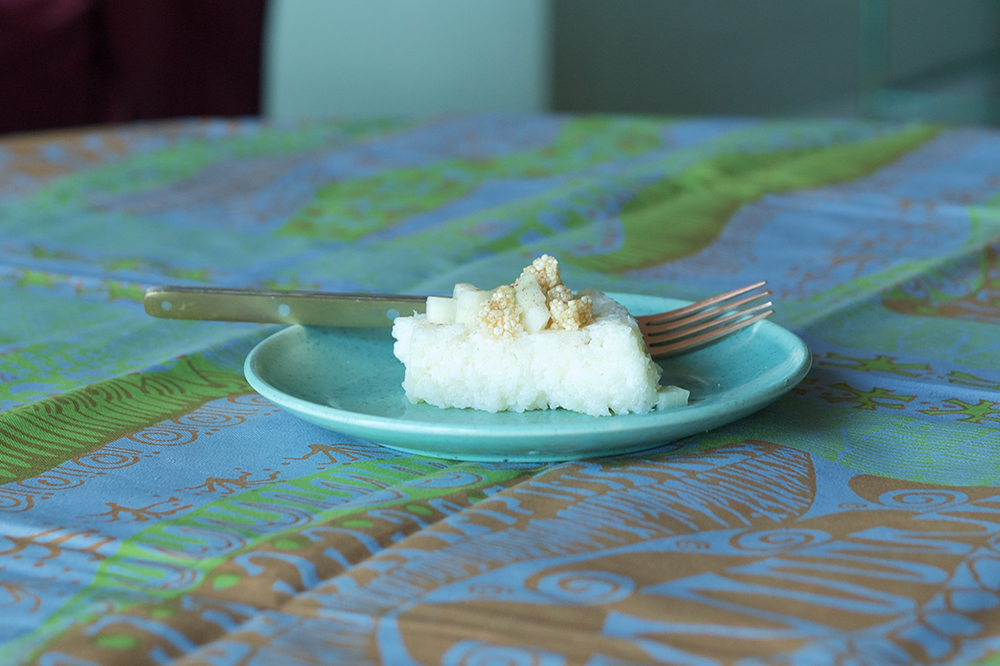 To serve:
Using a rubber spatula, gently release the cake from the sides of the tin, working as far beneath it as you can without breaking it. Invert over a plate, and tap to loosen. Repeat if necessary.
Top with chayote and tapioca caramel, and dust with cinnamon. Serve cold.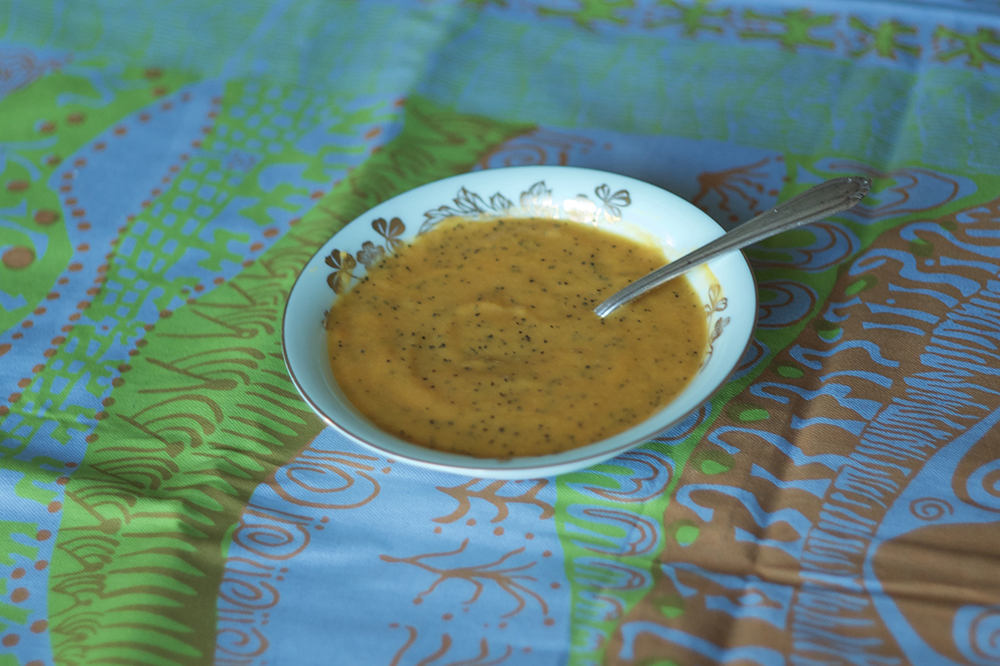 Cold Passion Fruit Soup with Chili and Popcorn Flour
Adapted from Brazilian Food, by Thiago Castanho.
2 cups carrots, peeled and roughly chopped
3/4 cup sugar
4 cups water
2/3 cup passion fruit pulp (including the seeds)
a Cumari do Para or other mild yellow chili, seeded
1 tbs vegetable oil
1/2 cup popcorn kernels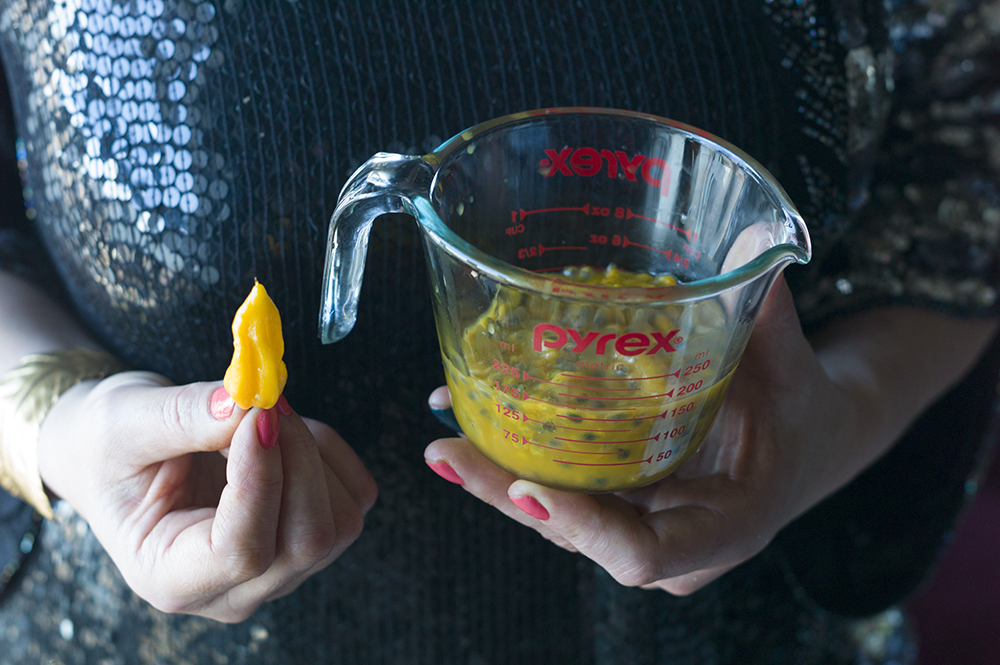 Put the carrots in a saucepan with the sugar and water, and bring to a boil. Cook for twenty minutes or until the carrots are very tender. Strain, reserving both liquid and carrots.
Combine the cooked carrots, passion fruit pulp, chili, and a cup and a third of the carrot liquid in the blender. Blend on high until fluffy and completely smooth. Add more liquid if the mixture seems too thick; I like mine a little soupier and less like a puree. Chill for at least two hours before serving.
To make the popcorn, heat the oil in a large saucepan over medium heat, tossing in the occasional test kernel until they begin to pop. When that happens, add the rest of the kernels, cover, and cook, shaking occasionally, until the corn has mostly all popped. If it starts to scorch, turn the heat down to medium-low.
Remove the popped corn, discarding any blackened or unpopped kernels, and process in the blender to make a medium-fine flour. Sprinkle on the soup, and serve.
Valerie Stivers is a writer based in New York. Read earlier installments of Eat Your Words.