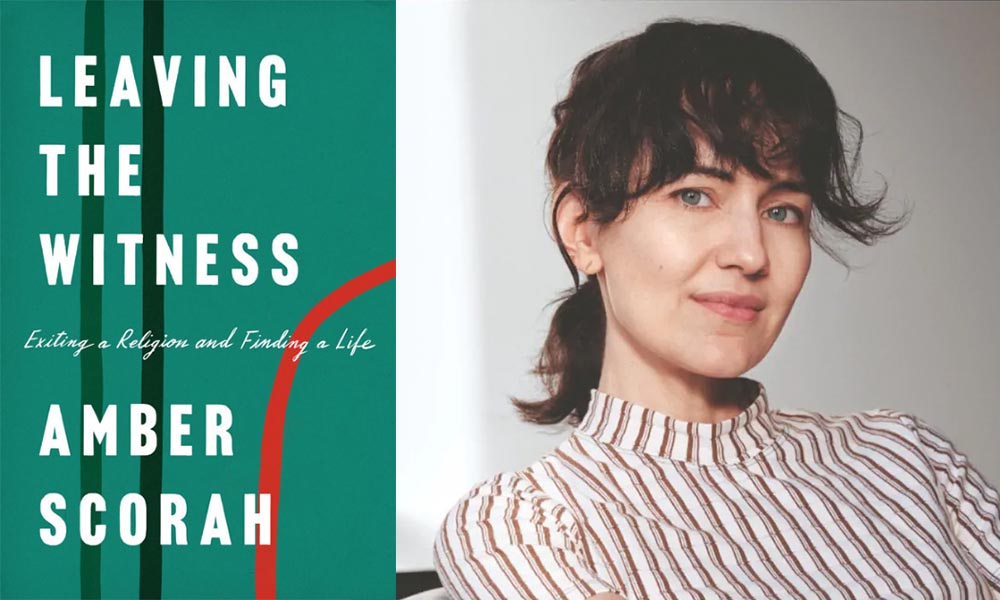 I met the Canadian writer Amber Scorah at a party last winter. She was introduced by a mutual friend as the author of an upcoming memoir, Leaving the Witness: Exiting a Religion and Finding a Life. I tried but failed to bite my tongue (a frequent failure), and asked, "What terrible thing happened to you?" Scorah, it turned out, was a former Jehovah's Witness who'd escaped the church while working as a missionary in China. Fortunately, she had a sense of humor.
The hard-knocks memoir is nothing new, but Scorah's struck me as a story relevant to today's cultural moment, and to my mission as the Eat Your Words columnist for The Paris Review, where I re-create meals from the pages of books, not just for fun (though it is fun) but because approaching a beloved book through its food is an estranging and fertile way to connect to the story.
What field of human endeavor is more estranging than being a missionary? You go, bearing the ultimate truth (as you see it), to a place where you know nothing, to a people you know nothing about, where you are a stranger and everything is strange to you. You're there to teach, not to learn; to talk, not to listen; to show, not to see. Many people in this position gird themselves with disdain for those they've come to convert—it helps to keep up the conviction that you are right and everyone else is wrong. But for those who approach their potential converts with respect, the way Scorah did despite her training, the missionary relationship can become inverted. Of learning Chinese, Scorah writes, "It was a different way of being in the world. I was in a mild state of disorientation for a number of years, and one of the unexpected effects was that I was slowly made a little less sure that the world was in fact as I had always seen it."
I've always been attracted to learning from experience. You sit down, you share food, if you're paying attention, you'll learn something. Being a missionary in a foreign country is all unfamiliar foods and new dining companions. And while the history of religious expansionism is littered with human tragedy, there are many inspiring individual stories. Shortly before meeting Scorah, I'd written a column on Pearl S. Buck, the author of a thirties U.S. best seller set in China, The Good Earth. Buck was a daughter of missionaries to China. Like Scorah, she renounced her church after gaining perspective from her contact with Chinese culture. And though her legacy is tarnished with accusations of racism (a 1937 movie version of The Good Earth in which the Chinese characters were portrayed by white actors is partially responsible), in her own time she was responsible for the first realistic depiction of the everyman Chinese farmer in either Chinese or American literature.
Scorah and I talked about Leaving the Witness, the parallels between her life and Buck's, and of course, Chinese food.    
 INTERVIEWER
Where did this story begin? How did you become a Jehovah's Witness?
 SCORAH
I was born on the prairies of Canada as a third-generation Jehovah's Witness on both sides. From a young age, I heard what was preached from the platform at our meetings, and internalized its message of apocalypse and destruction in a deep way. When you're a young girl from a family that has some problems, and you are offered clear guidelines about how to protect yourself from a violent end, you listen.
Our children's books from the organization couldn't have helped—they depicted children in the paradise God had promised would come after Armageddon, but also had graphic illustrations of the world's end, with fire raining down on children from the sky, destroying them. It was a strong motivator. Plus, the people in the congregation were so kind and nice to me, it felt like a safe place to be. I've since come to understand that this is one tactic that groups like this use to control people: creating unresolvable fear and balancing it out with generous doses of love. The love, however, is conditional on your staying in the group.
When I was entering secondary school, my family moved to Vancouver. After I graduated from high school, I ended up becoming a "pioneer," which is a Jehovah's Witness who commits to at least seventy hours per month preaching, a missionary of sorts, except that we support ourselves in the work. It was in Vancouver that I first encountered Chinese people in my preaching work.
 INTERVIEWER
You've told me that for a smart, ambitious person, being a Jehovah's Witness was boring, and your solution to that was to go to China. Is that right?
  SCORAH
Yes, especially as a woman. Women are not allowed to teach in the congregation, or to have positions of authority in the organization. Careers are forbidden, education is off limits, even getting too into any kind of hobby or sport is discouraged—because they are all a distraction. For a woman who liked to do things, there was only one acceptable place to focus her energies: preaching.