Frederick Seidel
Issue 208, Spring 2014
I'm a stallion standing in my stable stall asleep.
Horses do that and their standing sleep is deep.
A woman with a whip waits for me to wake
And fuck until I break.
The doorman of my building tells me…
Want to keep reading?
Sign in—or sign up for a free trial…
Free Trial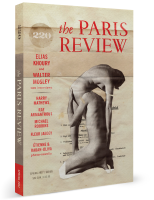 …or get your subscription now!
Subscribe