Frederick Seidel
Issue 208, Spring 2014
At seventy-seven I reached my prime.
But seventy-eight was also absolutely great.
And then came fab seventy-nine and continuing to climb.
I upped my wingbeats to an even higher rate.
From my new altitud…
Want to keep reading?
Sign in—or sign up for a free trial…
Free Trial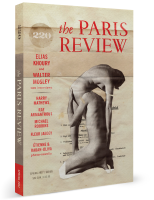 …or get your subscription now!
Subscribe