John Ashbery
Issue 208, Spring 2014
He has a lazy father in Minnesota.
I hope you never have to do this in life, with its crazy little darkened
rooms. People are standing, an accurate jumble. Famille rose happy campers.
And if the wate…
Want to keep reading?
Sign in—or sign up for a free trial…
Free Trial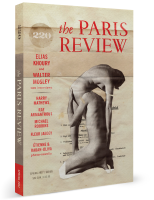 …or get your subscription now!
Subscribe