John Ashbery
Issue 208, Spring 2014
We talked about the great error
that you can live with
and really can't afford to get.
It's Thanksgiving there, and besides
we might not have room for the next event
to get the old juices flowing.
A gay a…
Want to keep reading?
Sign in—or sign up for a free trial…
Free Trial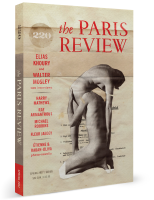 …or get your subscription now!
Subscribe