Interviewed by James S. F. Wilson
Issue 169, Spring 2004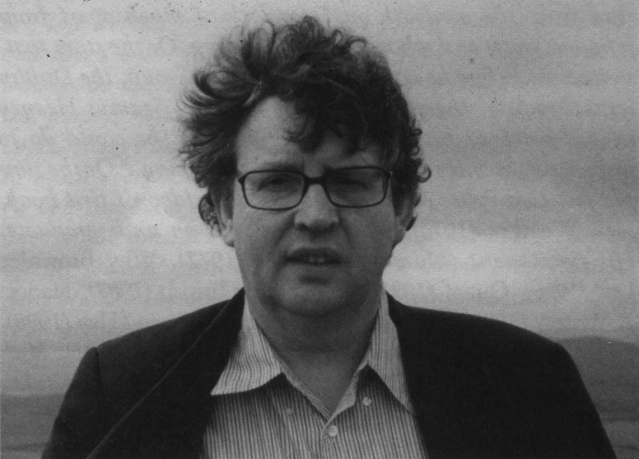 Paul Muldoon was born in County Armagh, in Northern Ireland, in 1951. He is the eldest of three children. His mother was a primary schoolteacher and his father held many jobs, including mushroom cultivator. Muldoon attended Queen's University from 1969 to 1973, and remained in Belfast until 1986, working as a radio and television producer for the BBC. He has lived in the United States since 1987 and is presently Howard G. B. Clark '21 Professor in the Humanities at Princeton University. Additionally, in 1999 he was elected to the five-year term of Professor of Poetry at the University of Oxford.
Muldoon has been called a precocious talent. When he is profiled in newspapers, one of three anecdotes invariably makes the lead: The story that as a child he made a project of The Junior World Encyclopedia, which he calls "a terrific read from the aardvark on," for lack of much apart from religious tracts and school primers at home. Or the story that, some time before he was asked to join the Group, the Dublin critical society, the young poet approached Seamus Heaney with a batch of his work, wondering what he could do to improve it. Heaney famously replied, "Nothing." Or the simple fact that Faber and Faber published Muldoon's first book, New Weather (1973), while he was still an undergraduate. His subsequent volumes are Mules (1977), Why Brownlee Left (1980), Quoof (1983), Meeting the British (1987), Madoc: A Mystery (1990), The Annals of Chile (1994), and Hay (1998). These books are collected in Poems 1968–1998 (2001). Muldoon's most recent volume is Moy Sand and Gravel (2002), for which he was awarded the Pulitzer Prize in Poetry. As well as translating the work of contemporary Irish poets, Muldoon has published several books for children and collaborated with the composer Daron Hagen on several operas.
The perceived difficulty of Muldoon's work is considered to have culminated in Madoc: A Mystery and The Annals of Chile, the first books he published after his move to the United States, and through which, to a greater or lesser extent, he dramatizes that relocation. In the book-length poem "Madoc," Muldoon supposes that Samuel Taylor Coleridge and Robert Southey took up their (actual) fancy of founding a Pantisocratic community in North America. Each short section of the poem is named for a philosopher; in fits and starts—by puns, the rare diagram, and the odd snippet of coherent narrative—the reader becomes aware of a Western adventure taking shape. Some have suggested the two protagonists stand for Muldoon and Heaney, embarking on careers inside the American Academy. The work prompted John Banville, writing in The New York Review of Books, to remark of Muldoon, for whom he otherwise expressed admiration, "I cannot help feeling that this time he has gone too far." In "The Annals of Chile" Muldoon develops further the long-form pseudo-autobiography, imagining the life his father might have led, and the life of the son he might have fathered, had Muldoon Sr. left Ireland for Argentina as a young man, a notion he had toyed with. Muldoon once said that he hoped readers would "be moved by it, both to tears and laughter." Indeed the poetry, riddled with etymological puns, obscure references, shaggy dogs, and half-truths, can seem on the surface to mock everything, even while it calls up intense feeling. (When Muldoon cheerfully points out which poems of his one might consider doggerel—"As," for example—he frees up his readers' critical faculties for a whole other feast of delights. On the other hand, this can reinforce the suspicion that, elsewhere, we're missing the point.)
Some readers have taken Muldoon's playfulness as an affront to scholarship, and certainly some take it as an affront to their own intelligence. But to these complaints Muldoon justifiably counters that his kind of literary gaming requires of readers what contemporary film requires of its audience—a familiarity with the medium's history and tricks that we can take more or less for granted.
This interview was begun at Muldoon's office at Princeton, in a modern building that houses several other arts faculties. Muldoon keeps a tidy desk facing bookcases on three walls, and the door in the corner of the U; pushed up against the shelves are a dozen wooden chairs to accommodate student workshops. The complete OED is shelved in a cabinet beside the desk. On top of the cabinet stand a photograph of the novelist Jean Korelitz, Muldoon's wife of fifteen years, and a bronze bust of the poet himself, looking jaunty and almost anonymous under a Princeton baseball cap. In a narrow space on one wall hangs a pale blue page in a beat-up frame: an application of incorporation of the Irish National Theater Society, signed by William Butler Yeats. Other hangings include a handwritten poem by Seamus Heaney addressed to Muldoon; an antique map of County Armagh and a drawing of the town of Oxford; a poster-sized blowup of the cover of Madoc: A Mystery; editions of Muldoon's poems that have appeared on subway cars in Dublin, London, and New York; and both a photo and a cartoon of Heaney and Muldoon together. We sat in front of the desk in a couple of low-slung armchairs next to a sunburst Fender Stratocaster set on a guitar stand. There were frequent distractions. The radiator. A student with copies of — to autograph. Inquiries delivered by e-mail, phone, and in person as to the weather. (The end-of-term Muldoon-Korelitz garden party was scheduled for the following afternoon. Eventually it was put off a day—without complete confidence: "It's in the hands of the gods. And we know what they're like.")
At four o'clock we left the office for Muldoon's home, once a tavern ("The Black Horse" of the poems). Stopping on the way to pick up groceries, his four-year-old son, Asher, from school, and so on, Muldoon punctuated our conversation with high-pitched horse's whinnies. Home is an airy clapboard house built high on a bank of the Raritan Canal, surrounded on all sides by greenery. The rooms are low ceilinged, dark, and breezy, decorated with wooden furniture and secondhand genre paintings and portraits. We resumed our conversation first in one room, then another, then another, as the Korelitz-Muldoons (last of all, but not least, Dorothy, ten, and five or six dogs and cats) tumbled around in anticipation of a housebound Saturday. In conversation, Muldoon's keen focus is diffused with an improvisatory brio. Talking can be a pleasure.
INTERVIEWER
To begin at the beginning, what do you remember of your childhood in Armagh?
PAUL MULDOON
Armagh was a peasant society that really had not changed for a long time. I remember vividly a neighbor plowing with horses, people planting turnips with a turnip barrow. There were tramps, gentlemen of the road. One of them was called Paddy Patch, and there was one called Forty Coats, because he wore so many layers. Layers are the secret, you know.
I'm still very conscious of coming from a society where storytelling was much prized and praised. I was reminded the other day that the Celts had a god of eloquence by the name of Ogmios. Ogmios was still lurking in the back of the minds of my neighbors. They loved poems, songs, good stories. And still do.
My earliest memories are of a place called Eglish, where my father ran a tiny little shop, a subterranean place with a bench. I remember running towards the shop and expecting the door to be solid, but going through it and then falling into the shop. In "The Right Arm" I write about the various items for sale there, including a dreadful confection called clove rock kept in a glass jar.
INTERVIEWER
At the end of "The Right Arm" you say you're still waiting for that jar to break. Are your childhood memories still vivid?
MULDOON
Absolutely. I do feel very much that I can be in that moment, almost at will. It takes almost nothing to get me back there, certainly to the house I was brought up in, after the age of four, near a village called the Moy. The room I had there was a bedroom-cum-workroom looking on to a little backyard with a house, that my father had built, used mostly for pigs.
INTERVIEWER
Lots of pigs?
MULDOON
A litter—twelve or fifteen. I'm a great fan of the pig, I have to say. I used to go out there on a cold winter morning and the pigs were being fed, and it was quite appetizing, to see them eating their porridge.
INTERVIEWER
Did you eat any of them?
MULDOON
No, those were sold at the market, but I have a memory of a pig killer coming to the house we'd lived in before—"Ned Skinner" is based somewhat on that experience. That day certainly we ate our own pigs, or parts of them. There were always various animals lurking around—turkeys, chickens, dogs, cats, hamsters, tortoises.
INTERVIEWER
Hedgehogs?
MULDOON
The hedgehog wasn't a pet, of course—I'm not sure if some of the others were pets, either. The hedgehog used to come round to the back door, for maybe a year, for its bedtime saucer of milk. The hedgehog was the inspiration, as it were, for one of the first poems I wrote.
INTERVIEWER
It appeared in your first book, New Weather. How about even earlier work, juvenilia?
MULDOON
I'm not sure where juvenilia begins and ends; I may not be out of that phase. I may not want to be out of it. The earlier poems were written very much in the style of T. S. Eliot. I managed to get myself out of that somehow, miraculously. Partly there was no future in it. I don't mean in terms of eternity, just that no one is going to do anything of interest if he or she is writing sub-Eliot.
INTERVIEWER
How did it feel to discover your own voice?
MULDOON
I don't know if I've ever found a voice. In fact, I'm rather skeptical of that idea having any currency. Each poem demands its own particular voice. It's not as if one size fits all. Certainly not the kinds of poem I'm interested in writing. But I suppose in "Hedgehog" something of its own—not my own—might have happened.
INTERVIEWER
What inspired you to try writing poems in the first place?
MULDOON
At high school, instead of the weekly essay I would write a poem, and the teacher accepted that. The impulse was one of laziness, I'm certain. Poems were shorter than essays. That seemed pretty obvious.
INTERVIEWER
Who were your other influences then?
MULDOON
There were two books that I was reading in those years. Helen Gardner's edition of The Metaphysical Poets and The Faber Book of Modern Verse, a revised edition edited by Donald Hall and Michael Roberts. It came out in 1965, when I was about fourteen. I wasn't being taught out of it, but I was given it as a present by a teacher. I read a lot of nineteenth-century French poetry. And Irish poetry from the ninth century on.
INTERVIEWER
How about individual volumes?
MULDOON
I was reading the Northern Irish poets, local guys, as their books came out. I remember a fellow schoolboy, Tom McGurk, a poet himself, driving to Belfast to get Derek Mahon's first book so we could all read it. It was big news for us. I mean we were into lots of other things too, like Jimi Hendrix. But we were also into Derek Mahon.
INTERVIEWER
Were those writers around? Were they approachable?
MULDOON
They certainly were. I met Seamus Heaney and Michael Longley on the same day in 1968. I was sixteen at the time. Very exciting. They were reading at Armagh. One of my teachers brought me to meet them, introduced me, and I became friends with them. Funnily enough, I just had a letter from a teacher saying, My seventh-grade students have written you letters, which I enclose for your enjoyment. She wants me to write back to them, which I certainly will. I completely agree that children benefit from knowing that poets are ordinary people. So that was one of the great things about this school I went to and the guys who were teaching me. One of them was coming back from weekends in Dublin where he'd been seeing Patrick Kavanagh and all the rest; another was seeing Seamus Heaney and all the rest. They were all alive in some way.
INTERVIEWER
Was Patrick Kavanagh a kind of grandfather figure to that crowd?
MULDOON
He was, though I didn't realize it at the time. A huge influence on Heaney, for example. Kavanagh presented a version of Ireland that was still very much being lived, with the horses and the cartloads of dung. The winkers, and the belly band, and all the bits and pieces. The turnip barrow I mentioned earlier. The impedimenta of farm life, what happened at the crossroads. The world of these people seen from within and expressed from within in a way that really hadn't quite happened for a while in Irish literature. The perspective of the peasant looking up to the man on the horse, rather than the Yeatsian perspective of the man sitting on the horse looking down.
INTERVIEWER
Yeats is a presiding influence of yours.
MULDOON
Believe it or not, one of the first poets I was aware of was Yeats. I recited "The Lake Isle of Innisfree" at a verse speaking competition when I was eight or nine.
INTERVIEWER
And yet you're quite irreverent with him.
MULDOON
I think it's the way one's irreverent to one's parent. Nasty but necessary. But I've not been too bad. What did I say? "Would Yeats have saved his pencil lead, if certain men had stayed in bed?" There were a couple of other things too, a little mention here and there. I suppose there's a little bit of debunking. I don't think anybody should be quite so full of themselves. Even if they're Yeats. Humility is a requisite and I fear Yeats was not strong in the humility department. On the other hand, "At the Sign of the Black Horse, September, 1999" is really an homage to the great man. We have to go to school at his knee.
INTERVIEWER
Was it expected that you would go to college?
MULDOON
It was hoped for. My mother hoped that we would all do better than she'd done, and she'd done quite well as a schoolteacher from a family that had pretty much nothing. They were brought up in a house built into the back of a ditch. A mud-walled house. And my father's family was even poorer. And we were one of the first couple of generations who took advantage of the 1947 education act, which granted education to many more Catholics from Northern Ireland.
INTERVIEWER
Was there some alarm that you were going to study English?
MULDOON
No, that was fine. Writing poetry was not so fine, however. I was already publishing a few of these poems and they were being read by my mother. Once she said to me, I'm glad that you're writing poems, but I just wish you'd write about something else. There was a sexual element in one or two that she couldn't deal with. My father was somebody who could barely write his own name so poetry wasn't one of his interests. Then my mother died young—she died when she was fifty-five, in 1974—so she only read my first book. But they were glad I was going to university in Belfast.
INTERVIEWER
Was Belfast extraordinary?
MULDOON
Oh sure, it was like going to the moon. Even though we lived only forty miles away.
INTERVIEWER
What did you study at Queen's?
MULDOON
Mostly English, Celtic, Irish. And scholastic philosophy. Basically I'd gone to sign up for my courses and the guy who was supposedly my supervisor said, You know what? I think scholastic philosophy would be the thing for you. Which meant, of course, he recognized that I was a Catholic. That was part of the unspoken, highly coded, language in which we all operated and operate in that part of the world. Where you can find out within about two seconds flat all you need to know about somebody, if that's all you're interested in.
INTERVIEWER
Was that language undergoing a transformation?
MULDOON
Certainly the years I was in college, between 1969 and 1973, were among the most difficult and dangerous years to be in Belfast. Many of the various leaders of the civil-rights movement had come through Queen's and were still associated with Queen's. So, for some people, students were thought of as being problematic. There were lots of bombs, of course, lots of shootings. There were lots of gangs in the streets, and one tended not to go home at night by oneself.
INTERVIEWER
What did you expect from university?
MULDOON
I never really expected anything. I know it's very hard for me, never mind you, to imagine it now, but ambition wasn't a feature of our lives. We were too cool to be ambitious. I mean, a lot of our ambition at the time was to get through the next year or two without getting shot. That sounds a little bit histrionic, I know. But the fact is it was pretty wild. Anybody who was there will tell you that.
INTERVIEWER
While you were at Queen's you joined a very famous writing group, and while still an undergraduate you published your first book, New Weather. How did all of this come about? Who had you been showing your work to?
MULDOON
Ciaran Carson. Frank Ormsby. There were people associated with a particular magazine, The Honest Ulsterman. I'd started publishing there when I was a teenager. When I went to Queen's I was welcomed by Seamus Heaney and Michael Longley into a critical society called the Group, or the Belfast Group, which was the offshoot of the London Group. And our poems were critiqued there by Heaney, Longley, Stewart Parker, and various other luminaries lurking around. So I suppose the stakes were quite high.
One of the things about being eighteen or nineteen or twenty is that one's daunted by nothing. So on some level I thought to myself, Well, you know, I can do this. That's why people do almost everything, whatever it might be. Not only, I can do this, but, I can also do it better than this. I have a sense, which I try to give my own students, that it's possible to write poems that are of a high quality.
INTERVIEWER
The poems in your first book are very self-assured. You don a cool attitude—reserved, plainspoken.
MULDOON
Certainly being reserved was a feature. It's the reserve of the hedgehog. The emblem of the book, and perhaps much else since. My own personality.
INTERVIEWER
And there was already a lot of America in your work. "Indians on Alcatraz," for example.
MULDOON
Seamus Heaney had been over in the States in 1970, 1971, I think—I'm not sure if I'd written this before he sent this to me or not—but he sent me a postcard from Alcatraz or having to do with the takeover of Alcatraz.
INTERVIEWER
Even the farm poems don't seem to be set in a recognizable Ireland.
MULDOON
If anything, in fact, they are set in America. "The Field Hospital," for example, "The Lost Tribe"—all about dust and crops and the oil slick, the creek. Even in one of the first poems I wrote, when I was about eleven or twelve, about Charlemont Fort, an Elizabethan fortress near where I was brought up, I compared the ancient fort to the modern world and the smell of gasoline. I remember the teacher said, What's gasoline? I probably didn't say anything. But I suppose now I would say that gasoline was as much part of my language as petrol.
INTERVIEWER
Did the other members of the Group consider your specific interest in America an affectation?
MULDOON
Funnily enough, I don't think so. I think it came, frankly, not only through literature, but more importantly through music. The generation immediately preceding us wasn't interested in quite the same music as we were. Longley, for example, was very interested in jazz and blues. But we were interested in rock music. That influenced us in ways that people probably don't even take into account.
The Irish have always been very connected to America, needless to say. It continues to be true; for many Irish people it was natural, if not more natural, to look to the U.S. than to England, say. And U.S. culture was particularly vibrant then musically, not that the British invasion didn't impinge on us.
INTERVIEWER
What course did your life take after you finished at Queen's?
MULDOON
When I was nineteen or twenty I'd already had lots of poems broadcast on the BBC, and when an ad appeared in the local paper looking for radio producers I thought I would apply. At the interview—I'm quite confident this is what got me the job—I came in, and about thirty seconds later the tea trolley came in. It was parked right beside me so, being a credit to my mother for once in my life, I said, Well, can I pour you some tea? So I poured them all tea. Which, of course, when you get right down to it is really what a radio producer is. A tea pourer. I worked quite hard for a couple of years and then I sort of got fed up with it all. But they took me in at the BBC. I kept a Dylan Thomas quote over my desk for thirteen years: "In olden days poets ran away to sea. Nowadays they run away to the BBC."
INTERVIEWER
You were writing poems over your lunch breaks.
MULDOON
For many years. And that's still how I write. The lunch breaks have got longer. I think it's fair to say that I'm disciplined. I say that because I work almost every day. Does that equal discipline? I'm not sure. But I'm in the habit of writing. It's what I do. I suppose I could be cleaning windows, and that could be a discipline, window cleaning.
INTERVIEWER
But did you identify yourself as a poet?
MULDOON
No, I never have, at all. I just keep doing it. I know it sounds a bit strange, and I don't know why I resist it. I think because one has met so many people who announce that they're poets and one's thinking, My God, get me out of here. That's part of it.
INTERVIEWER
After the BBC you came to the States.
MULDOON
Yes, I had very kind invitations to teach. I had no idea I'd stay as long as I have.
INTERVIEWER
What kind of impact have your day jobs had on your writing?
MULDOON
It's hard to say. I suppose I was very conscious, in writing for radio and television, of the necessity to communicate immediately what one has to say. As for the teaching, I'm thinking about poetry all the time, to a greater or lesser extent. I read my students' poems as I would John Donne's or Robert Frost's. But the kind of teaching I do is very intense and intensive as it's happening. The minute the class is over, that's it. I'm on to whatever else has to be done.
INTERVIEWER
Is that akin to how you write?
MULDOON
Yes, I think it probably is. Next, please. In the sense that when it's over I'm keen to move on.
INTERVIEWER
Your computer crops up in some of your poems. Do you ever write with pen and paper?
MULDOON
You know what, if I tried to write a poem right now with pen and paper, I couldn't do it. Seriously. It sounds ridiculous. I cannot do it.
INTERVIEWER
But how did you start?
MULDOON
Pen and paper. Actually I should say charcoal and calfskin. Then I got a typewriter very quickly, for a very particular reason: You know what the thing is going to look like. While there are many other considerations coming into play—what it sounds like, of course—what it looks like is one of them. Speaking of W. B., one of the great things about his great stanzas is their physicality on the page, as well as their physicality for the ear. You're looking at this thing and you're thinking, This is it. It's got to be it. We're still very eye-bound. Visually bound, if indeed binding is a problem. Visually released. It was because I didn't want a big long line there or a little short one there that I started writing on a typewriter. Because otherwise I would never have known.
INTERVIEWER
Nobody runs, quite like you do, from long lines to super-short lines. Your traditional forms withstand a lot of stresses.
MULDOON
What I find strange about that is that I actually don't think for the most part about prosody. I've never found a way to think about it that I find useful. I can understand how something along the lines of the iamb is a staple of the English language, but the whole business of the foot is problematic, because it's imposing the classical system on the English language. We don't just stand there. I mean, take Hopkins's sprung rhythm—it seems rather arbitrary, rather fanciful. I'm thinking, OK, Gerard Manley, if you think so. If it's good for you.
The only thing that I have ever tested the line against is instinct. I write the poems line by line, which sounds a strange thing to say. From what I can make out, most people write drafts of their poems.
INTERVIEWER
You mean you don't write drafts and then revise them?
MULDOON
Very slowly, but line by line. What I do is I wait until I think I've got that line right.
INTERVIEWER
You're never tempted to rush ahead? Not even to write down the next rhyming word?
MULDOON
Never. Or hardly ever. That will look after itself. That will provide itself, if it's going to happen. I'm always open to the possibility that it won't rhyme at all.
INTERVIEWER
That's not an idle threat?
MULDOON
No, it's not, as far as one would have it within one's power. I certainly have no brief for or against rhyme. There's nothing intrinsically good about it.
INTERVIEWER
But it is a terrific engine for you.
MULDOON
I find it so. I find it an engine that is most useful in the composition of the poem. In fact I find it quite revelatory. I don't mind being led by rhyme. But I'm not led like a lamb to the slaughter. I hope.
INTERVIEWER
But you are led.
MULDOON
I would like to think, and I could be completely fanciful in this, that my job is to let it come out however it wants to come, insofar as I'm capable of doing that.
My students, when I talk about this, think I'm crazy. And indeed it is crazy if you think of where the poem is going to go. My argument is it's going nowhere. It doesn't exist. It's only coming into being. What's going to be lost? That's not to say one doesn't make a note from time to time because of some brilliant idea. A phrase or an image on a scrap of paper. Matchbooks in the days when I smoked. However, for the most part I'd say if it's going to leave your mind it's probably not worth keeping anyway. My theory is that one should try to get it right as one goes along. Getting it right often means making it look as if it was written just like that, right? But that's where all the work goes.
That's not to say that I don't go back and change things. Sure I do. But in general I try to do it as I go along, for reasons that are banal to state. Basically there's no point in being up here unless you know that what's down there is going to sustain you. And it's very hard—it's not impossible, but it's very hard—to go three flights down and start messing around with the foundation.
INTERVIEWER
That's a provocative metaphor.
MULDOON
One of the ways I'm thinking more and more these days about poetry is poetry as architecture or poetry as structural engineering. Where we take this force and that force and pit them against each other. In buildings, as in poems, there's a tendency for that feature over there on the right-hand side to echo that feature over there on the left, and it may have to do with aesthetics, of course, but it's more likely to have to do with pure physics. That's to say, if you don't have that balance then the whole thing is going to fall down. I find thinking in these ways quite useful when I'm building poems. They're bridges. Skyscrapers. And they're very carefully built, very slowly built. I rely on stepping out into the unknown, of course. But I'm also relying on some basic laws of physics. And maybe chemistry.
INTERVIEWER
If your poems could be called bridges, one might be tempted to ask where they are headed.
MULDOON
They are bridges whose destinations are themselves.
INTERVIEWER
To extend the metaphor a little bit further, what materials are you building with?
MULDOON
The materials are words, I suppose, though the technology is changing all the time in the sense that no word means exactly the same thing each time out. That's where the chemistry comes in. One has to stand well back. Or wear those huge mitts or grappling devices scientists do.
INTERVIEWER
Are all words equal to you?
MULDOON
No. There's only one word for the job, wherever its provenance.
INTERVIEWER
What feeds your vocabulary?
MULDOON
I'm pretty interested in general knowledge, and science and arcane knowledge. Much more interested in that than I am in Literature with a capital L. Or at least as interested.
INTERVIEWER
Do you become preoccupied with certain words while you write a book? Phrases? Clichés?
MULDOON
Oh, I love clichés. But it's not as if I set out to do it. I find, as I'm writing poems over two or three years, that certain things recur. Sometimes I resist that, and sometimes I go with it. Generally I don't resist it enough. There are probably one too many place names in this last book. There are probably one too many revitalized clichés, or what I was hoping would be clichés with an afterlife, in another book. And one of the things of course is that I don't actually read the poems that much, so I forget what I've done and what I've not done.
INTERVIEWER
You often start out with a hackneyed phrase: "For what it's worth"; "More often than not"; "Believe you me."
MULDOON
There are several where the angles of entry are very throwaway, low key. You were in the poem before you realized that you were in a poem. There's certainly a sense of in medias res.
Knowing where to start the poem, allowing it to find its place to start, is at least as important, if not more so, than knowing where to end it. There's no chance that readers are going to get to the end if you don't grab them by the scruff of the neck. Or inveigle them in in some way, whichever way one chooses to do. Kick them into it, draw them into it, sweet talk them into it. They're not going to be into the end unless they're into the beginning.
INTERVIEWER
So how do you decide where to start in a more general sense?
MULDOON
One of the risks is that one allows the poem to begin, as it were, too soon. The point at which the poem should really begin is often where, in some other intellection, it might have ended. I never, for example, save my "big" ideas for down the road. I start with the big idea and see how much further I can go.
INTERVIEWER
Is your intuitive process helped or hindered by traditional forms?
MULDOON
Obviously that is a complex business because, these past few years anyhow, I am predisposed to these received stanzaic shapes. So it's not entirely that the poem is finding its own way into the world, that cannot be the case. If one doesn't know what a sonnet is, one won't be conscious that one is writing a sonnet. But I do think, despite that, that it's only after maybe eight lines, nine, ten, that I would realize that a poem's going to be a sonnet. By the time one comes to line nine one might have some sense of that particular turn that the sonnet takes at that moment.
One of the reasons why the sonnet has been such an enduring form is that it really is true to a way of thinking, within which one's capable of doing an awful lot. Here we have A, by contrast with which we have B. That double whammy of the sonnet is integral to us. But one of the great dangers is of stopping the poem too soon. Of saying a much lesser thing, managing a much lesser revelation than it might otherwise.
INTERVIEWER
So the form is potentially limiting as well as integral. A template against which the imagination operates, for better or worse.
MULDOON
To reconcile the two is the trick, the ready-made and the random. I'm sometimes horrified to think that for about ten years I've been using the same series of rhymes in the same order in some of the longer poems. But once you give yourself over to the pattern you sort of have to go with it. So it's less preordained than one might imagine—in fact it's just the opposite. It's almost completely aleatory. It's like the instant of inspiration, the instant out of which poems begin.
INTERVIEWER
How do you mean?
MULDOON
Well, I think many poems begin with an instant. I was driving home from New York with my four-year-old son and in the Lincoln Tunnel, out of nowhere, he said, Those lights are like tadpoles, and then this morning he came up with the bright idea that we're like horses. I think that the impulse to find the likeness between unlike things is very basic to us, and it is out of that, of course, which the simile or metaphor springs. So a poem moves towards some sort of clarification, and the creation of a space in which sense, however fleetingly, may be made.
That's not to say we can't return to it, but it is a fleeting thing. I read John Donne again and again. What's one admiring when one reads that the lovers, the marriage bed, and marriage temple equal the flea? We know that's not the case. It's debatable how much of that we can bring to our day-to-day lives by way of example, by way of sustenance, by way of clarification for who we are. Perhaps a little bit, but I don't think that's its main function in the world. Its main function in the world is to, well, brilliantly delight us again and again. And we come away from it again and again saying, OK, I believe you. The marriage bed is indeed embodied in the flea.
Donne I think most dramatically exemplifies Dr. Johnson's put down of the metaphysical conceit—taking heterogeneous ideas and "yoking them by violence together." Some version of a Metaphysical conceit is a common element in many of my poems, and Donne is probably my main influence. Although there is a distinction: John Donne is interested in the continuation of a comparison, to make it last for as long as he can, and there is another tradition—though they are most certainly connected—of an associative accretion, the piling of one thing on top of another. A great modern example would be Elizabeth Bishop, who's perfectly happy to leave one system and go to the next, to follow the poem wherever it wants to bring her. Each is an effective way of making sense of things, however momentarily; of finding patterns. The patterns may not always be evident. And some may be rather lopsided. That's interesting, too, because the discovery of imperfect patterns conforms with and confirms understandings of the world that art has always reflected. I think immediately of the Navajo rug with the little piece of clay, a little flaw, somewhere incorporated into it. Because that's how things are, somehow. The rug maker knows that.
INTERVIEWER
This suggests the fragmentary quality of your work, at least on the surface.
MULDOON
Certainly some of the longer poems are more outwardly concerned with attempting to be equal to the variousness and complexity of the world, to be equal to fracture by reflecting that fracture. However, they're also necessarily interested in wholeness, and art, if I may be grandiose for a moment, is about the reconciliation of opposites. I don't mean in the sense of bringing people together under false pretences, because one of the things I'm definitely not interested in is art as a reconciling force in societal terms. But there is that momentary coming together, which is where the poem resides.
INTERVIEWER
And yet you flirt with ethics. After marrying into a Jewish family, you took to calling yourself the Goy from the Moy.
MULDOON
Well, actually, it's not so much that I call myself that. Some smartass called me that and it's been perpetuated. It wouldn't be the first thing I'd say about myself. Though it might be the last thing that should be said about me.
Somebody asked me the other day whether the bringing together of seemingly opposed forces might be related to the Northern Irish situation, and there may be something in that. Who knows? I don't know if it's the primary influence. But to try to bring things together is one of our great impulses. To make anything one must have a couple of components. Even if you're carving something from wood you need something to carve it with.
Certainly there are occasions when a poem of mine moves, in a process of discovery, to, what would one call it, a resolving image—I hate that notion actually—but that happens very infrequently. It happens when the image or phrase of the poem's inspiration is the image or phrase that the poem is moving towards. It's a circle. Coleridge has a great line about how all narrative is like a snake eating its own tail. It's a feature of any form that uses repetition, whether a ballad or a sestina, anything where repetition is part of the deal, where little things change.
INTERVIEWER
A sestina is a great example of the tension we're talking about. You can't really map out its narrative arc because you can't take any rhymes for granted. But if you wing it thematically it probably won't hold together. So even if you are moving toward a resolving image, the image that inspired the poem, you must surprise yourself along the way.
MULDOON
I've been thinking a lot about this recently. Against what do we measure the poem as it's coming into being? How do we know that it's right as it comes into being? At some level one's measuring it against what it might be if it were allowed to fully become itself. Almost a version of pre-existence. Because we have that feeling when we come upon a poem, as reader or writer, that it has always been there. It's as if there's a kind of eternal aspect to it. The afterlife of the poem is an idea that has some currency, but not the prelife. That metaphor may not be equal to what we're dealing with. It's probably quite fanciful, if not totally wrongheaded, but there are aspects of the business of writing a poem that one can't account for, and one of them is the sense of recognition that you have coming out of it combined with the sense of "I don't recognize that."
INTERVIEWER
The surprise that seems right.
MULDOON
The surprise that seems inevitable. And why it's inevitable is what I'm interested in. What it is that makes it inevitable and what we recognize about it as being inevitable. I can't pretend to understand it, but that's what's fascinating, or one of the things that's fascinating.
INTERVIEWER
Are these matters tied, in your mind, to the work of translation?
MULDOON
A translated poem is necessarily a new thing, but it has a relationship with the original. Or, as I'm beginning to think more and more, both have a relationship with some text of which each, original and translation, is a manifestation. That's another reason why I don't get attached to poems. They're not mine. I don't feel at all proprietorial or possessive.
INTERVIEWER
You've described the process of writing as a mystical one. We're touching on that.
MULDOON
Yes, we are, more than touching on it. I think a spiritual experience is the experience of recognizing that one is not in command. That one may have some free will, insofar as we have such a thing, but basically one has given oneself over to something beyond oneself. In this case, the language. And allowing it to do with one what it will. So a kind of subservience before the other, which is a feature of most of the main religions of the world. Christianity is one version of it. The version I'm most interested in is Zen Buddhism. What I'm interested in is the emptying of the self, and the giving over of oneself to the power beyond and within us.
And I'm very interested in the relationship between the conscious and the unconscious. I'm not at all a scholar of Freud, and I know in some ways he's out of fashion these days—I'm sure some of it's crass—but the heart of Freud makes sense to me. One aspect is the notion of the indicator, the buoy of the unconscious eddy. I'm interested also in how poets are not necessarily always conscious of what they're doing, however conscious they try to be. That's one of the reasons why I go from word to word, from line to line.
INTERVIEWER
What about the composition of your books? It seems deliberate.
MULDOON
Oh yes, I think a book should be a piece of engineering or architecture in itself. That's not to say one sets out to make it a book. I certainly don't. What I do is to write away, and as I write the poems, I keep them in a little folder. And they change their relationship to each other, and the way in which they're read changes as one changes the order in which one reads them.
INTERVIEWER
The long poems seem to have been written last, or first, to encapsulate all that comes before or will follow. They seem cathartic.
MULDOON
The one constant is that every time I write a longer poem I say to myself, Life's too short. I'm never writing another one. I'm more consciously inclined to allow the longer poems to take me wherever they need to go. That does mean that things can go badly wrong.
INTERVIEWER
Does a poem of yours have to make sense?
MULDOON
It should make sense. It is attempting to make sense. Now, the way it does that of course may be unconventional. Many people, I think, want a sense that they absolutely recognize. That's to say they want to hear something they know. Even then they'd have to give themselves over to the possibility of something happening that they didn't expect. Certainly having read a few poems in the past is going to help one—one's at least then conscious of some of the possibilities. But I think one has to learn to read each poem on its own terms.
INTERVIEWER
When have you especially dared your readers into unfamiliar terrain?
MULDOON
All my poems have something of that spirit. I think all poems are avant-garde. There should have been nothing like them before. Though of course we read them and think, Well, I've seen that before. That's a sonnet, isn't it? And I'm sure there are some things that have not been done before for very good reasons—they're just not going to work, no matter what.
At some level all of the longer poems at their time were moments of lunacy, right? When I wrote, for example, "The Year of the Sloes, for Ishi," that was kind of a wacky thing to do. I took this system of imagery from Native America—Bury My Heart at Wounded Knee is a large element in it, that great book by Dee Brown. It was ostensibly a narrative set among the native Sioux and Plains Indians in the 1880s or 1870s. But I wrote it immediately after Bloody Sunday, which is when the paratroopers opened fire on an unarmed crowd, it seemed. They're still inquiring as to what happened on that day in 1972. And I wrote that poem really in response to it. So that seemed to be a chancy thing to do, and something that nobody really understood at the time, I think.
"Immram," the long poem in Why Brownlee Left, was a retelling of an Irish legend into Raymond Chandlerese that people weren't really able to read immediately any more than they were immediately able to read "The More a Man Has, the More a Man Wants." They sure as hell weren't able to read "Madoc: A Mystery." And so on and so forth. In other words, there's always been a feeling that one had to be out there, pushing the limits. In other words—however distasteful it might seem—I think there's always a little bit of showmanship involved. I have to admit that I do get myself into situations where I'm thinking, You know what? I know I've been told that I shouldn't be doing this, it's not allowed. Never mind that it's not allowed. It shouldn't be, it can't be done. And you know what? I'm going to do it.
INTERVIEWER
For the sake of taking risks?
MULDOON
Absolutely. But taking risks is one thing. Overcoming the risks is another.
INTERVIEWER
Among the risks you're taking in "The Year of the Sloes, for Ishi" is raising an insufficient response to Bloody Sunday.
MULDOON
Oh, I think that could well be true. It's only an element in the poem, of course. That poem's not primarily a response to Bloody Sunday. But it suggests that there was inappropriate behavior by the British Army, a fact that's still not accepted in some quarters.
INTERVIEWER
Another is the appropriation—a loaded term—of Native American stories.
MULDOON
Certainly I've heard that argument and I can understand it. On the other hand, I'm not really sure who owns that material. I don't think it belongs exclusively to Native Americans any more than women writers have exclusive rights on womanhood or gay writers on gaydom.
INTERVIEWER
What attracted you to it?
MULDOON
Essentially the language, the world system into which one would step through the language. The imagery. It was very much of its moment, that poem. Not only books, but movies then in particular—many of them about Vietnam—were using the native American iconography, as it were. I don't mean in a problematic sense, but as an "objective correlative," to use Eliot's phrase for it. So I was indeed to some extent taking the Native American situation for an instance or two, fleetingly, to find connections between the Native American experience and, without overstating it, the Native Irish experience. The fact is that there is a connection. Take Charlemont Fort, which I mentioned earlier on as the subject of one of my first poems. I was in Jamestown the other day, and was intrigued to find that the fort there was built on the model of Charlemont. The fact of the matter is there'd been a certain amount of experience in "dealing with the natives" that had been gained in the Irish situation, that stood the English in rather good stead when it came to dealing with the natives over here. I wouldn't want to get involved in a political rant here, but I could.
INTERVIEWER
In spite of the historical verities, working with this material one still runs the risk of reducing an artwork to an analogy, which then is basically empty but for values to insert from history.
MULDOON
Yes. It's always problematic, that's for sure. Again, these analogies are true only for a moment, for an instant. And if one tries to extend them one runs into trouble often.
INTERVIEWER
And yet you kept coming back to Native American material, that analogy. You were occupied in fixing an instant—but came back to it again and again.
MULDOON
It's true. I can't deny it. You know what? It's very simple. I think it's almost as simple as this: I've always wanted to be an Indian. When I was a child I had a tent, a bow, and arrow. I still have a bow and arrow. It's pathetic really. I know this runs the risk of sounding like noble savageism, but I'm very taken by the idea of the underdog, the underprivileged, the renegade, either by choice or by force of circumstances. And I think that impulse is still very strong in me as it's strong in many poets. It's the impulse not to belong, not to fit in, and it's one by which I live.
But my interest in Native Americans does go beyond that. If you look up at my bookshelves, you'll see how much I'm interested in their cultures, and how much I wrote out of them. Then there came the point where I thought, I can't do this anymore, and then I wrote an opera called Shining Brow.
INTERVIEWER
How was it a breaking off?
MULDOON
It's based on a tumultuous episode or two from Frank Lloyd Wright's life. In it I acknowledged, I think, that the Indian obsession had got a little out of control. I have Frank Lloyd Wright go overboard in his constant allusions to Native America. His shallowness is an indicator, I suppose, of my concerns about the likelihood of my own shallowness.
INTERVIEWER
Do you seek out criticism of your poems from trusted readers?
MULDOON
My wife helps me constantly. She's a terrific reader and, as you might imagine, doesn't think twice about telling me where I've gone wrong. I heed her, and others, when they make their case. Generally, though, one knows they're right even before they substantiate their arguments.
INTERVIEWER
Are you interested in formal critical readings of your work?
MULDOON
I'm interested, yes, but not in a particularly informed way. I've had to educate myself in theory and I'm not sure if home schooling's my forte.
INTERVIEWER
You keep a good many theorists in business with the number and range of your allusions; it can be hard to keep up, although, in extreme terms, I don't believe someone needs to know everything you've read to understand your work.
MULDOON
You don't?
INTERVIEWER
Well, a too literal reading of your references can become a hindrance—their function inside the poems is often unique.
MULDOON
That's right. That would be a great hindrance for American history, absolutely. It would be a problem.
INTERVIEWER
Because if you tried to read all those philosophers just to understand Madoc, say, you would lose your mind.
MULDOON
You would, you would, you would.
INTERVIEWER
I mean, some line up with the plot, some are employed as if in jest, and some line up at a tangent. That was my impression.
MULDOON
Well, I think they all line up somehow, but in many instances I've forgotten how. What happened was I had this brilliant idea of using the template of a history of Western thought, so I armed myself with a book called Fifty Great Philosophers, and I thought, That'll do it. I'll write a poem in fifty sections. And then I began to realize that it wasn't going to be enough.
INTERVIEWER
So you had to go to the second tier of philosophers.
MULDOON
That's right. Plus a few others. And of course what happened then was I had to write it out of sequence. There may already have been a few out of whack, because I always get confused in the middle of the b.c. era as to what comes first. But anyway, that's what happened. Once you start doing that you might as well be locked up.
INTERVIEWER
Why did you persevere?
MULDOON
I stuck with it less than it stuck with me. It's yet another case of what Yeats refers to as "the fascination of what's difficult." I started it in Saratoga Springs, wrote much of it in Berkeley, finished it in Massachusetts. Moving around a great deal as it moved around.
INTERVIEWER
You'd given yourself some room to maneuver—as I understand it, the poem unfolds basically as the sum of things that have passed over the retina of a man called South, at the instant of his death.
MULDOON
That's correct. Isn't that clever? That seemed to me an out for anything at all. It was an out for me in that it was the first thing I wrote when I came here. I couldn't, I realized afterwards, write in my own language. I couldn't write about the here and now. So I framed it in the future and set it in the past. I wasn't conscious of this, but now I realize that's what I was doing. I came to New York. What was I going to do? I wasn't going to be writing any more poems, at least for the moment, about pig killers. I just had to find something else to do, and I came up with this. And I think that's one of the reasons why Madoc is so strange. I haven't done anything like it since. I've started out in other modes that didn't continue for one reason or another. I'm thinking of the poems I was writing in or about 1983, say, many of which had to do with my relationship with Mary Powers. She featured in many of them, they were a particular style of poem. And then we broke up, and I stopped that particular style of thing.
INTERVIEWER
Yet apart from the poems that commemorate a marriage, a birth, a death, your poems rarely seem occasional. They engage language as much as they do your discernible biography.
MULDOON
Yeah, I know. I don't usually think in those terms at all, but there were particular circumstances. I think particular circumstances come into play on a couple of occasions.
INTERVIEWER
I suppose that's reality.
MULDOON
Breaking in. Truth breaking in. Sure, these are adventures in language, but they are related to how we are and what we do. They involve real people.
INTERVIEWER
And of course that can also be true symbolically. You've remarked of Lowell's Life Studies that Uncle Devereux, standing behind the poet in the family snapshot, stands in for the whole family line.
MULDOON
I think that's right, but I'm sure that's right for most people. Most of us, whether we write about it or not, are trying to make sense of our family of origin. And there are all its ramifications. I think our shared ancestry is a very powerful, humbling thing—you know they've discovered that some version of Adam and Eve existed. If everybody in the world got up in the morning and thought to himself or herself that we all came from two people—not even for a minute, for thirty seconds each day—I'm sure it wouldn't have any effect on how we behave, but isn't it a wonderful thought? I find that just awe inspiring, really. But I think we invent our ancestors to a large extent, also.
INTERVIEWER
Well, sometimes we have to.
MULDOON
We do indeed. We invent ourselves, never mind our ancestors. There's a lot of fictioneering going on.
INTERVIEWER
What kind do you practice?
MULDOON
Oh, I think one of the great things about being a writer is the extent to which it allows us to invent ourselves. It's like being in a witness-protection program. A very, very dear friend, a woman I went out with briefly, years ago, said to me once, How's May? I said, Who's May? She said, May's your sister, isn't she? So then I got it. There's a poem called "Cuba" in which there's mention of a sister called May, who doesn't exist. And yet the poem, in many ways, is historically accurate and in some ways happened. But not quite in the way that's suggested. There are dangers, of course, with inventing people, including oneself.
INTERVIEWER
What kind of dangers?
MULDOON
I sometimes wonder if I haven't caricatured both my parents in ways that are ever so slightly cartoonish. I'm a little fearful that I've made my father kind of overly glowing.
INTERVIEWER
Glowing?
MULDOON
Romanticized, valorized in ways that are perhaps a little inappropriate. And I wonder if I haven't been a little hard on my mother, who was a decent woman, I'm certain, doing her best, the best she was capable of. She was too severe on me, but I've been too severe on her in turn.
INTERVIEWER
Have you tried to correct for that, book by book?
MULDOON
I think it's been a constant revision. But it's got nothing to do with writing poetry. One goes through one's life just as a civilian, rather than somebody in the poetry trenches. It's quite common for people to spend their lives trying to work out what happened to them between the ages of zero and four.
One of the things you discover about children of course is that they come, not exactly fully formed, but quite formed, in terms of their personalities. And I can imagine myself around three or four being a right little smartass, in the way that my children come up with the most extraordinary things, but I'm programmed to accept them. That was probably more difficult for my parents to deal with.
INTERVIEWER
Might you never do justice to your parents, no matter how many poems you write?
MULDOON
That's right, or to one's own children. One is never going to get it right, no matter what one does. Of course that's one of the things one understands as a parent, that one's children are going to have to find something against which they can react. Most of these reasons are emblematic rather than real. So I think the invention of a life is not such a far-fetched notion, I think it happens all the time.
INTERVIEWER
I'm curious about your interest in Frost. On the surface his dramas seem transparent compared to yours, his characters more realistic.
MULDOON
If I were to use one phrase to encapsulate the Frost I'm interested in, it's that phrase from "Two Tramps in Mud Time" where he describes the work as "play for mortal stakes." It relates to his description of his poems as "toys" over which his readers trip and "fall forward into the dark." I'd be very happy to write a poem or two that might be described as "play for mortal stakes."
INTERVIEWER
You've described Wordsworth as someone who, towards the end of his career—
MULDOON
Went off?
INTERVIEWER
Yes—and you gave an example of Yeats as someone who kept it together.
MULDOON
I mean, the fact is, whether or not one writes poems, we're all, as we age, getting duller and duller in most instances. One's brain functions less and less effectively. And that's not a matter of opinion, that's a matter of fact. So, whereas there is the engagement with the unconscious, you need to have all your wits about you, and you're losing them all the time. The more you've done in a particular vein, the less there is to do. I can't decently go back and write any more Native American poems. It would be dicey.
INTERVIEWER
But your fascination with that material is still strong.
MULDOON
Yeah, but it would still be very dicey. But it's not entirely up to me. I may be led there—with my bow and arrow.
INTERVIEWER
Can you tell how you have changed as a person, looking back through your work?
MULDOON
I don't know. The fact is, I don't read the poems. I read some of them at readings, of course, but not otherwise. Even if I were to be reading them I wouldn't be the best person to answer that.
I do keep coming back to the same bunch of things, despite the fact that I hoped I'd not, and I said I'd not. Because we are what we are, because we are how we are. Necessarily I do go back to the couple of places where I've lived, my immediate relations. Those are really my subjects. Sex and the dead, in Yeats's phrase. So in my last book I went back to the Moy where I started out, as it were. I felt I had to go back there somehow, I don't know why. And I'm glad I did. Now I won't have to go back there for a little while, maybe. So I've started a whole other slew of poems.