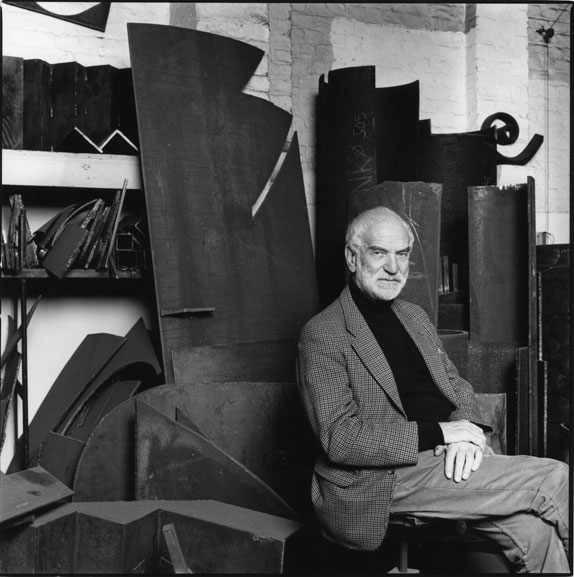 When the museum is crowded, a trip to the Iris and B. Gerald Cantor Roof Garden at the Metropolitan Museum of Art includes a huddled wait in line for the elevator. You ride up, packed in a sticky car with a school group and some tourists. When the elevator doors open, everyone rushes out, blinking in the sunlight, into what feels like another world. At first, the views of the city and the park dominate, then the five sculptures by Anthony Caro begin to assert themselves. They invite the viewer to come in close; the vista begins to act as a backdrop. The sculptures are substantial but also appear light—one looks as though it could soar right off the roof, whereas another is in danger of caving in on itself. Anthony Caro, knighted in 1987, is one of the most influential British modernists. Our interview felt like a lesson in itself: he answered my flowery prose with simple sentences; when I called him to elaborate, he pushed me toward more crystalline questions. He has an authoritative voice, and he spoke with a purposeful exasperation. One sees this impulse in his work, too: a dogged pursuit of form from a man who helped shaped modernism, whose simple philosophy matches his training as an engineer.
The roof is a unique place to show—any installation is buffeted by the gleaming skyline and greenery of Central Park. Did you choose particular pieces that might work in this setting?
The pieces were chosen because they were sturdy pieces that were in the New York area and fairly easy to obtain. I think that the New York skyline sets sculptures on the Met roof beautifully.
Mind you, all sculpture on the Met roof fits beautifully. It is a wonderful place to show because you have that marvelous background. And I feel it's quite intimate in a funny way. I think my sculpture is intimate. Mostly it is not public sculpture, though what I'm making for Park Avenue is public. But it is not a monument and has nothing to do with being a monument.