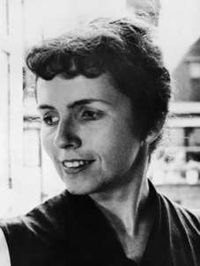 Grace Paley was born Gracie Goodside ninety years ago today, and my grandmother still calls her that. My grandmother's parents separated when the Depression hit: her father lost his job, and couldn't countenance his wife, a beautician, the household's only breadwinner. In summer, her mother stuck around the beauty salon, but my grandmother would visit her aunt and uncle in Long Pond, in Mahopac, fifty miles north of the city. Uncle Al was a piano teacher, and one of his students a girl named Grace. Two years older than my grandmother, Cyril, Grace spent the whole summer in Mahopac. Her father, a doctor, built a house there, and he'd bring the family up from their Bronx brownstone, at Hoe Avenue and 172nd Street.
I first picked up Paley after my father's father, Mortimer, died. I hadn't realized she was part of their same world of meetings, but my grandmother told me. My grandmother remembers everything.
Dr. Goodside—Isaac—he had a chauffeur, Saunders. God forbid, you could never use that word. It was a driver. Gracie's father, he came from a large city in Russia, not the Pale of Settlement. They  spoke Russian, they did not speak Yiddish. He went to medical school in Italy, and his great pleasure was when the Italian fruit vendor came, you know, with his truck. He'd come once or twice a week, and Dr. Goodside came to talk to him in his broken Italian. Gracie's father, he also was a great fan, a lover, of Victor Hugo—and his son, who became an ophthalmologist, was named Victor. Gracie was the youngest, she must have been at least ten years younger than Jeanne, Jeanne after Jean Valjean. And she was named Grace, and her sister said to me, in Italian, it was Grazie—thanks, thanks. Jeanne told me this when she was already teaching. She was much older, and she was married to a child psychologist, a real son of a b—a child psychologist who hated children. They never had children.
Gracie was unusual, she was extremely bright. Every day she was made to read at least an hour, I think she was made to study Russian. And they had a large house in Mahopac, her parents always encouraged kids to come to the house. Her father was a music lover, and he would invite people over to his house, and play music. He had this phenomenal record player. My Uncle Al, the piano player, was such an SOB—he would say, "I'm not going, he doesn't know anything about music." But that's how I knew Gracie, the lessons. Her parents, they wanted us to come to her house, we went there, we played Monopoly. I would see Gracie almost every day—we would go swimming, we would have a hare and hound race, try not to fall for the false trails the guys set up. And we'd discuss politics and sex and stuff, whatever kids at that age discuss. She was the leader because we always went to her house, and she was the one who had ideas, and who could give advice. Even at that age. Wherever you went to meet, it was always at Gracie's house. All the kids would follow Grace.
The other children—Victor, he was not a talker, and Jeanne, Jeanne was always apologizing. I don't think they ever really answered the father. And their mother was a quiet woman. Gracie was always the one who was really challenging him.