Karlovy Vary—Plzeň—Český Krumlov—Prague
In August 2017 my family and I traveled to the Czech region of Bohemia, my mother's homeland and the setting of my new novel, The Organs of Sense. At the airport in Prague we rented a car and drove directly to Karlovy Vary, the birthplace of my grandfather, who had died the year before; then we swung southeast through Plzeň and Český Krumlov before returning north toward Prague. It was meant to be a tour of our heritage, but it would also, I hoped—though the melding of my familial obligations with my artistic ambitions gave me a twinge of guilt—provide material for the novel of which I was then in the middle.
Karlovy Vary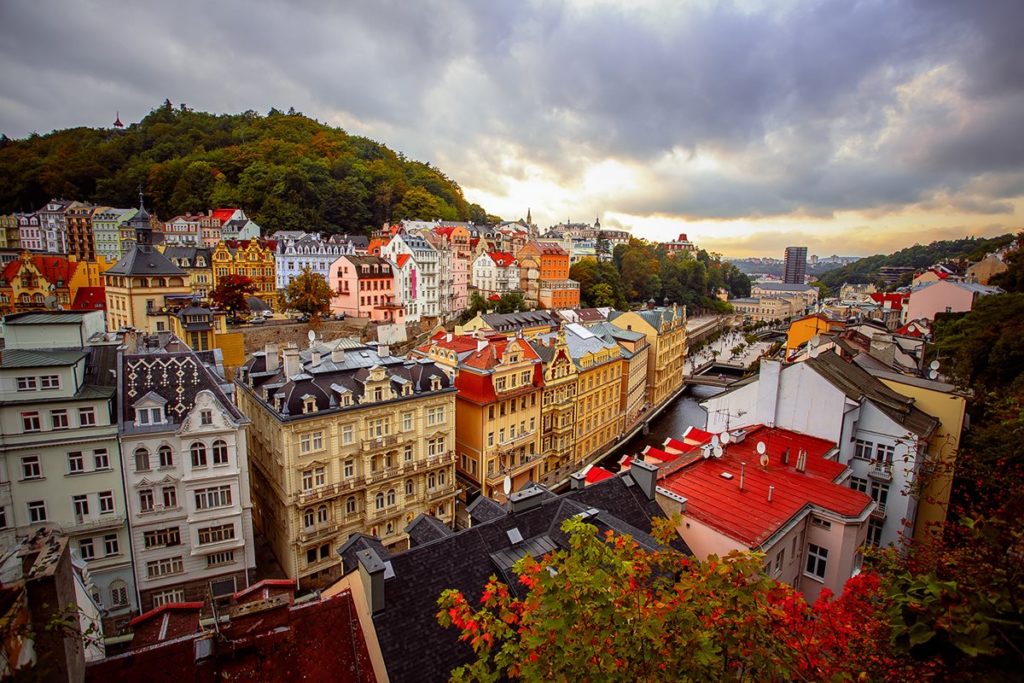 In the spa town where, a century earlier, my grandfather was born, a local genealogist I'd found online and to whom I'd sent a pdf of my grandfather's death certificate took us first to the spot where once stood the dress shop of Felix and Elsa, names he uttered in a tone of such hushed revelation, as though he had taken us to a site that would obviously mean a great deal to us, that my mother did not dare ask him in what way the people who bore them were related to us. From the dress shop of Felix and Elsa we walked to the apartment building in which Helene and Max lived shortly before the First World War, and from there we climbed a steep staircase to the villa on the hill where the twin sisters Frieda and Clara (both murdered by the Nazis) grew up. Then we drove to the abandoned porcelain factory once run by Frieda's husband, Julius. At each stop my mother's mood grew bleaker; she reproached herself for her estrangement from this world; these names meant nothing to her, and the fact that it was now too late (but only just) to ask her father who they were and what they were like caused her—this was clear—exquisite pain, which, however, she kept to herself. Only upon returning to our hotel and locating some online reviews he'd managed to suppress did I learn that the genealogist, driven presumably by compulsions of his own, was notorious for taking foreign tourists to the former residences and workplaces of his own dead relatives, every day the same sites. My mother, whom I had never known to give online feedback, later left him a three-star review.