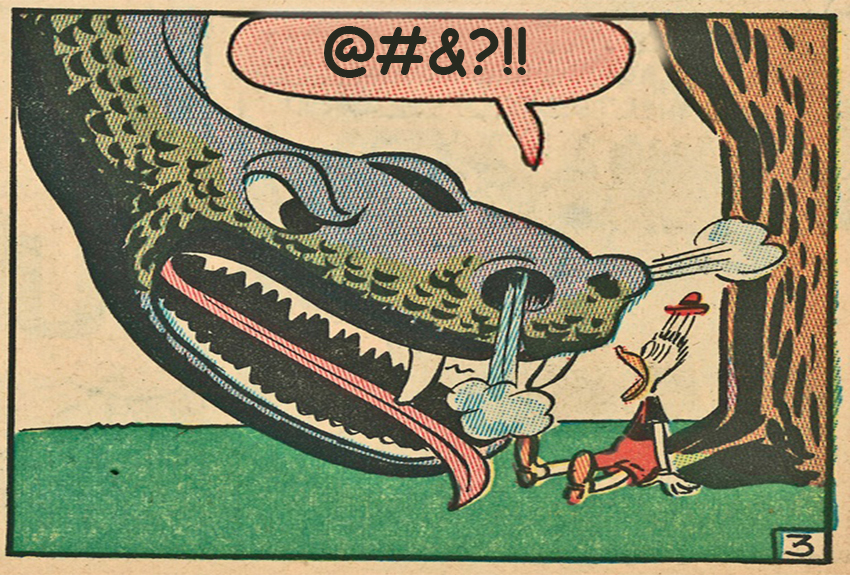 So. We cuss. Some of us cuss by saying mercy me or suffering succotash. I like to say shooty-pooty, which I learned from a nice Baltimore boy back in 1963. It's a Cub Scout version of shitty-pity, which is a cutesy diminutive for just plain shit.
This kind of substitution for a cuss word is what linguists call an amelioration. It softens the blow while still addressing the topic. This is not the same as a euphemism, by the way, which tries to evade or screen the subject. Americans are big on substitute amelioration. We invent thousands of them daily, it seems. Darn for damn, gosh for God. They often sound as though we started to say the taboo word but caught ourselves.
Almost all of us have darker vocabularies if we're pushed. We all have strong vocal reactions to pain and surprise, to anger or fear. We often use the same language in response to the strong positive stimulus of pleasure or awe or humor. Cuss words and phrases, whatever they may be in our individual vocabularies, are the most potent words we have for expressing emotion.
However, as writers, we now face a loss of power in the classic obscenities—the draining of shock value, the depletion of such terms' ability to offend. Our challenge is to revive the language with vivid reinvention.
Case in point: I was out on my balcony a while ago as two young men walked by on the sidewalk and one of them was telling a story in which every other word was fucking. It went along the lines of, "So I fucking told the fucking guy that it wasn't my fucking beer, I'm just fucking here for fucking apples… " And so on.
Now this made me sad. Here is this potent word being drained of all its juice and snap by overuse. We often call such cuss words expletives. Technically an expletive is any word or phrase that adds nothing to the meaning of the sentence. A few years ago, for instance, TV reporters took to sticking in the phrase "if you will" in the most inane way. That was a smarmy, Uriah Heep–style expletive. For the guy under the balcony, the word fuck was an expletive. It had no more weight or meaning than like for the proverbial Valley Girl or um for the tongue-tied. It's superfluous filler. It isn't shocking. It isn't vivid or engaging. It's simply monotonous. He was boring and his story was unintelligible. Read More