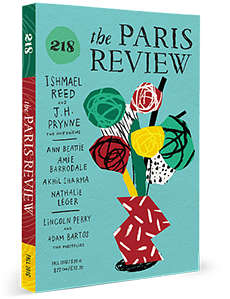 Ishmael Reed on the Art of Poetry: "I read Dante and realized how much power a writer could have. A writer could put people in hell who weren't even dead yet." J. H. Prynne on the Art of Poetry: "Writers had better not be too cocksure that they've got inspiration on their side."
New fiction by Amie Barrodale, Ann Beattie, Andrew Martin, and Akhil Sharma.
Poems by Major Jackson, Lawrence Joseph, Rowan Ricardo Phillips, Michael Robbins, Erika L. Sánchez, Charles Simic, Karen Solie, and Susan Stewart.
Nonfiction by Nathalie Léger; and a portfolios of work by Lincoln Perry and Adam Bartos.