David Rokeah
Issue 29, Winter-Spring 1963
The things between me
and time:
My daily forgetfulnesses.
Leaves of the fall that lose themselves in the wind.
Desert sand. Its haste that evades the eyes.
The black complaint of the sea
that lasts longer than night.
Want to keep reading?
Sign in—or sign up for a free trial…
Free Trial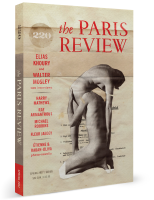 …or get your subscription now!
Subscribe