Edward Field
Issue 29, Winter-Spring 1963
At the charmed pool swarming with the lower forms of life,
The flying, the crawling, the swimming, and the stationary,
Prince Charming looked around and wondered
Which of these creatures was the Princess
Who, the story said, was victim of a witch's curse
And waiting for his kiss to reappear.
Want to keep reading?
Sign in—or sign up for a free trial…
Free Trial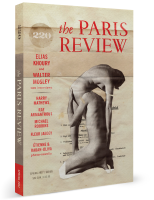 …or get your subscription now!
Subscribe