Julian Mitchell
Issue 29, Winter-Spring 1963
Unwound from reason on a rope,
All rules of nature foiling,
Sinks the light-armed bathyscope.
The surface closes. All its hope
Is in a smooth uncoiling.
Inside the blackness of the sea,
Hanging from a m…
Want to keep reading?
Sign in—or sign up for a free trial…
Free Trial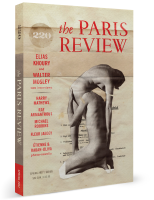 …or get your subscription now!
Subscribe