Jay Parini
Issue 74, Fall-Winter 1978
The beginning was hills, moss-covered stones,
October flowers. I climbed all day,
those damp beginnings. I felt
your arms like roots around me, love
like burdocks clinging to my legs;
the trees cried nothing but wind.
Want to keep reading?
Sign in—or sign up for a free trial…
Free Trial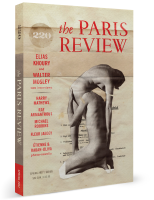 …or get your subscription now!
Subscribe