Thomas Masiello
Issue 74, Fall-Winter 1978
for Joan Ravera
". . . (dim shadow that she had always been). . ."
—Nathaniet Hawthorne
The orchestrations of sunrise
much like the tune, abstract from the outset,
(this is the nature of music)
begin slowly,
for this is the tune remembered
which stays with you all day.
Want to keep reading?
Sign in—or sign up for a free trial…
Free Trial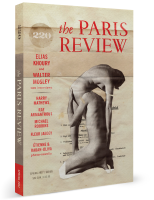 …or get your subscription now!
Subscribe