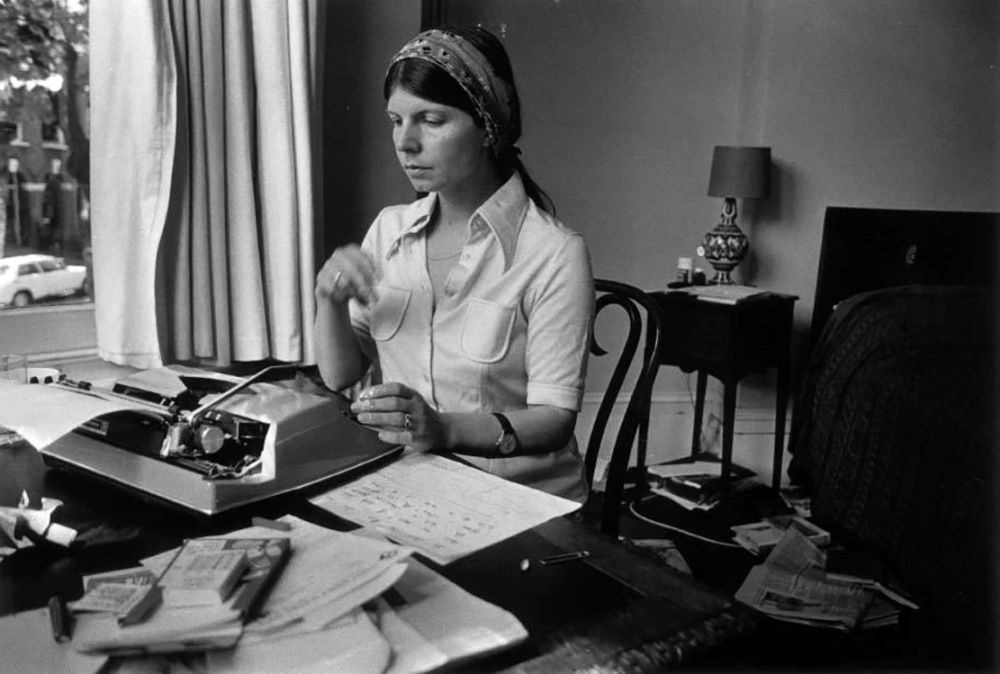 Margaret Drabble lives in a red house along a row of terrace houses just up the hill from Hampstead Heath. Her sitting room is also red—bright red—and stretches from the front bay windows, which are filled with plants to a large back window that looks out onto the garden. Along one wall there are floor-to-ceiling bookshelves and in one corner there is a baby grand. On top of the piano sits a plant that was given to the author by Doris Lessing. "I don't know what Doris's plant is called. I call it a funnel plant because it has a kind of funnel down which one waters it. Once, it had a big pink bottle brush flower, but I think it never will again."
In front of the room there is a fireplace with a shiny white mantelpiece. Two ceramic pitchers of bushy dried grasses stand on either side of a gilded mirror and next to them lie pictures and statues and boxes and one large pinecone. Across from the fireplace, several shopping bags lean against one another in the leg space beneath a small desk. It is too small and fine a desk for novel-writing. Drabble writes her books in a room in Bloomsbury.
On the walls there are several paintings. One is gray and geometric: an open door leading from an empty corridor into an empty room. Another is a still life of a table laden with fruit.
Behind Drabble's house, backyards connecting, is the house where John Keats lived. It is a two-story house with many tiny rooms. "They were smaller in those days," said the lady behind the information desk. "They called him little Johnny Keats."
Margaret Drabble is called "Maggie," and she, too, is smaller than one might expect from looking at her photographs. Her face is finer, prettier and younger, surprisingly young for someone who has produced so many books in the past sixteen years. Her eyes are very clear and attentive and they soften when she is amused, as she often is, by the questions themselves and her own train of thought.
INTERVIEWER
Are there any questions you are afraid of being asked?
MARGARET DRABBLE
No, because I am very good at not answering them. I don't much like being nagged about my private life because it involves others than myself, and I haven't got a right to speak for them. But most people are very conscious of this and don't nag. I don't like placing other writers much and avoid the temptation to do so when asked, though I don't mind admitting my immense admiration for Angus Wilson, Saul Bellow, and Doris Lessing.
INTERVIEWER
I know you've done your share of interviewing. What is the first question you ask someone?
DRABBLE
Oh dear. I never know how to begin. I find it to be a very difficult job, actually. I'm rather a bad interviewer because I never ask people things that they don't want to be asked. As soon as they look annoyed or nervous, I never persist.
INTERVIEWER
I read your interview with Doris Lessing and I thought that many of the things that came out of it could have been said about you as well. You quote her as saying, "In writing novels, we bring into being what we need to be." Can you comment on that?
DRABBLE
In a sense, the fiction creates the reality, but it's a very complicated relationship. I think if you imagine a certain kind of person, then that person comes into being. You become that person. Or at least this kind of person becomes a possibility. But you have to be careful what you imagine, because the act of imagining is the act of encouraging yourself to be a certain kind of person. The fact of going in a certain direction has something to do with what you imagine as good or proper for yourself.
INTERVIEWER
But it also seems to me, that as far as you're concerned, the kind of person you are has as much to do with fate or accident as it does with self-creation.
DRABBLE
This is what is so interesting about life: choosing to be something and being struck down while you do it by a falling brick. The whole question of free will and choice and determinism is inevitably interesting to a novelist. Perhaps I go on about it more than some. Are your characters puppets in the hands of fate or are they really able to make free choices? I think we have a very small area of free choice.
INTERVIEWER
And what is that area?
DRABBLE
We can choose not to be selfish or as self-indulgent or as hard-working as we are by nature. We can choose to go against our nature, but only very slightly. You can't completely alter what you were given without doing yourself a great violence, which means that you go mad or become an ineffective person. It also has to do with where you start from. You can't ignore it or cut it out of yourself. I think families change over the generations, but the amount that each person changes is not as great as he thinks it's going to be when he is young.
INTERVIEWER
Was it an accident that you became a writer?
DRABBLE
I wrote my first novel because I just got married and I was living in Stratford-upon-Avon and there was nothing else to do. I was very bored. I had no particular friends there. I'd been very busy up until then—at university, passing examinations—I very nearly took a job that summer and if I had taken a job, I probably wouldn't have written the book. So in a sense it was accidental. Whether I would have written a novel later, I just don't know.
INTERVIEWER
What did you study at Cambridge?
DRABBLE
English Literature. I got a very good degree. I got a husband, but he was an actor, and worked long hours. At the time, I very much wanted to be an actress and in fact I did act for a year, but by then I had my first novel accepted. I was still very keen on the stage but I was losing interest in it because of the children—I had one and was expecting another—and writing was such a convenient career to combine with having a family. Also I had quite a considerable success with my first novel, so I was encouraged to continue.
INTERVIEWER
Where did the idea for your first novel come from?
DRABBLE
I think it must have been related to my feelings at finding myself, at the age of twenty-one, free, unemployed, wondering where to go, watching my friends and contemporaries to see where they would go. Perhaps it was about the purpose of education for women and the choices it offers.
INTERVIEWER
Did your training as an actress help in developing the characters for your novels?
DRABBLE
I wasn't trained as an actress in any way—I just did it instinctively. And I write in much the same way. I don't think there's much connection between the two. An actress can, and perhaps should, ignore the rest of the drama—she need only know her own role in it. This would be a fatal way to write.
INTERVIEWER
At one point you were an understudy for Vanessa Redgrave. In at least three of your novels there does seem to be an understudy relationship between two characters: In A Summer Birdcage there were Louise and Sarah; in Jerusalem the Golden, Celia and Clara; in The Waterfall, Lucy and Jane: very tight pairs in which the narrator was looking up to and comparing herself constantly to another woman.
DRABBLE
Yes. I think that is quite a natural process. Most people have a rival figure or model figure while some of us have lots of both. I suppose in my case this was either my older sister, or my best woman friend whom I've used again and again in my novels. The friend was very much a Celia figure to me in that she came from a more sophisticated background. I still find that fascinating: when two people who are very close have—it's not really a rivalry—rather an imitative relationship. One wants to be like the other person.
INTERVIEWER
Is that possible?
DRABBLE
No. Not really. And as you get older you decide you don't want to be, anyway. You'd rather be like yourself. But you realize that over a period of twenty years or so, you have in fact taken on certain aspects of your friends or your siblings. And they have probably taken on certain aspects of you, down to mannerisms and speech traits . . .
INTERVIEWER
Have you put your Cambridge education to good use in your writing? Is there a certain kind of intelligence that makes for a better writer?
DRABBLE
I don't much care for dividing the mental faculties into compartments. I think intuition is a form of intelligence; I would only go as far as to say that too academic an education can inhibit the workings of the creative mind, though it certainly doesn't always suffer—even in a university environment: witness Saul Bellow.
INTERVIEWER
Do you think that grief can be a creative state of mind?
DRABBLE
I've often worried about this—that if one got really very happy in life, one might not want to write at all. I think grief is creative. And, in some awful way, boredom is creative. When I'm really deeply bored (inevitably I'm rather miserable at the same time) I find this a creative phase because one's got to get something. One's got to rise out of it in some way. And the way that I'm most familiar with is by writing.
INTERVIEWER
Many of your characters say that they're most terrified of boredom.
DRABBLE
Well, so am I. I don't see why other people don't worry about it more. I can't remember who the poet was who said, "Life, my friends, is deeply boring, but of course we must not say so." It's not that life is always boring, it's that it becomes boring terribly quickly. I'm rarely bored by myself. I get bored by other people or by being stuck in boring situations.
INTERVIEWER
Jane Gray in The Waterfall describes the sensation that she feels when a poem is coming. She says that she can see the changes in the color of the air. Can you see the changes?
DRABBLE
Actually that phrase came from my mother. She could tell when she was getting depressed because the air went black—or so she said. I think the air has a slightly different look about it when words are coming. Elation and depression have a similar effect on one.
INTERVIEWER
Do you use any "gross and violent stimulants"?
DRABBLE
Certainly I do. Not so many as some people. I drink alcohol. I don't smoke. I drink very strong coffee and very weak tea. Scenery can be a violent stimulant. Wordsworth, I think, was thinking of that. I love it. But rather like Wordsworth, I think too much of it isn't good for you. And I'm so susceptible to horror that reading the newspaper is enough for me; when I actually see the news on television it makes me feel terrible for days.
INTERVIEWER
The newspaper was your primary source for The Ice Age wasn't it?
DRABBLE
Yes. In fact the whole idea came from reading papers. There was an enormous amount of economic analysis in the papers, but nothing on the subject of declining Britain in fiction at all.
INTERVIEWER
Did you do any speculating in the stock market or real estate as research for the book?
DRABBLE
Certainly not. I've never been foolish enough to do anything of that sort.
INTERVIEWER
And how did you decide on a Balkan state?
DRABBLE
I had to use a fictitious place because I didn't want to deal with real politics. The visual memories were drawn from Yugoslavia and Czechoslovakia.
INTERVIEWER
You seemed to have trouble deciding where to end that novel. At one point you say, "No, I can't end it this way. This would be a terrible ending."
DRABBLE
For quite a long time I thought I would have a reasonably happy or peaceful ending and then it just didn't seem very plausible. The property market had quieted down but trouble had just broken out somewhere else instead. While I was writing it, I had a Lebanese friend staying with me who was a lecturer at the university at Beirut. He left Beirut because of the civil war. I thought his descriptions were very curious. He didn't seem too alarmed by the violence and at the same time seemed so worried about his job and when he'd be able to go back. I see this is perfectly reasonable, but the job seemed such an irrelevant thing compared to the fact that he was lucky to be alive. It was talking to him that made me feel I ought to put England's problems into some larger context.
INTERVIEWER
Your first novels seem to be primarily character studies and the later books are more concerned with themes.
DRABBLE
I think you're right. You look at people and realize they're all part of some theme whether they like it or not. And all you have to do is perceive the theme and you can fit all kinds of people into the pattern. I used to not be able to see so much at once. I think I had a very narrow vision. I had a very narrow life and so I began with character and with one particular situation: like having an illegitimate baby or having to go where your husband's job is. Now that seems to me very restricting. Too particular. On the other hand, if you lose a sense of particularity, then your writing becomes very boring. It's a struggle to keep the balance between the two now.
INTERVIEWER
Tell me about your work habits.
DRABBLE
I used to work in the evenings when the children were small, but now I work in the morning. I can't write the whole day long. I have a room where I go because I can't work at home—the telephone and other distractions. I start work about quarter to ten, work through till lunchtime. Sometimes I work in the afternoon. During the school holidays I don't get very much done. I've only been able to put in the longer hours since the children have become more accommodating. Even then I feel a bit mean. I always have my head in somebody else's book or my own.
INTERVIEWER
Jane Gray who is a writer in The Waterfall says that there is nothing she can do to invoke the capricious muse. "One can really only stand around and wait. Perhaps that's why I'm so unwilling to distract myself." Do you feel this?
DRABBLE
I don't feel quite as helpless as that. There are certain ways of becoming attentive. Like walking. If I go for a long walk, I can think better because I don't have to worry about what I'm doing. But sometimes you can walk for three hours and it's only just as you're putting the supper in the oven that you realize exactly what the answer is.
INTERVIEWER
When you sit down at the typewriter do you sit there a while or do you begin to write immediately?
DRABBLE
If a book is going reasonably well, I write terribly fast. And I don't rewrite very much either. I really just rattle along. I think that this is because I've always been short of time. I've always been saving up the time to work so that by the time I actually get to the typewriter I usually have a very good idea of what I've got to get through. It's all there waiting.
INTERVIEWER
How do you feel when you are writing?
DRABBLE
I tend to get very irritable when it's going badly and I'm very cheerful and benevolent when it's going well. I mean "going well" could mean describing the most gruesome and terrible scene. But if I'm stuck then I get cross.
INTERVIEWER
Can you describe the process of transforming material into fiction?
DRABBLE
Not sticking too closely to the accidental and circumstantial elements of the original material—but being able to recognize when some things—a name, a certain kind of face or voice, a nationality—are an essential part of the subject matter and therefore cannot be omitted or transformed. When I started The Realms of Gold I was trying to think of something really amusing and cheerful and I thought of the octopus I saw in the museum at Naples. I can't remember what I was doing in this maritime museum. I can't remember who took me. But suddenly there it was, a lot of imagery of nature: the natural world of species, the flora and fauna, the fact that Frances's father studied newts. It all just seemed to fit very nicely. Once you've got a starting image, the thing just naturally goes on.
INTERVIEWER
Did you know what Frances looked like?
DRABBLE
Yes. I had a very clear picture of what she looked like. Again the character develops in a strange way. While I was writing the first section a friend of mine pointed out to me that none of the women in my previous novels had been able to drive a car and how odd this was. It's not really odd, it's because I can't drive. So I thought, This woman is supposed to be a successful archeologist; she would clearly be able to drive a car. So I wrote that scene where she's getting Karel's car out of the mud and while I was describing her doing that, I suddenly had a very clear picture of a very good friend of mine who used to drive me around on holidays. She's a tremendously strong woman and good at changing wheels and punctures and that kind of fused with the picture I already had of Frances.
INTERVIEWER
Frances's heroine was a woman named Boadicea who waged an unsuccessful battle against the Romans, but was "victorious in defeat." Was she also a heroine of yours?
DRABBLE
No, not really. I think she was probably a savage fool. I don't know much about Boadicea really except that she was the Queen of the Iceni. As a child I admired that kind of warlike heroism. I don't so much admire it now. I think Joan of Arc is a terrible bore, perhaps because I don't like the plays about her.
INTERVIEWER
Who are your heroines now?
DRABBLE
Mrs. Gaskell and George Eliot in a way. Shakespeare's Cleopatra has always enraptured me, though I don't suppose I'd like to be like that. George Sand perhaps is the nearest to a heroine because she had such a full life and was so generous and spontaneous and cared nothing about petty things, only about true ones. She never cut herself off. She cared for people. She was inexhaustible and I admire that.
INTERVIEWER
How did you amuse yourself as a child?
DRABBLE
I read books about Boadicea and the Lady of Shalott. I started reading very early and read with passion for years. My sisters—I have an older sister and a younger sister—also enjoyed reading. We used to write plays and put on plays and have fairly elaborate games. Swimming and riding were the only sports I ever enjoyed. I was very fond of horses, as many little girls are.
INTERVIEWER
Was there a ditch in your childhood?
DRABBLE
I've always been absolutely fascinated by ditches and ponds and water beetles. I lived in Sheffield when I was a child. It's a large northern industrial city but has very beautiful ponds and botanical gardens and countryside nearby. We used to collect fish and stickleback and newts and tadpoles and goodness knows what.
But the ditch and the house in The Realms of Gold is based partly on my grandmother's house. There was a very nasty pond, which is now filled in. But that feeling about going back to one's childhood was very much what I was writing about.
INTERVIEWER
What do you think were the formative experiences of your childhood?
DRABBLE
I was rather a lonely child when I was small. I made lots of friends when I was about thirteen or fourteen—when it became all right to be intellectual. But when I was a little child I was often ill. I had a bad chest and was always rather feeble—hated games. I make myself sound very pathetic, which I wasn't, but I certainly didn't feel I was part of the mainstream. I used to spend a lot of time alone, writing and reading and just being secretive. My sister was not very nice to me—my big sister. I used to tag along after her and she was always . . . well, she used to play with me a lot when we were little . . . I think this is what went wrong. I used to expect her to go on playing with me and of course she got bigger and didn't want me around. That made me very sad and I always felt that I had been shut out, rejected by her.
INTERVIEWER
It must have been a pretty important feeling to write your first novel about it.
DRABBLE
Well, my sister and I are very similar. She's a novelist and our lives have been parallel in many ways. She has been an important part of my life. One's relationship with one's siblings and parents is something that you're going to write about again and again, in different forms.
INTERVIEWER
Do your friends and family ever see themselves in your novels and does that make things difficult?
DRABBLE
If they're not pleased, then they don't tell me. I've been slightly worried about one or two portraits but nobody has ever said anything. I don't think I've ever hurt anybody's feelings. It's amazing how pleased some people are by some descriptions of themselves that I would have thought not necessarily very flattering.
INTERVIEWER
Your characters, especially the protagonists, have very interesting names. Some of them seem to pay homage to other writers: Sarah Bennett, Emma Lawrence, Clara Maugham. How do you come up with them and what do they mean?
DRABBLE
My early characters simply had names I like. I still tend to do this. The children in The Garrick Year are called Flora and Joseph and I called my own son Joseph after writing the book. Rosamund (and Rose) are faintly symbolic because both are very English (the English rose). Jane Gray is a victim; Frances Wingate, a winner; Simon, an apostle. But I don't do this very consciously. The choice of name tends to affect the development of the character, even the plot. This may be so in real life also.
INTERVIEWER
Do you find yourself getting involved with people in order to use them as characters?
DRABBLE
No. The books always came long after I've been mixed up with people and there are some people whom I know very well that I would never use—out of a feeling of anxiety or embarrassment about using them. On the other hand there are some people I know who have haunted me as characters and as real living people and they just had to be used, again and again. In fact, there is one particular person that I've used both in a good light and in a bad light. In one book he looks a monster and in the next book he looks very nice. I'm not sure which he really is.
One thing I have never been very good at is creating "good" mothers. I'd written books and books before someone pointed out that I was perpetually producing these "bad" mothers.
INTERVIEWER
Did your mother notice?
DRABBLE
If she did, she kept it to herself. She enjoys my books. She's very good on them. The worst mother in my novels is the one in Jerusalem the Golden who was modeled on my grandmother who made my mother's life a misery. My mother is what I call a "good-enough" mother. We have our problems, but then who doesn't with her mother. We get on well, better than we used to. But it's as though there's an ancestral ghost haunting the family. I hear myself saying things that my grandmother used to say.
INTERVIEWER
Is there much correlation between your life and the life of your characters?
DRABBLE
There's a certain amount. When I was writing The Needle's Eye I was very keen that I shouldn't buy any new clothes until I had finished the book: that Rose wouldn't have done it. I was incredibly shabby by the end of the book. I've slightly rejected that now. I mean, I'm still shabby but that's because I can't be bothered to go and buy the clothes. It ceased to be a strong principle. But in a way I was testing out the principle by writing the book. That really is one of the reasons for writing: that you test out a certain lifestyle.
INTERVIEWER
What do you like best about your novels?
DRABBLE
I think what I'm most surprised about is the fact that they're quite readable and, I think, quite amusing. Other people don't agree, but I think they're quite funny. Now this is something that I would never have expected of myself, because I was very keen on tragedy. But when I wrote my first novel and decided that it was going to have a funny ending (the beautiful older sister caught by her husband in the bathtub with her lover), I thought "I'm really going to be a different kind of person!" This is wonderful, I felt. Life is going to be good, not bad.
INTERVIEWER
What makes you uneasy?
DRABBLE
What a difficult question. Money makes me uneasy. The fact that some people have more of it than others. There's an advert in the personal column of the Times in which a man says, "Will somebody please explain to me why some people are paid more than others. Does the fact that I get no replies mean that there is no answer?" I must write to him and say that I agree: There is no answer.
And other people's misery makes me very uneasy. The injustices of life: that some people have such a terrible time—not necessarily even in material things, not even physically—but just psychologically, or in their personal lives.
INTERVIEWER
What do you find most difficult in writing your novels?
DRABBLE
I find it difficult to write about very stupid people. I'm aware that my characters tend to be not only intelligent, but intelligent about themselves. One of the things that I really admire is the ability to write with dignity and understanding about people who are not aware of themselves. I think most people are more intelligent than they are given credit for, but that they don't express themselves in a way people find accessible. I look at some people and I don't know what their minds contain. And that I find a problem.
And men. Writing about men. I used to find it difficult because I didn't trust myself to know what they were like. I still feel uneasy when I describe men's clothes and their offices. I have to do research, find out what they really look like, how they talk, and what kind of work pattern they have.
INTERVIEWER
So you think there are major differences between men and women?
DRABBLE
I don't think they're as major as I once did. But that's partly because I know more men now. I realize I can have as personal a conversation with a man as with a woman.
INTERVIEWER
What male authors do you think write particularly well about women?
DRABBLE
I think many men have written well about women. But I would cite Arnold Bennett (The Old Wives' Tale, Anna of Five Towns, Hilda Lessways) and Angus Wilson, whose novels Late Call and The Middle Age of Mrs. Eliot are very remarkable and full of insight.
INTERVIEWER
Cars and men are closely associated in your novels.
DRABBLE
That's because I haven't got one.
INTERVIEWER
How deliberate is the symbolism one detects from time to time?
DRABBLE
It's nearly always unintentional. I look back at it and think, Oh, that relates to that. When you're writing in a certain vein, everything grows out of the same source. Occasionally it's more deliberate. I was very much aware when I got to the end of The Ice Age that it would be nice to have another bird. I had put a bird on the first page; it seemed obvious to put a bird on the last. And there were a lot of dead dogs in that book, but then there were just a lot of dead dogs around that year. It's a natural associative process, really. It's not exactly symbolism, it's just how life is. You notice one thing and then you notice the same thing again tomorrow.
INTERVIEWER
What would you say is the function of a novel?
DRABBLE
I don't think it's to teach, but I don't think it's simply to entertain, either. It's to explore new territory. To extend one's knowledge of the world. And to illumine what one sees in it. That's a fairly moral concept, isn't it?
INTERVIEWER
I don't know if that's moral.
DRABBLE
I think it is. Exploring—illuminating—is slightly moral. One wants to see better, clearer, more. But I read other people's novels to find out what's going on in the world and what other people are like. If I also recognize the same things in myself, then I feel all the more interested.
INTERVIEWER
You've said that one can't have art without morality. What does that mean?
DRABBLE
To make a statement that is considered and thought-out is moral.
INTERVIEWER
Your novels seem to have become more political and philosophical and even moral since your interview, in 1972, with Doris Lessing.
DRABBLE
The problem in my early novels was that I simply hadn't the ability to express the range of my feeling. I couldn't technically do it. When I wrote my first novel I didn't know how to write a novel at all. I only began to be aware that I could actually write a novel and include some of the things I deeply cared about when I reached The Needle's Eye. I may have learned that from Doris Lessing. I started reading her around that period.
INTERVIEWER
If you didn't know how to write a novel until The Needle's Eye, how did you write your first five?
DRABBLE
My first novel I just wrote, day after day, like a very long letter, with no conscious sense of form or plot at all. In the second, I had a little more sense of shape. In the third, yet more. In the fourth, I tried to write (not very successfully) in the third person; in the fifth, I queried this method of narration and by The Needle's Eye, I found I could do what I'd always wanted, which was to write a third-person novel with the point of view spread among various characters. I now have a much better sense of control. If I find something missing I know how to put it in. I can feel the rhythm of the plot much better than in the old days.
INTERVIEWER
Which of your novels are you most fond of?
DRABBLE
I think probably The Needle's Eye. Partly because it is the longest. It was hard work and I felt proud of it. And partly because I was very fond of that period of my life. I like shabby houses and I like small children.
I like all my novels for different reasons, but I've gone off some of them. I'm slightly fed up with The Millstone, but I think that's probably a reaction against everyone else always liking it best. It's the most often translated into other languages. I get far more letters about it. I'm bored with it.
INTERVIEWER
You must get a lot of letters.
DRABBLE
Yes I do. From old friends long lost and interesting new people who write and tell me amazing things about themselves. I also hear from very tiresome people who do the same and for not very honorable reasons. As I can't always tell the difference at first glance, I tend to waste a lot of precious time on people whose real interest in what I have to say is negligible and who have no conception of what other things I have to get through. What really annoys me are the ones who write to say, I am doing your book for my final examinations and could you please tell me what the meaning of it is. I find it just so staggering—that you're supposed to explain the meaning of your book to some total stranger! If I knew what the meanings of my books were, I wouldn't have bothered to write them.
INTERVIEWER
Do you ever find critics useful?
DRABBLE
Sometimes. I find what they call "constructive" criticism helpful. Occasionally you come across somebody who says, "Why didn't she do so and so?" And you think, "God, why didn't I?" And he says, "Why doesn't she do so and so next time?" And you think, "Yes, why don't I?"
INTERVIEWER
In your review of Virginia Woolf's collection of letters, you say that she must have found her critical powers comforting. Do you?
DRABBLE
Yes. Because they enable me to defend myself from other critics. This is not very important, but it is useful. Some writers have no training in the jargon of literature—cannot explain or justify themselves—I can always hit back, or, more politely, provide explanations for what I have done. Also, I can intersperse novels with reviews etc. which makes for variety of work and is fun.
INTERVIEWER
John Updike has accused you of being shamelessly dependent upon coincidence. And yet in your novels, it seems to serve as much more of a theory than a device.
DRABBLE
What I'm perpetually trying to work out is the relationship between coincidence and plan. And in fact, I have this deep conviction that if you were to get high up enough over the world, you would see things that look like coincidence are, in fact, part of a pattern. This sounds very mystical and ridiculous, but I don't think it is. I think that I, in particular, and maybe certain other people, have a need to perceive this pattern in coincidence. It may be that psychologically we're so afraid of the unpredictable, of the idea of chaos and disorder, that we wish to see order.
Take the fact that you should bump into somebody after ten years on your birthday after having last seen them at your birthday party. This is a coincidence, but it appears to have a meaning. We know it's superstitious, but so many times in my life I've had coincidences like this that I'm driven to look for another underlying meaning.
There's an essay by Freud in which he discusses the uncanny feeling of being both familiar with and utterly surprised by something. I think this is one of the most distressing, but important feelings in life. The feeling that I knew this all along, but I never knew it before. Freud would argue we feel this about sex. The first time we find out what it actually is, we think "how absolutely astonishing and impossible," but at the same time we know we knew.
I'm sure death feels a bit like that. In fact I've often had a dream in which I am just about to die and my last words are, "Oh, that was what it was like. I did know really, but now I know for real." And then I wake up.
INTERVIEWER
I remember you wrote about a dream in one of your books—a very frightening dream about a gigantic weaving and all the loose threads and trying to make a pattern fit together . . .
DRABBLE
Are you sure that's not Doris Lessing? It sounds like a Doris Lessing dream to me.
INTERVIEWER
Are your dreams useful for your work?
DRABBLE
I used to think not, because I get very bored when I'm reading other people's novels and find them full of dreams. But in fact, I use my own dreams as tests for the way I feel about people, or things, or things going wrong. They're relations of a sort. I have a lot of landscape dreams. One of my best dreams is that I'm in this wonderfully beautiful landscape that just goes on and on, through which I can almost make myself travel; it perpetuates itself. I'm aware that I'm dreaming because it's so intensely beautiful.
But I don't dream on purpose as people are supposed to in analysis.
INTERVIEWER
Have you ever been in analysis?
DRABBLE
No.
INTERVIEWER
Have you read Jung?
DRABBLE
Only bits and pieces. I've read more Freud than Jung, actually.
INTERVIEWER
Well, he's got this theory called synchronicity, which is about coincidence not being coincidence at all.
DRABBLE
Freud takes a harsher view. His view is that they are coincidences and the idea that our need to see them as not being so, like our need to avoid that death really is death, contorts the whole of human life: that the whole of human culture is distorted by our desperate need to avoid the truth.
I'm perpetually tossed between these two interpretations of life. It is a fact that if you have faith of a certain sort, then certain things will happen for you or for those that you love. But this is only in a way like watering a plant. One of the images I like best is the plant in The Waterfall that Jane keeps on watering long after she thinks that it's dead. And then it begins to grow again.
And the same is true of people or personal relationships. You go on believing in them long after everything looks hopeless and that child or that relationship or that person, will in fact, revive.
INTERVIEWER
One of the prisoners in The Ice Age was reading The Roots of Coincidence by Koestler. Did you read that?
DRABBLE
I've never managed to finish it. It's about, oh dear, what are those little things that are too small to be seen—quarks and things like that. It's about randomness and that if you throw dice so many times, it isn't random. A pattern will emerge.
When I was a child I used to think that mathematics and statistics were the most boring thing in the world. I find statistics increasingly fascinating: If you ask the right questions about enough things, you can spot things that nobody could discover in a lifetime of personal discovery.
But I suppose we just never know what the pattern is. I suppose it is perfectly possible that one will die without knowing what it was all about. But I have this deep faith that it will all be revealed to me one day. One day I shall just see into the heart of the whole thing. A lot of people give up. They realize that there isn't an answer. Maybe that's what will happen to me. Maybe when I'm ten years older I'll decide that I was just deluding myself. But I haven't yet got to that stage.
Author photograph by Nancy Crampton