Donald Platt
Issue 101, Winter 1986
First we lose our shadows
walking together into the veiled fields
of shade tobacco.
Mountains are farther away,
the farmhouses whiter,
last light clotting their weathered boards.
Moon is a knothole in the grain of the sky.
Cottonwood fluff floats down to us,
the milky way going to seed.
Want to keep reading?
Sign in—or sign up for a free trial…
Free Trial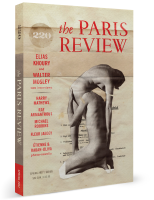 …or get your subscription now!
Subscribe