Christopher Benfey
Issue 101, Winter 1986
You hoarded oyster shells through the R months;
they jut from the backyard garden like unwashed ears
of earth, and listen to your footsteps growing heavier.
You can barely drag your feet along the rows
of unthinned radishes and bib lettuce.
Want to keep reading?
Sign in—or sign up for a free trial…
Free Trial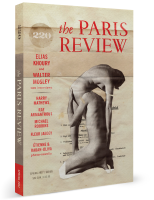 …or get your subscription now!
Subscribe