Interviewed by Robert Phillips
Issue 74, Fall-Winter 1978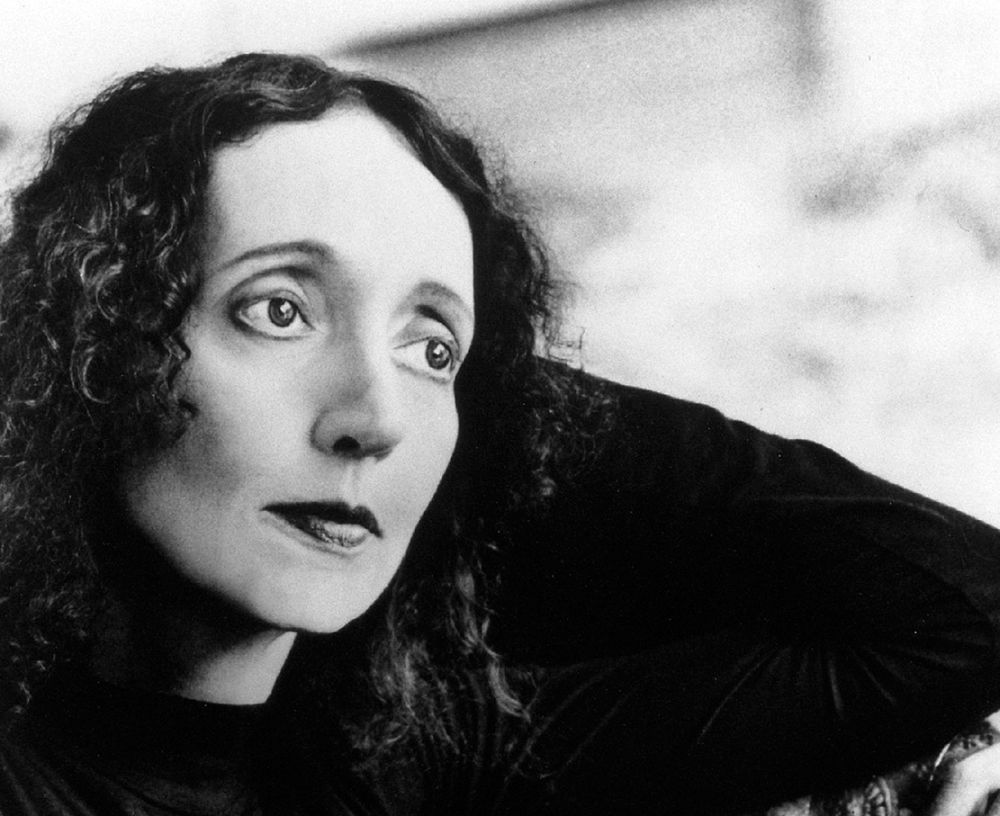 Photograph by Marion Ettlinger
Joyce Carol Oates is the rarest of commodities, an author modest about her work, though there is such a quantity of it that she has three publishers—one for fiction, one for poetry and a "small press" for more experimental work, limited editions, and books her other publishers simply cannot schedule. And despite the added demands of teaching, she continues to devote much energy to The Ontario Review, a literary quarterly that her husband edits and for which she serves as a contributing editor.
Ms. Oates is striking-looking and slender, with dark hair and large, inquiring eyes. She is highly attractive but not photogenic; no photo has ever done justice to her appearance, which conveys grace and high intelligence. If her manner is taken for aloofness—as it sometimes has been—it is, in fact, a shyness that the publication of thirty-three books, the production of three plays, and the winning of the National Book Award has not displaced.
This interview began at her Windsor home in the summer of 1976 before she and her husband moved to Princeton. When interviewed, her speaking voice was, as always, soft and reflective. One receives the impression that she never speaks in anything but perfectly formed sentences. Ms. Oates answered all questions openly while curled with her Persian cats upon a sofa. (She is a confirmed cat lover and recently took in two more kittens at the Princeton house.)
Talk continued during a stroll by the banks of the Detroit River where she confessed to having sat for hours, watching the horizon and the boats, and dreaming her characters into existence. She sets these dreams physically onto paper on a writing table in her study, which faces the river.
Additional questions were asked in New York during the 1976 Christmas season, when Ms. Oates and her husband attended a seminar on her work, which was part of that year's Modern Language Association convention. Many of the questions in this interview were answered via correspondence. She felt that only by writing out her replies could she say precisely what she wished to, without possibility of misunderstanding or misquotation.
INTERVIEWER
We may as well get this one over with first: You're frequently charged with producing too much.
JOYCE CAROL OATES
Productivity is a relative matter. And it's really insignificant: What is ultimately important is a writer's strongest books. It may be the case that we all must write many books in order to achieve a few lasting ones—just as a young writer or poet might have to write hundreds of poems before writing his first significant one. Each book as it is written, however, is a completely absorbing experience, and feels always as if it were the work I was born to write. Afterward, of course, as the years pass, it's possible to become more detached, more critical.
I really don't know what to say. I note and can to some extent sympathize with the objurgatory tone of certain critics, who feel that I write too much because, quite wrongly, they believe they ought to have read most of my books before attempting to criticize a recently published one. (At least I think that's why they react a bit irritably.) Yet each book is a world unto itself and must stand alone, and it should not matter whether a book is a writer's first, or tenth, or fiftieth.
INTERVIEWER
About your critics—do you read them, usually? Have you ever learned anything from a book review or an essay on your work?
OATES
Sometimes I read reviews, and without exception I will read critical essays that are sent to me. The critical essays are interesting on their own terms. Of course, it's a pleasure simply to discover that someone has read and responded to one's work; being understood, and being praised, is beyond expectation most of the time . . . The average review is a quickly written piece not meant to be definitive. So it would be misguided for a writer to read such reviews attentively. All writers without exception find themselves clapperclawed from time to time; I think the experience (provided one survives it) is wonderfully liberating: After the first death there is no other . . . A writer who has published as many books as I have has developed, of necessity, a hide like a rhino's, while inside there dwells a frail, hopeful butterfly of a spirit.
INTERVIEWER
Returning to the matter of your "productivity": Have you ever dictated into a machine?
OATES
No, oddly enough I've written my last several novels in longhand first. I had an enormous, rather frightening stack of pages and notes for The Assassins, probably eight hundred pages—or was it closer to a thousand? It alarms me to remember. Childwold needed to be written in longhand, of course. And now everything finds its initial expression in longhand and the typewriter has become a rather alien thing—a thing of formality and impersonality. My first novels were all written on a typewriter: first draft straight through, then revisions, then final draft. But I can't do that any longer.
The thought of dictating into a machine doesn't appeal to me at all. Henry James's later works would have been better had he resisted that curious sort of self-indulgence, dictating to a secretary. The roaming garrulousness of ordinary speech is usually corrected when it's transcribed into written prose.
INTERVIEWER
Do you ever worry—considering the vast body of your work—if you haven't written a particular scene before, or had characters say the same lines?
OATES
Evidently, there are writers (John Cheever, Mavis Gallant come immediately to mind) who never reread their work, and there are others who reread constantly. I suspect I am somewhere in the middle. If I thought I had written a scene before, or written the same lines before, I would simply look it up.
INTERVIEWER
What kind of work schedule do you follow?
OATES
I haven't any formal schedule, but I love to write in the morning, before breakfast. Sometimes the writing goes so smoothly that I don't take a break for many hours—and consequently have breakfast at two or three in the afternoon on good days. On school days, days that I teach, I usually write for an hour or forty-five minutes in the morning, before my first class. But I don't have any formal schedule, and at the moment I am feeling rather melancholy, or derailed, or simply lost, because I completed a novel some weeks ago and haven't begun another . . . except in scattered, stray notes.
INTERVIEWER
Do you find emotional stability is necessary in order to write? Or can you get to work whatever your state of mind? Is your mood reflected in what you write? How do you describe that perfect state in which you can write from early morning into the afternoon?
OATES
One must be pitiless about this matter of "mood." In a sense, the writing will create the mood. If art is, as I believe it to be, a genuinely transcendental function—a means by which we rise out of limited, parochial states of mind—then it should not matter very much what states of mind or emotion we are in. Generally I've found this to be true: I have forced myself to begin writing when I've been utterly exhausted, when I've felt my soul as thin as a playing card, when nothing has seemed worth enduring for another five minutes . . . and somehow the activity of writing changes everything. Or appears to do so. Joyce said of the underlying structure of Ulysses—the Odyssean parallel and parody—that he really didn't care whether it was plausible so long as it served as a bridge to get his "soldiers" across. Once they were across, what does it matter if the bridge collapses? One might say the same thing about the use of one's self as a means for the writing to get written. Once the soldiers are across the stream . . .
INTERVIEWER
What does happen when you finish a novel? Is the next project one that has been waiting in line? Or is the choice more spontaneous?
OATES
When I complete a novel I set it aside, and begin work on short stories, and eventually another long work. When I complete that novel I return to the earlier novel and rewrite much of it. In the meantime the second novel lies in a desk drawer. Sometimes I work on two novels simultaneously, though one usually forces the other into the background. The rhythm of writing, revising, writing, revising, et cetera, seems to suit me. I am inclined to think that as I grow older I will come to be infatuated with the art of revision, and there may come a time when I will dread giving up a novel at all. My next novel, Unholy Loves, was written around the time of Childwold, for instance, and revised after the completion of that novel, and again revised this past spring and summer. My reputation for writing quickly and effortlessly notwithstanding, I am strongly in favor of intelligent, even fastidious revision, which is, or certainly should be, an art in itself.
INTERVIEWER
Do you keep a diary?
OATES
I began keeping a formal journal several years ago. It resembles a sort of ongoing letter to myself, mainly about literary matters. What interests me in the process of my own experience is the wide range of my feelings. For instance, after I finish a novel I tend to think of the experience of having written it as being largely pleasant and challenging. But in fact (for I keep careful records) the experience is various: I do suffer temporary bouts of frustration and inertia and depression. There are pages in recent novels that I've rewritten as many as seventeen times, and a story, "The Widows," which I revised both before and after publication in The Hudson Review, and then revised slightly again before I included it in my next collection of stories—a fastidiousness that could go on into infinity.
Afterward, however, I simply forget. My feelings crystallize (or are mythologized) into something much less complex. All of us who keep journals do so for different reasons, I suppose, but we must have in common a fascination with the surprising patterns that emerge over the years—a sort of arabesque in which certain elements appear and reappear, like the designs in a well-wrought novel. The voice of my journal is very much like the one I find myself using in these replies to you: the voice in which I think or meditate when I'm not writing fiction.
INTERVIEWER
Besides writing and teaching, what daily special activities are important to you? Travel, jogging, music? I hear you're an excellent pianist?
OATES
We travel a great deal, usually by car. We've driven slowly across the continent several times, and we've explored the South and New England and of course New York State with loving thoroughness. As a pianist I've defined myself as an "enthusiastic amateur," which is about the most merciful thing that can be said. I like to draw, I like to listen to music, and I spend an inordinate amount of time doing nothing. I don't even think it can be called daydreaming.
I also enjoy that much-maligned occupation of housewifery, but hardly dare say so, things being what they are today. I like to cook, to tend plants, to garden (minimally), to do simple domestic things, to stroll around shopping malls and observe the qualities of people, overhearing snatches of conversations, noting people's appearances, their clothes, and so forth. Walking and driving a car are part of my life as a writer, really. I can't imagine myself apart from these activities.
INTERVIEWER
Despite critical and financial success, you continue to teach. Why?
OATES
I teach a full load at the University of Windsor, which means three courses. One is creative writing, one is the graduate seminar (in the Modern Period), the third is an oversized (115 students) undergraduate course that is lively and stimulating but really too swollen to be satisfying to me. There is, generally, a closeness between students and faculty at Windsor that is very rewarding, however. Anyone who teaches knows that you don't really experience a text until you've taught it, in loving detail, with an intelligent and responsive class. At the present time I'm going through Joyce's work with nine graduate students and each seminar meeting is very exciting (and draining) and I can't think, frankly, of anything else I would rather do.
INTERVIEWER
It is a sometimes publicized fact that your professor-husband does not read most of your work. Is there any practical reason for this?
OATES
Ray has such a busy life of his own, preparing classes, editing The Ontario Review and so forth, that he really hasn't time to read my work. I do, occasionally, show him reviews, and he makes brief comments on them. I would have liked, I think, to have established an easygoing relationship with some other writers, but somehow that never came about. Two or three of us at Windsor do read one another's poems, but criticism as such is minimal. I've never been able to respond very fully to criticism, frankly, because I've usually been absorbed in another work by the time the criticism is available to me. Also, critics sometimes appear to be addressing themselves to works other than those I remember writing.
INTERVIEWER
Do you feel in any way an expatriate or an exile, living in Canada?
OATES
We are certainly exiles of a sort. But we would be, I think, exiles if we lived in Detroit as well. Fortunately, Windsor is really an international, cosmopolitan community, and our Canadian colleagues are not intensely and narrowly nationalistic.
But I wonder—doesn't everyone feel rather exiled? When I return home to Millerport, New York, and visit nearby Lockport, the extraordinary changes that have taken place make me feel like a stranger; the mere passage of time makes us all exiles. The situation is a comic one, perhaps, since it affirms the power of the evolving community over the individual, but I think we tend to feel it as tragic. Windsor is a relatively stable community, and my husband and I have come to feel, oddly, more at home here than we probably would anywhere else.
INTERVIEWER
Have you ever consciously changed your lifestyle to help your work as a writer?
OATES
Not really. My nature is orderly and observant and scrupulous, and deeply introverted, so life wherever I attempt it turns out to be claustral. Live like a bourgeois, Flaubert suggested, but I was living like that long before I came across Flaubert's remark.
INTERVIEWER
You wrote Do with Me What You Will during your year living in London. While there you met many writers such as Doris Lessing, Margaret Drabble, Colin Wilson, Iris Murdoch—writers you respect, as your reviews of their work indicate. Would you make any observations on the role of the writer in society in England versus that which you experience here?
OATES
The English novelist is almost without exception an observer of society. (I suppose I mean "society" in its most immediate, limited sense.) Apart from writers like Lawrence (who doesn't seem altogether English, in fact) there hasn't been an intense interest in subjectivity, in the psychology of living, breathing human beings. Of course, there have been marvelous novels. And there is Doris Lessing, who writes books that can no longer be categorized: fictional parable, autobiography, allegory . . . ? And John Fowles. And Iris Murdoch.
But there is a feel to the American novel that is radically different. We are willing to risk being called "formless" by people whose ideas of form are rigidly limited, and we are wilder, more exploratory, more ambitious, perhaps less easily shamed, less easily discouraged. The intellectual life, as such, we tend to keep out of our novels, fearing the sort of highly readable but ultimately disappointing cerebral quality of Huxley's work . . . or, on a somewhat lower level, C. P. Snow's.
INTERVIEWER
The English edition of Wonderland has a different ending from the American. Why? Do you often rewrite published work?
OATES
I was forced to rewrite the ending of that particular novel because it struck me that the first ending was not the correct one. I have not rewritten any other published work (except, of course, for short stories, which sometimes get rewritten before inclusion in a book) and don't intend to if I can possibly help it.
INTERVIEWER
You've written novels on highly specialized fields, such as brain surgery. How do you research such backgrounds?
OATES
A great deal of reading, mainly. Some years ago I developed a few odd symptoms that necessitated my seeing a doctor, and since there was for a time talk of my being sent to a neurologist, I nervously and superstitiously began reading the relevant journals. What I came upon so chilled me that I must have gotten well as a result . . .
INTERVIEWER
In addition to the novel about medicine, you've written one each on law, politics, religion, spectator sports: Are you consciously filling out a "program" of novels about American life?
OATES
Not really consciously. The great concern with "medicine" really grew out of an experience of some duration that brought me into contact with certain thoughts of mortality: of hospitals, illnesses, doctors, the world of death and dying and our human defenses against such phenomena. (A member of my family to whom I was very close died rather slowly of cancer.) I attempted to deal with my own very inchoate feelings about these matters by dramatizing what I saw to be contemporary responses to "mortality." My effort to wed myself with a fictional character and our synthesis in turn with a larger, almost allegorical condition resulted in a novel that was difficult to write and also, I suspect, difficult to read.
A concern with law seemed to spring naturally out of the thinking many of us were doing in the sixties: What is the relationship between "law" and civilization, what hope has civilization without "law," and yet what hope has civilization with law as it has developed in our tradition? More personal matters blended with the larger issues of "crime" and "guilt," so that I felt I was able to transcend a purely private and purely local drama that might have had emotional significance for me, but very little beyond that; quite by accident I found myself writing about a woman conditioned to be unnaturally "passive" in a world of hearty masculine combat—an issue that became topical even as the novel Do with Me What You Will was published, and is topical still, to some extent.
The "political" novel, The Assassins, grew out of two experiences I had some years ago, at high-level conferences involving politicians, academic specialists, lawyers, and a scattering—no, hardly that—of literary people. (I won't be more specific at the moment.) A certain vertiginous fascination with work which I noted in my own nature I was able to objectify (and, I think, exaggerate) in terms of the various characters' fanaticism involving their own "work"—most obviously in Andrew Petrie's obsession with "transforming the consciousness of America." The Assassins is about megalomania and its inevitable consequences, and it seemed necessary that the assassins be involved in politics, given the peculiar conditions of our era.
The new "religious" novel, Son of the Morning, is rather painfully autobiographical, in part; but only in part. The religion it explores is not institutional but rather subjective, intensely personal, so as a novel it is perhaps not like the earlier three I have mentioned, or the racing novel, With Shuddering Fall. Rather, Son of the Morning is a novel that begins with wide ambitions and ends very, very humbly.
INTERVIEWER
Somewhere in print you called The Assassins the favorite of your novels. It received very mixed reviews. I've often thought that book was misread. For instance, I think the "martyr" in that novel arranged for his own assassination, true? And that his wife was never really attacked outside the country house; she never left it. Her maiming was all confined within her head.
OATES
What a fine surprise! You read the scene exactly as it was meant to be read. Even well-intentioned reviewers missed the point; so far as I know, only two or three people read Yvonne's scene as I had intended it to be read. Yet the hallucinatory nature of the "dismemberment" scene is explicit. And Andrew Petrie did, of course, arrange for his own assassination, as the novel makes clear in its concluding pages.
The novel has been misread, of course, partly because it's rather long and I think reviewers, who are usually pressed for time, simply treated it in a perfunctory way. I'm not certain that it is my favorite novel. But it is, or was, my most ambitious. It involved a great deal of effort, the collating of passages (and memories) that differ from or contradict one another. One becomes attached to such perverse, maddening ugly ducklings, but I can't really blame reviewers for being impatient with the novel. As my novels grow in complexity they please me more and please the "literary world" hardly at all—a sad situation, but not a paralyzing one.
INTERVIEWER
It's not merely a matter of complexity. One feels that your fiction has become more and more urgent, more subjective and less concerned with the outward details of this world—especially in Childwold. Was that novel a deliberate attempt to write a "poetic novel"? Or is it a long poem?
OATES
I don't see that Childwold is not concerned with the outward details of the world. In fact, it's made up almost entirely of visual details—of the natural world, of the farm the Bartletts own, and of the small city they gravitate to. But you are right, certainly, in suggesting that it is a "poetic novel." I had wanted to create a prose poem in the form of a novel, or a novel in the form of a prose poem: The exciting thing for me was to deal with the tension that arose between the image-centered structure of poetry and the narrative-centered and linear structure of the interplay of persons that constitutes a novel. In other words, poetry focuses upon the image, the particular thing, or emotion, or feeling, while prose fiction focuses upon motion through time and space. The one impulse is toward stasis, the other toward movement. Between the two impulses there arose a certain tension that made the writing of the novel quite challenging. I suppose it is an experimental work, but I shy away from thinking of my work in those terms: It seems to me there is a certain self-consciousness about anyone who sets himself up as an "experimental" writer. All writing is experimental.
But experimentation for its own sake doesn't much interest me; it seems to belong to the early sixties, when Dadaism was being rediscovered. In a sense we are all post-Wake writers and it's Joyce, and only Joyce, who casts a long terrifying shadow . . . The problem is that virtuoso writing appeals to the intellect and tends to leave one's emotions untouched. When I read aloud to my students the last few pages of Finnegans Wake, and come to that glorious, and heartbreaking, final section ("But you're changing, acoolsha, you're changing from me, I can feel"), I think I'm able to communicate the almost overwhelmingly beautiful emotion behind it, and the experience certainly leaves me shaken, but it would be foolish to think that the average reader, even the average intelligent reader, would be willing to labor at the Wake, through those hundreds of dense pages, in order to attain an emotional and spiritual sense of the work's wholeness, as well as its genius. Joyce's Ulysses appeals to me more: That graceful synthesis of the "naturalistic" and the "symbolic" suits my temperament . . . I try to write books that can be read in one way by a literal-minded reader, and in quite another way by a reader alert to symbolic abbreviation and parodistic elements. And yet, it's the same book—or nearly. A trompe l'oeil, a work of "as if."
INTERVIEWER
Very little has been made of the humor in your work, the parody. Some of your books, like Expensive People, The Hungry Ghosts, and parts of Wonderland, seem almost Pinteresque in their absurd humor. Is Pinter an influence? Do you consider yourself a comedic writer?
OATES
There's been humor of a sort in my writing from the first; but it's understated, or deadpan. Pinter has never struck me as very funny. Doesn't he really write tragedy?
I liked Ionesco at one time. And Kafka. And Dickens (from whom Kafka learned certain effects, though he uses them, of course, for different ends). I respond to English satire, as I mentioned earlier. Absurdist or "dark" or "black" or whatever: What isn't tragic belongs to the comic spirit. The novel is nourished by both and swallows both up greedily.
INTERVIEWER
What have you learned from Kafka?
OATES
To make a jest of the horror. To take myself less seriously.
INTERVIEWER
John Updike has been accused of a lack of violence in his work. You're often accused of portraying too much. What is the function of violence in your work?
OATES
Given the number of pages I have written, and the "violent" incidents dispersed throughout them, I rather doubt that I am a violent writer in any meaningful sense of the word. Certainly, the violence is minimal in a novel like them, which purported to be a naturalistic work set in Detroit in the sixties; real life is much more chaotic.
INTERVIEWER
Which of your books gave you the greatest trouble to write? And which gave the greatest pleasure or pride?
OATES
Both Wonderland and The Assassins were difficult to write. Expensive People was the least difficult. I am personally very fond of Childwold, since it represents, in a kind of diffracted way, a complete world made of memory and imagination, a blending together of different times. It always surprises me that other people find that novel admirable because, to me, it seems very private . . . the sort of thing a writer can do only once.
Aside from that, Do with Me What You Will gives me a fair amount of pleasure, and, of course, I am closest to the novel I finished most recently, Son of the Morning. (In general, I think we are always fondest of the books we've just completed, aren't we? For obvious reasons.) But then I think of Jules and Maureen and Loretta of them and I wonder if perhaps that isn't my favorite novel, after all.
INTERVIEWER
For whom do you write—yourself, your friends, your "public"? Do you imagine an ideal reader for your work?
OATES
Well, there are certain stories, like those in The Hungry Ghosts, which I have written for an academic community and, in some cases, for specific people. But in general the writing writes itself—I mean a character determines his or her "voice" and I must follow along. Had I my own way the first section of The Assassins would be much abbreviated. But it was impossible to shut Hugh Petrie up once he got going and, long and painful and unwieldy as his section is, it's nevertheless been shortened. The problem with creating such highly conscious and intuitive characters is that they tend to perceive the contours of the literary landscape in which they dwell and, like Kasch of Childwold, try to guide or even to take over the direction of the narrative. Hugh did not want to die, and so his section went on and on, and it isn't an exaggeration to say that I felt real dismay in dealing with him.
Son of the Morning is a first-person narration by a man who is addressing himself throughout to God. Hence the whole novel is a prayer. Hence the ideal reader is, then, God. Everyone else, myself included, is secondary.
INTERVIEWER
Do you consider yourself religious? Do you feel there is a firm religious basis to your work?
OATES
I wish I knew how to answer this. Having completed a novel that is saturated with what Jung calls the God-experience, I find that I know less than ever about myself and my own beliefs. I have beliefs, of course, like everyone—but I don't always believe in them. Faith comes and goes. God diffracts into a bewildering plenitude of elements—the environment, love, friends and family, career, profession, "fate," biochemical harmony or disharmony, whether the sky is slate-gray or a bright mesmerizing blue. These elements then coalesce again into something seemingly unified. But it's a human predilection, isn't it?—our tendency to see, and to wish to see, what we've projected outward upon the universe from our own souls? I hope to continue to write about religious experience, but at the moment I feel quite drained, quite depleted. And as baffled as ever.
INTERVIEWER
You mention Jung. Is Freud also an influence? Laing?
OATES
Freud I have always found rather limited and biased; Jung and Laing I've read only in recent years. As an undergraduate at Syracuse University I discovered Nietzsche, and it may be the Nietzschean influence (which is certainly far more provocative than Freud's) that characterizes some of my work. I don't really know, consciously. For me, stories usually begin—or began, since I write so few of them now—out of some magical association between characters and their settings. There are some stories (I won't say which ones) that evolved almost entirely out of their settings, usually rural.
INTERVIEWER
Your earliest stories and novels seem influenced by Faulkner and by Flannery O'Connor. Are these influences you acknowledge? Are there others?
OATES
I've been reading for so many years, and my influences must be so vast—it would be very difficult to answer. An influence I rarely mention is Thoreau, whom I read at a very impressionable age (my early teens), and Henry James, O'Connor and Faulkner certainly, Katherine Anne Porter, and Dostoyevsky. An odd mixture.
INTERVIEWER
The title Wonderland, and frequent other allusions in your work, point toward a knowledge of, if not an affinity for, Lewis Carroll. What is the connection, and is it an important one?
OATES
Lewis Carroll's Alice in Wonderland and Through the Looking Glass were my very first books. Carroll's wonderful blend of illogic and humor and horror and justice has always appealed to me, and I had a marvelous time teaching the books last year in my undergraduate course.
INTERVIEWER
Was there anything you were particularly afraid of as a child?
OATES
Like most children, I was probably afraid of a variety of things. The unknown? The possibility of those queer fortuitous metamorphoses that seem to overtake certain of Carroll's characters? Physical pain? Getting lost? . . . My proclivity for the irreverent and the nonsensical was either inspired by Carroll or confirmed by him. I was always, and continue to be, an essentially mischievous child. This is one of my best-kept secrets.
INTERVIEWER
You began writing at a very early age. Was it encouraged by your family? Was yours a family of artistic ambitions?
OATES
In later years my parents have become "artistic," but when they were younger, and their children were younger, they had no time for anything much except work. I was always encouraged by my parents, my grandmother, and my teachers to be creative. I can't remember when I first began to tell stories—by drawing, it was then—but I must have been very young. It was an instinct I followed quite naturally.
INTERVIEWER
Much of your work is set in the 1930s, a period during which you were merely an infant at best. Why is that decade so important to your work or vision?
OATES
Since I was born in 1938, the decade is of great significance to me. This was the world of my parents, who were young adults at the time, the world I was born into. The thirties seem in an odd way still "living" to me, partly in terms of my parents' and grandparents' memories, and partly in terms of its treatment in books and films. But the twenties are too remote—lost to me entirely! I simply haven't had the imaginative power to get that far back.
I identify very closely with my parents in ways I can't satisfactorily explain. The lives they lived before I was born seem somehow accessible to me. Not directly, of course, but imaginatively. A memory belonging to my mother or father seems almost to "belong" to me. In studying old photographs I am struck sometimes by a sense of my being contemporary with my parents—as if I'd known them when they were, let's say, only teenagers. Is this odd? I wonder. I rather suspect others share in their family's experiences and memories without knowing quite how.
INTERVIEWER
When we were undergraduates together at Syracuse, you already were something of a legend. It was rumored you'd finish a novel, turn it over, and immediately begin writing another on the back side. When both sides were covered, you'd throw it all out, and reach for clean paper. Was it at Syracuse you first became aware you were going to be a writer?
OATES
I began writing in high school, consciously training myself by writing novel after novel and always throwing them out when I completed them. I remember a three-hundred-page book of interrelated stories that must have been modeled on Hemingway's In Our Time (I hadn't yet read Dubliners), though the subject matter was much more romantic than Hemingway's. I remember a bloated, trifurcated novel that had as its vague model The Sound and the Fury . . . Fortunately, these experiments were thrown away and I haven't remembered them until this moment.
Syracuse was a very exciting place academically and intellectually for me. I doubt that I missed more than half a dozen classes in my four years there, and none of them in English.
INTERVIEWER
I remember you were in a sorority. It is incredible to contemplate you as a "sorority girl."
OATES
My experience in a sorority wasn't disastrous, but merely despairing. (I tried to resign but found out that upon joining I had signed some sort of legal contract.) However, I did make some close friends in the sorority, so the experience wasn't a total loss. I would never do it again, certainly. In fact, it's one of the three or four things in my entire life I would never do again.
INTERVIEWER
Why was life in a Syracuse sorority so despairing? Have you written about it?
OATES
The racial and religious bigotry; the asininity of "secret ceremonies"; the moronic emphasis upon "activities" totally unrelated to—in fact antithetical to—intellectual exploration; the bullying of the presumably weak by the presumably strong; the deliberate pursuit of an attractive "image" for the group as a whole, no matter how cynical the individuals might have been; the aping of the worst American traits—boosterism, God-fearingism, smug ignorance, a craven worship of conformity; the sheer mess of the place once one got beyond the downstairs . . . I tried to escape in my junior year, but a connection between sororities and the Dean of Women and the university-housing office made escape all but impossible, and it seemed that, in my freshman naïveté, I had actually signed some sort of contract that had "legal" status . . . all of which quite cowed me. I remember a powdered and perfumed alum explaining the sorority's exclusion of Jews and blacks: "You see, we have conferences at the Lake Placid Club, and wouldn't it be a shame if all our members couldn't attend . . . Why, it would be embarrassing for them, wouldn't it?"
I was valedictorian of my class, the class of 1960. I fantasized beginning my address by saying, "I managed to do well academically at Syracuse despite the concerted efforts of my sorority to prevent me . . ."
I haven't written about it, and never will. It's simply too stupid and trivial a subject. To even care about such adolescent nonsense one would have to have the sensitivity of a John O'Hara, who seems to have taken it all seriously.
INTERVIEWER
I recall you won the poetry contest at Syracuse in your senior year. But your books of poetry appeared relatively later than your fiction. Were you always writing poetry?
OATES
No, I really began to write poetry later. The poetry still comes with difficulty, I must admit. Tiny lyric asides, droll wry enigmatic statements: They aren't easy, are they? I'm assembling a book which I think will be my last—of poems, I mean. No one wants to read a novelist's poetry. It's enough— too much, in fact—to deal with the novels. Strangely enough, my fellow poets have been magnanimous indeed in accepting me as a poet. I would not have been surprised had they ignored me, but, in fact, they've been wonderfully supportive and encouraging. Which contradicts the general notion that poets are highly competitive and jealous of one another's accomplishments . . .
INTERVIEWER
You say no one wants to read a novelist's poetry. What about Robert Penn Warren? John Updike? Erica Jong? I suppose Allen Tate and James Dickey are poets who happened to write novels . . .
OATES
I suppose I was thinking only of hypothetical reactions to my own poetry. Robert Penn Warren aside, however, there is a tendency on the part of critics to want very much to categorize writers. Hence one is either a writer of prose or of poetry. If Lawrence hadn't written those novels he would have been far more readily acclaimed as one of the greatest poets in the language. As it is, however, his poetry has been neglected. (At least until recently.)
INTERVIEWER
By the North Gate, your first book, is a collection of short stories, and you continue to publish them. Is the short story your greatest love? Do you hold with the old adage that it is more difficult to write a good story than a novel?
OATES
Brief subjects require brief treatments. There is nothing so difficult as a novel, as anyone knows who has attempted one; a short story is bliss to write set beside a novel of even ordinary proportions.
But in recent years I haven't been writing much short fiction. I don't quite know why. All my energies seem to be drawn into longer works. It's probably the case that my period of greatest productivity is behind me, and I'm becoming more interested in focusing upon a single work, usually a novel, and trying to "perfect" it section by section and page by page.
INTERVIEWER
Nevertheless, you've published more short stories, perhaps, than any other serious writer in America today. I remember that when you chose the twenty-one stories to compose The Wheel of Love, you picked from some ninety that had been in magazines the two years since your previous collection. What will become of the seventy or so stories you didn't include in that collection? Were some added to later collections? Will you ever get back and pick up uncollected work?
OATES
If I'm serious about a story, I preserve it in book form; otherwise I intend it to be forgotten. This is true of course for poems and reviews and essays as well. I went back and selected a number of stories that for thematic reasons were not included in The Wheel of Love, and put them into a collection called The Seduction and Other Stories. Each of the story collections is organized around a central theme and is meant to be read as a whole—the arrangement of the stories being a rigorous one, not at all haphazard.
INTERVIEWER
You don't drink. Have you tried any consciousness-expanding drugs?
OATES
No. Even tea (because of caffeine) is too strong for me. I must have been born with a rather sensitive constitution.
INTERVIEWER
Earlier you mentioned Hugh Petrie in The Assassins. He is but one of many deranged characters in your books. Have you known any genuine madmen?
OATES
Unfortunately, I have been acquainted with a small number of persons who might be considered mentally disturbed. And others, strangers, are sometimes drawn my way; I don't know why.
Last week when I went to the university, I wasn't allowed to teach my large lecture class because, during the night, one of my graduate students had received a telephone call from a very angry, distraught man who announced that he intended to kill me. So I had to spend several hours sequestered away with the head of our department and the head of security at the university and two special investigators from the Windsor City Police. The situation was more embarrassing than disturbing. It's the first time anyone has so explicitly and publicly threatened my life—there have been sly, indirect threats made in the past, which I've known enough not to take seriously.
(The man who called my student is a stranger to us all, not even a resident of Windsor. I have no idea why he's so angry with me. But does a disturbed person really need a reason . . .?)
INTERVIEWER
How about the less threatening, but nonetheless hurtful, reactions of friends and relatives—any reactions to conscious or unconscious portraits in your work?
OATES
My parents (and I, as a child) appear very briefly in Wonderland, glimpsed by the harassed young hero on his way to, or from, Buffalo. Otherwise there are no portraits of family or relatives in my writing. My mother and father both respond (rather touchingly at times) to the setting of my stories and novels, which they recognize. But since there is nothing of a personal nature in the writing, I have not experienced any difficulties along those lines.
INTERVIEWER
Aside from the singular incident at the university, what are the disadvantages of being famous?
OATES
I'm not aware of being famous, especially here in Windsor, where the two major bookstores, Coles', don't even stock my books. The number of people who are "aware" of me, let alone who read my writing, is very small. Consequently I enjoy a certain degree of invisibility and anonymity at the university, which I might not have at an American university—which is one of the reasons I am so much at home here.
INTERVIEWER
Are you aware of any personal limitations?
OATES
Shyness has prevented me from doing many things; also the amount of work and responsibility here at Windsor.
INTERVIEWER
Do you feel you have any conspicuous or secret flaw as a writer?
OATES
My most conspicuous flaw is . . . well, it's so conspicuous that anyone could discern it. And my secret flaw is happily secret.
INTERVIEWER
What are the advantages of being a woman writer?
OATES
Advantages! Too many to enumerate, probably. Since, being a woman, I can't be taken altogether seriously by the sort of male critics who rank writers 1, 2, 3 in the public press, I am free, I suppose, to do as I like. I haven't much sense of, or interest in, competition; I can't even grasp what Hemingway and the epigonic Mailer mean by battling it out with the other talent in the ring. A work of art has never, to my knowledge, displaced another work of art. The living are no more in competition with the dead than they are with the living . . . Being a woman allows me a certain invisibility. Like Ellison's Invisible Man. (My long journal, which must be several hundred pages by now, has the title Invisible Woman. Because a woman, being so mechanically judged by her appearance, has the advantage of hiding within it—of being absolutely whatever she knows herself to be, in contrast with what others imagine her to be. I feel no connection at all with my physical appearance and have often wondered whether this was a freedom any man—writer or not—might enjoy.)
INTERVIEWER
Do you find it difficult to write from the point of view of the male?
OATES
Absolutely not. I am as sympathetic with any of my male characters as I am with any of my female characters. In many respects I am closest in temperament to certain of my male characters—Nathan Vickery of Son of the Morning, for instance—and feel an absolute kinship with them. The Kingdom of God is within.
INTERVIEWER
Can you tell the sex of a writer from the prose?
OATES
Never.
INTERVIEWER
What male writers have been especially effective, do you think, in their depiction of women?
OATES
Tolstoy, Lawrence, Shakespeare, Flaubert . . . Very few, really. But then very few women have been effective in their depiction of men.
INTERVIEWER
Do you enjoy writing?
OATES
I do enjoy writing, yes. A great deal. And I feel somewhat at a loss, aimless and foolishly sentimental, and disconnected, when I've finished one work and haven't yet become absorbed in another. All of us who write, work out of a conviction that we are participating in some sort of communal activity. Whether my role is writing, or reading and responding, might not be very important. I take seriously Flaubert's statement that we must love one another in our art as the mystics love one another in God. By honoring one another's creation we honor something that deeply connects us all, and goes beyond us.
Of course, writing is only one activity out of a vast number of activities that constitute our lives. It seems to be the one that some of us have concentrated on, as if we were fated for it. Since I have a great deal of faith in the processes and the wisdom of the unconscious, and have learned from experience to take lightly the judgments of the ego and its inevitable doubts, I never find myself constrained to answer such questions. Life is energy, and energy is creativity. And even when we as individuals pass on, the energy is retained in the work of art, locked in it and awaiting release if only someone will take the time and the care to unlock it.
Author photograph by Nancy Crampton