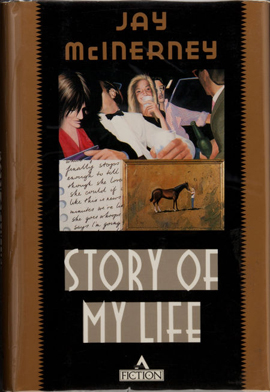 We were in a used bookstore, the girl and I.
We were there, roaming the dim, musty aisles on an early summer afternoon, because the girl loved books and because I had lied to her about loving books. I was fourteen years old, as dumb and desperate as countless fourteen-year-old boys before me, and I had been sucked into a black hole of obsession from the moment I first saw the girl sitting three seats in on the second row in my first-period geometry class. Those narrow, discerning brown eyes. Those plush, effortlessly taunting lips. The thrift-store ensemble that improbably fused the elegance of Jackie O. with the edge of Liz Phair. I was ruined then and there, and devoted that first year of high school to studying the girl from afar, confident that it was only a matter of time before we would "accidentally" collide in the hallway and end up making out as the sprinkler system inexplicably went haywire, drenching the clothes we would soon be tearing off one another.
By late spring, however, the one thing I had gleaned for certain about the girl was that she liked to read—an unfortunate discovery. My logic was simple: If you were reading a book it meant you were likely sitting alone somewhere, and if you were sitting alone somewhere it meant that you were not making out under any sprinkler systems, and if there wasn't at least the prospect, however delusional, that any given activity would result in your making out under a sprinkler systems, what, really, was the point? Regardless, I did the only thing that made sense; I adopted a completely false personality, approached the girl as she was waiting for her bus on the last day of school, and asked what she was up to over the summer.
"Cause there's, like, this used bookstore I love," I lied.
"Hmmmm."
"You should check it out sometime. With me."
For whatever reason, she said yes. And now inside the store she pulled every other book from the rickety shelves, offering brief but eloquent commentaries on each one before asking if I'd read it. Sometimes I said yes. Sometimes I said no. Best to keep it vague, I figured. But after half an hour or so something happened that, in a bizarre, circuitous manner, would turn out to be arguably the most profound moment of my sexual coming of age.