Contributors from our Summer issue share their favorite recent finds.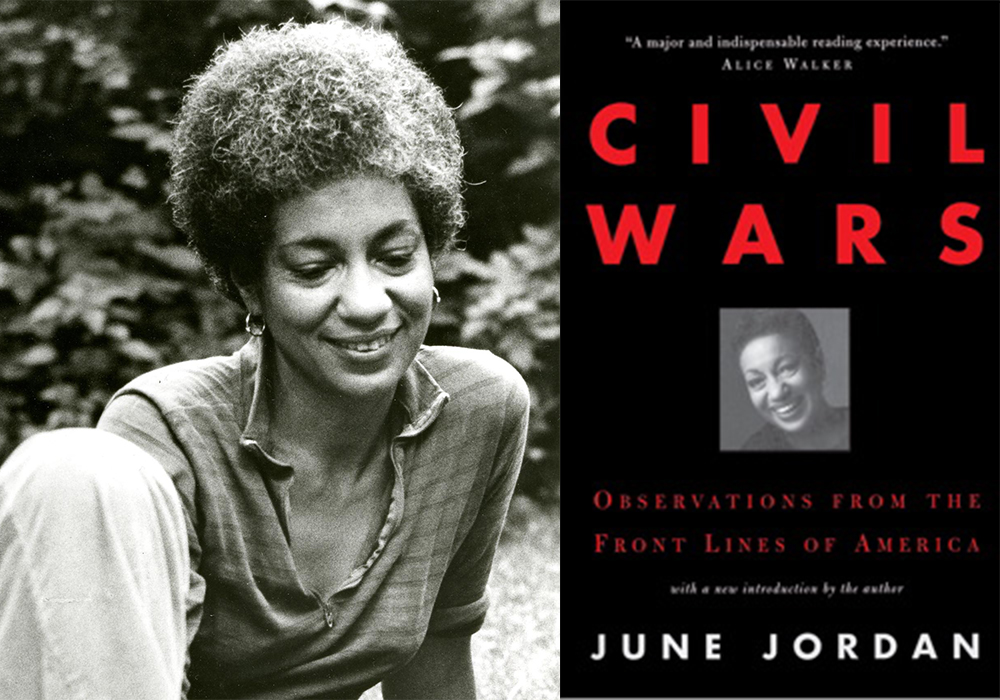 Recently, I was inspired by the poet Solmaz Sharif to revisit June Jordan's collection of essays, Civil Wars (1981). At a time when courting sickness and death is described by the president as "opening up," or else framed as a concern about the education of children, when the attorney general defines peace as submission to police force, and when some voices, in the midst of a genuine emergency, are petulantly and nebulously complaining about "forces of illiberalism" and "cancel culture," it's been refreshing to revisit Jordan, who cuts through all the nonsense to show what is truly at stake with the politics of language and calls for polite civility. If you're interested, maybe begin by checking out this excerpt from "White English/Black English: The Politics of Translation":
They all—all them whitefolks ruling the country—they all talk that talk, that "standard (white) English. It is the language of the powerful. Language is political. That's why you and me, my Brother and my Sister, that's why we sposed to choke our natural self into the weird, lying, barbarous, unreal white speech and writing habits that the schools lay down like holy law…

See, the issue of white English is inseparable from the issues of mental health and bodily survival. If we succumb to phrases such as "winding down the war," or if we accept "pacification" to mean the murdering of unarmed villagers, and "self-reliance" to mean bail money for Lockheed Corporation and bail money for the mis-managers of the Pennsylvania Railroad, on the one hand, but also, if we allow "self-reliance" to mean starvation and sickness and misery for poor families, for the aged, and for the permanently disabled/permanently discriminated against—then our mental health is seriously in peril: we have entered the world of doublespeak-bullshit, and our lives may soon be lost behind that entry.
Or maybe this, from the titular essay:
Most often, the people who can least afford to further efface and deny the truth of what they experience, the people whose very existence is most endangered and, therefore, most in need of vigilantly truthful affirmation, these are the people—the poor and the children—who are punished most severely for departures from the civilities that grease oppression.

If you make and keep my life horrible then, when I tell the truth, it will be a horrible truth; it will not sound good or look good or, God willing, feel good to you, either.
Reaching for my mask along with the standard phone-wallet-keys when I venture out for groceries or remember that it's healthy to go outside (mostly), I keep thinking of artist Denilson Baniwa's series "Ritual Masks For a World In Crisis," part of a quarantine-era commission of 125 artists by the Instituto Moreira Salles in Brazil, with an essay translated here by Tiffany Higgins. In these eight self-portraits, Baniwa mixes the surgical or hand-sewn pleated masks and bandannas that have become our new everyday around the world with woven crowns, feather headdresses, baskets, and jaguar heads that evoke Indigenous forms of protection and communication with the invisible world. These ritual masks are a way to negotiate with the God of Maladies, the code name he offers so as not to give away the Amazonian Baniwa people's name for the spirit who takes the form of a sloth. The bright headdresses and face coverings with cheerful patterns like potted succulents and diamonds with stars morph from photo to photo, while Baniwa wears the same white T-shirt with his own silk-screened design, a stylized roaring jaguar with the words, "Floresta de pé, fascismo no chão," a slogan seen and heard at Indigenous rights protests, which translates roughly to, "Up with the forest, down with the fascists." Some of the headdresses trade the usual feathers and thread for electrical wire and the jagged teeth of long, thin hacksaw blades broken in pieces to form crowns and a halo. These unexpected juxtapositions shape the playful, absurdist, and activist tone of Baniwa's work, which mixes memories of his people's traditions from the Rio Negro region of the northwestern Amazon with the modern-day artifacts and practices of an artist based in Rio de Janeiro. Before the pandemic, Baniwa walked the streets and museums of São Paulo and sites like the Biennale of Sydney with a mask and cape as the Pajé Onça, a powerful shaman who takes the form of the spotted jaguar, a figure that appears throughout Baniwa's street murals, wheat-paste posters, museum installations, and performances, displayed on his site and on Instagram. COVID-19 has hit communities in the Amazon especially hard, with the widespread loss of loved ones, elders, artists, healers, and shamans, like Feliciano Lana, the Desana artist whom Baniwa cites as a major influence, and Vó Bernaldina, a spiritual and political leader of the Macuxi people. For Baniwa, it brings up memories of plagues brought by past colonizers, and the ways Indigenous people had to update their sacred rituals to include vaccines, antibiotics, and other medicines that intervened with the unseen world. The present mask and hand-washing rituals are yet another update. He writes, "May the God of Maladies see that we are fulfilling all the rituals, and soon be soothed. May our people survive this, one more end of the world." —Katrina Dodson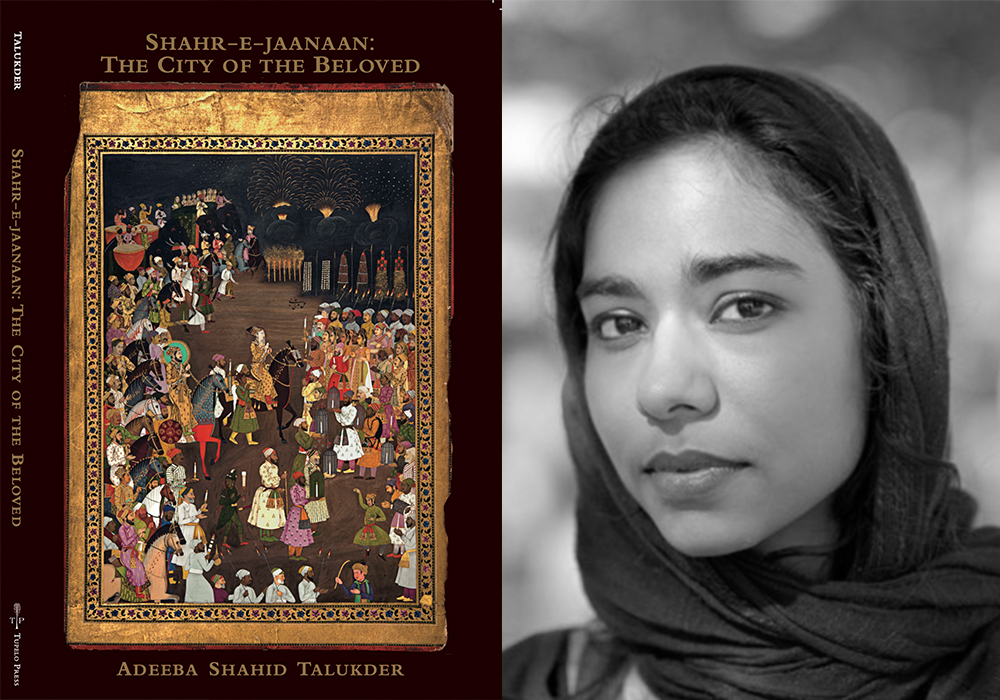 These days I have been enfolded in Adeeba Talukder's beautiful collection of poems, Shahr-e-Jaanaan, City of the Beloved. Like a graceful arabesque the collection soars into Urdu poetry and swerves back into English. Lines like these leave me breathless: "Longing, air spent / travels the length of age, then receives / a faint reply: / You have a conquered a curl, at last." Talukder's poetry captures the exquisite pain of the lover; the Urdu ghazal glimmers behind the English and invites me to dwell in both worlds. Walking alone in empty streets, I'm drawn to her contemplations on loneliness and companionship, "Come walk with me / by the lake's empty benches. / Tell me, dressed in roses / we need some air." Her collection of poems has been my companion and my lover, the one I reach out to when I need a place to breathe. — Krupa Shandilya