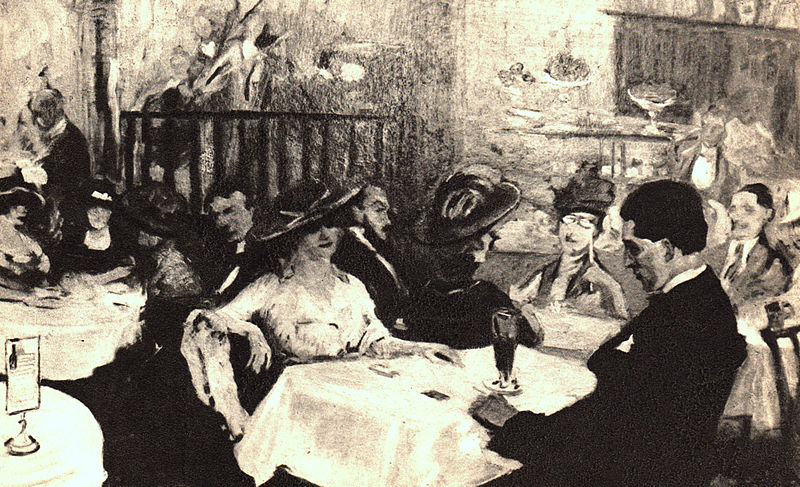 My life might well be divided into two categories: Before Beer and After Beer.
Life AB started in the middle of a trailing, boring Carolina winter. Previously, bourbon had been my drink, and I thought the horizon of beer extended only to bottles with "light" surnames. If you had asked me to describe beer culture, I would have said, What culture? But then one evening, prior to the first round of trivia at a local bar, a friend bought a Rogue Dead Guy for me. 
Rather than commit impoliteness, the nastiest of southern sins, I sipped the beer with a smile. And then everything changed. This rich, decadent bread was nothing like the stale, crumbling crackers that filled the malted liquid basket of my past. Now, when referring to places I've been before the coming of hops into my life that day, I say, "I've been there, but I wasn't a beer person yet."
At five o'clock on a mid-September Friday afternoon, the woman I am dating and I have to sneak out of our offices early for our first trip to Asheville together and my first visit to the city "as a beer person." She comes from the eleventh floor, on loan to the bank from her consulting company. It's her first job after graduating from Chapel Hill, and it's a placeholder while she figures out what she really wants to do. I descend from the thirty-ninth floor, permanently on loan to the partners at my law firm. It's my first job after graduating from the law school down the road from her sorority house, and I took it, in part, so that someone might introduce me to a woman or to her sister or to her mother much in the same way that Alec describes Fitzgerald's semi-autobiographical Amory in This Side of Paradise:
ALEC: Oh, he writes stuff.
CECELIA: Does he play the piano?
ALEC: Don't think so.
CECELIA: (Speculatively) Drink?
ALEC: Yes—nothing queer about him.
CECELIA: Money?
ALEC: Good Lord—ask him, he used to have a lot, and he's got some income now.
(MRS. CONNAGE appears.) MRS. CONNAGE: Alec, of course we're glad to have any friend of yours—
ALEC: You certainly ought to meet Amory.
I wish I could have met Fitzgerald. I think of him frequently, or rather, I think of his pseudo-autobiographical characters often enough. The draining struggle between writing and money, loves and incomes, and seeming "queer" and appearing "respectable" draws me to Fitzgerald's characters—Amory in Paradise, Anthony Patch in The Beautiful and Damned. While it may seem strange, even perverse, given his own history with alcohol, Fitzgerald and his writing have always felt particularly tied up with my budding passion for beer. Maybe it's merely a question of timing, maybe of geography—but for me the two are inexplicably and inextricably linked.
I open and close the car door for the woman, climb into my Tahoe, pull out of the dank subterranean parking garage, head west, and aim for the mountains.
* * *
Earlier in the week, I send the first of many e-mails to the woman about the pending trip, filled with itineraries and suggestions. The drive to Asheville isn't much different. We fill every minute of the trip by planning our every minute in the mountain town. I think, later, of the "great wave of emotion" that washes over Amory and Rosalind, or even the real Francis Scott and Zelda:
They were together constantly, for lunch, for dinner, and nearly every evening—always in a sort of breathless hush, as if they feared that any minute the spell would break and drop them out of this paradise of rose and flame. But the spell became a trance, seemed to increase from day to day. All life was transmitted into terms of their love, all experience, all desires, all ambitions, were nullified.
But once the sixteen-story Buncombe County Courthouse rises from the rolling hills, my courtly concerns for the lady on my right desert me, and my passion for beer sets in. In this, I am alone: she'll drink it, but she doesn't see past the horizon. She merely tolerates my obsession. I don't mind; I can't be bothered by myopia.  
* * *
In the three years since this initial After Beer–era trip to Asheville, the city's craft beer community has grown and matured dramatically. One indication of this is Asheville Beer Week, whose second annual celebration occurred in May. Highland poured a 2008 vintage of its perennially popular Cold Mountain Ale and a keg of its Auld Asheville Ale, brewed in 2009 for the brewery's fifteenth anniversary. The years put on these beers prove the community's coming of age.
And perhaps it's a paradoxically good sign that Asheville lost the title of Beer City USA in 2013, after four years of holding it. The designation is essentially an online popularity contest conducted each year by homebrewing pioneer and Brewers Association president Charlie Papazian. But the country's established beer hubs—San Francisco, San Diego, Boston, Denver, Philadelphia, and Seattle—have never won, and Portland last claimed the title in a tie with Asheville in 2009. Maybe "Lil' Ole Asheville," as beer writer Anne Fitten Glenn once wrote, has finally grown up.
There's scarcely a soul in the "Paris of the South" that keeps a finger on Asheville's beer pulse as reliably as does Glenn. She's covered the handful of new breweries that have opened this year, including King Henry VIII–influenced Wicked Weed and Thomas Wolfe–inspired Altamont. (The English monarch reportedly said, "Hops are a wicked and pernicious weed, destined to ruin beer," and Wolfe used "Altamont" for his depiction of Asheville in the roman à clef Look Homeward, Angel.) Glenn was also an invited guest when two of the country's largest craft beer makers, Sierra Nevada and New Belgium, made their announcements to build breweries in Buncombe County—if one can call restaurants, walking and cycling trails, outdoor music venues, and boat access a "brewery." Another Colorado-based beer outfit, Oskar Blues, started its second canning line in December about thirty miles away from Asheville at the mouth of the Pisgah National Forest in Brevard. It was this brewery, the maker of Dale's Pale Ale, that so valued Glenn's community contacts and her ability to navigate the region's deep-rooted and convoluted brewery political structure that it hired her to work in marketing—but not before she wrote the definitive "intoxicating history" of the local beer she holds dear.
When you look past the snob stereotypes, the gentrification of the common man's drink, and really delve into the beer scene, you find a small, trusting, and passionate community of people. The beer is good, but the company is usually better. Just as people who write that send fan emails to each other, tweet praises, and recommend others' works—all in hopes of receiving acceptance into an unspoken circle of "writers"—brewery owners, brewers, and beer lovers do the same. I credit Glenn with helping me penetrate this circle. It's becoming evident, as the trip goes on, that my traveling companion knows nothing of this world, a divide that, from afar, is obviously problematic.
Since my first meeting with Glenn, shortly after my first After Beer Era trip to Asheville, she's become my favorite drinking buddy when I'm in town. One of the first beers we shared together was a Wedge Iron Rail India Pale Ale at Clingman Café, a small sandwich shop across the street and around the corner from the brewery in the River Arts District. Glenn told me this is only place to find Wedge's beers outside the brewery's taproom—Wedge owner Tim Schaller is as regular a sight at the restaurant as the "Tim Special" is on the menu: egg, fresh mozzarella, tomato, and pesto on ciabatta.
Schaller bought our beers that day from a small table on the other side of the main seating area before Glenn and I rushed to speak on a panel about the local beer economy at the Southeast Land & Real Estate Conference. The crowd in the musty hotel event space was as electrifying as the conference's name. I was glad I had that lunch beer in me.
Earlier this year, Glenn released her book chronicling "the region's explosion into a beer mecca." And F. Scott Fitzgerald figured in this history. Fitzgerald lived in rooms 441 and 443 at the Grove Park Inn in north Asheville during the summer of 1935 and for several months in 1936, when he brought his mentally unstable wife to Asheville and installed her in the nearby Highland Hospital, a well-regarded treatment facility in Montford.
And, in a completely different way, his Asheville experience, too, seems to have centered around beer. A local bookstore owner and friend, using the discarded bottles in Fitzgerald's hotel room for reference, estimated that Fitzgerald consumed up to thirty beers per day based on the cache of empties scattered there. Fitzgerald's secretary similarly took notice of his keenness for malt beverages during the summer of 1936. Glenn quotes her:
I haven't ever, before or since, seen such quantities of beer displayed in such a place. Each trash basket was full of empties. So was the tub in one of the baths. Stacks of cases served as tables for manuscripts, books, supplies of paper.
Glenn notes a local's memoir "paints a fairly sympathetic portrait of a tortured artist who produced more in the way of extramarital affairs and empty beer cans than short stories." (He wrote "The Crack-Up" and started The Last Tycoon during his time at the Grove Park Inn.)
The beer geek in me yearns to know Fitzgerald's beer of choice, hoping he preferred bottles of locally-made homebrew (his own homebrew recipe resides in Princeton University's collection of his papers) to Pabst Red, White and Blue, one of the few beers available in Asheville after Prohibition. But given the bounty of bottles and cans allegedly in his possession, Glenn's assumption is probably correct: "it likely was most any kind he could get his hands on."
In the mid-1930s, Fitzgerald could have legally bought beer containing only six percent alcohol-by-volume (ABV) or less in North Carolina, and most of the widely available beer was a good bit less. It's anyone's guess if he would have enjoyed a small-batch collaboration in 2010 between the Grove Park Inn Resort & Spa and Highland called The Great Gatsby Abbey Ale. At seven percent ABV, he wouldn't have had a problem partaking in his usual quantities. "[M]erely a vapid form of kidding," Fitzgerald might say, as he wrote in Paradise.
But in truth, I know of course that his famously destructive habits wouldn't make him a good drinking buddy. Certainly not one who would take pleasure in the finer points of craft brewing. Yes, the beer community, including those in the industry and those who simply love its fruits, has perhaps a higher rate of alcoholism than most similar-sized groups of people, if only for the fact that its members are around alcohol more than they are away from it. After the senses become numb, the appreciation and enjoyment of a meticulously crafted product also wanes.
****
I sometimes long for the Before Beer Era days, a time when I didn't plan weekend trips around brewery visits, beer dinners, and tap takeovers. The beer festivals and tastings occasionally become overwhelming—too little time to enjoy too many different things. I can only remember the excitement of that first, obsession-focused vacation. And the tangible costs of such an all-consuming fixation.
On the Saturday afternoon before we plan to drive back to Charlotte, the woman and I sit outside at a wooden picnic table, its legs settled into the gravel that fills the parking lot next to the river at Wedge. A crude metal bucket of spent peanut shells sits between us and our pint glasses sit on the table, and the faint tings as the husks land in the pail break the silence, our trusty companion for most of the weekend. It's no surprise, to either of us, that the end is near. 
I'll always remember the bitterness of the hops in that Iron Rail IPA, caught in the fall rays of a Carolina sun.
There were days when Amory resented that life had changed from an even progress along a road stretching ever in sight, into a succession of quick, unrelated scenes. It was all like a banquet where he sat for this half-hour of his youth and tried to enjoy brilliant epicurean courses.
Win Bassett is writer, lawyer, and Yale Divinity student. His work has most recently appeared in The Atlantic, the Los Angeles Review of Books, Books & Culture, Religion & Politics, Publishers Weekly, and INDY Week. Follow him on Twitter at @winbassett.