This is the second installment of Williams' culture diary. Click here to read part 1.
DAY FIVE
9:30 A.M. I read a profile of novelist David Mitchell by Wyatt Mason in The New York Times Magazine. I try to read anything Mason writes. He's always sharp, and he was among the few critics who gave one of my favorite novels (It's All Right Now by Charles Chadwick) its due. As for Mitchell, I want to read him in theory, but I've yet to feel inspired to actually pick up the books. I'm most interested in <emBlack Swan Green, his semi-autobiographical novel, and by consensus his least formally inventive.
11:00 A.M. I read an excerpt from David Grossman's forthcoming novel, To the End of the Land, at The New York Review of Books site. The novel is one of the fall books I'm looking forward to most.
11:45 A.M. I go back through several publishers' catalogs to firm up a list of titles that I hope to assign for review on The Second Pass in the fall. I add Dinaw Mengestu's sophomore novel, How to Read the Air, and the list is now sixty-five books long, which seems ambitious. I may have to prune it a bit.
4:35 P.M. I read the first few pages of The Art of Losing, a debut novel by Rebecca Connell that appeared in the mail last week. It's being published in October, and I add it to the list for review. I realize this is the opposite of pruning.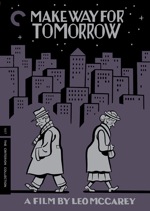 11:00 P.M. The Criterion Collection recently released Make Way for Tomorrow, a 1937 movie directed by Leo McCarey, who also directed Duck Soup, The Awful Truth, and dozens of others. I watch it on my laptop. It stars Victor Moore and Beulah Bondi as an elderly couple who lose their home to foreclosure. None of their children are able to take them both, so they're separated. Legendary character actor Thomas Mitchell is great as George, the son who takes in his mother. Made in the wake of the Social Security Act of 1935, the movie, without being overtly political at all, unfolds like an argument for the importance of social safety nets. There are moments of real humor, but the overall mood is melancholy. Read More