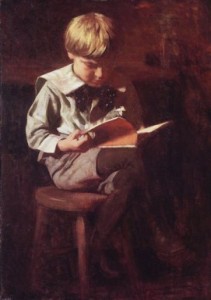 I'm young, poor, and unemployed in New York. I have no family connections, and my friends are all similarly destitute. I want an inspirational text; are there any novels about sympathetic social-striver types who pull themselves up by their own bootstraps without losing their friends and their souls in the process? —Camilla D.
Funny you should ask. All day I've been walking around with the Glen Campbell song "Rhinestone Cowboy" stuck in my head:
I've been walking these streets so long

Singing the same old song

I know every crack in these dirty sidewalks of Broadway,

Where hustle's the name of the game

And nice guys get washed away like the snow and the rain …
One identifies. As Glen says, there'll be a load of compromisin' on the road to his horizon: I worry that this tends to be the case. And even though I know you don't want me to tell you to read Lost Illusions, you must read Lost Illusions, if you haven't. It is spooky how often some detail of Balzac's Paris will remind you exactly of New York—like seeing your own face in a daguerrotype. A very louche daguerrotype. The hero does lose his friends and his soul. Plus his illusions. But you can handle it. I believe in you!
(Plan B: Breakfast at Tiffany's?)